Registered User
Join Date: Sep 2016
Posts: 19
Fitting a Focus ST 2.0 Ecoboost Engine to an S2 111S in the UK so a 111ST
---
Some people on here have posted on a separate thread and some have posted on the threads on other forums so i thought i should pop this up on here for you all to read. Any questions and comments are greatly received
I will also use English slang which Vincenzo has already rightly questioned on another forum, so if anyone needs English lessons i can also provide these and we can update American to the correct spelling and grammar
The project has what i would describe as evolved, others may say i changed my mind a lot, so i will try and get you up to date quickly ish
I have a 2005 Lotus Elise 111S that was a Cat D, which i bought with a view to building a Rover 1.6 K series Turbo.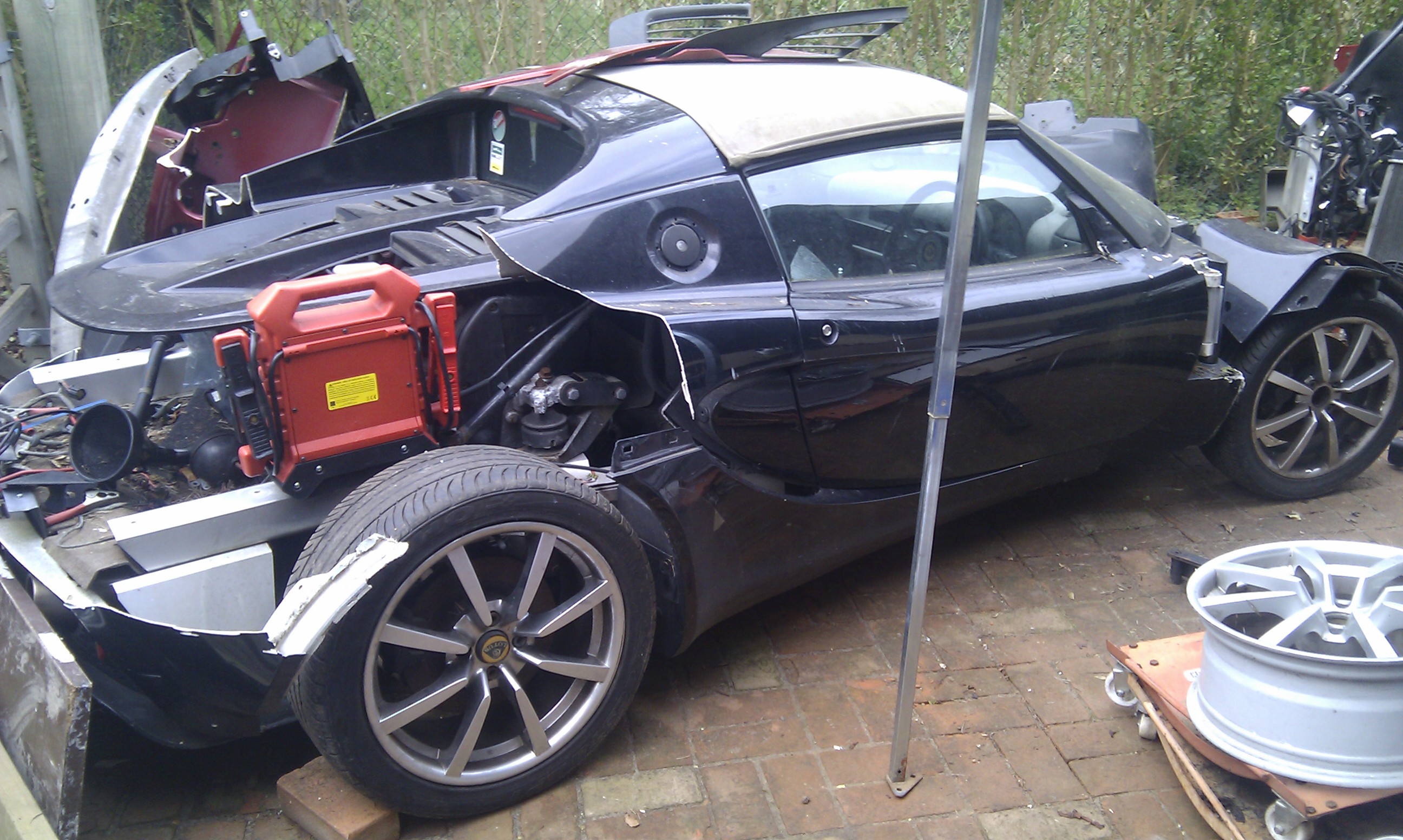 I used to have a Rover 100 with a 1.4 Turbo K Series with just under 300bhp but wanted 400bhp for some unknown reason. The K series above 300bhp gets silly expensive, the 1.4 was about £10k to build, so i heard of someone fitting the T series and long story short i did this too and it made it 420bhp.
But it didnt like oil, so one sunny day it rattled its big ends and basically went bang (when i say one day i mean twice with two seperate engines). Engine had less than 2000 miles and i just gave up on the T series, i believe the engine was mounted on an angle and with oil coolers and remote mounted filters the oil level was too low.
So i decided to sell the car and all its bits, came up with a figure and a nice local man said he'd pop round and have it. I panicked told the wife the bathroom was on hold and explained to nice man i had to make it work.
Rebuilding the T series would of been about £4500, but i was pretty certain it would hate its oil again
I looked at 2.3 DISI Mazda engines, but above 300bhp they start needing special bits and ended up being a £6000 build for the engine and aftermarket ECU (oh the irony here as the Ecoboost ended up about this price)
So thought 2.5 Duratec Turbo, but again its unknown what it can handle then pistons and rods were few and far between and a forged engine was about £4500
I considered the ECOBOOST engine but an aftermarket GDI engine was silly money, £2500 ish plus a loom about £1000
All the above can be used with the PG1 box in the Elise, i have a Rover 620Ti PG1U gearbox installed good for over 400lbft
So i did what any idiot would do, i got drunk thought f*%k it and bought an ECOBOOST engine on Ebay for £1700 with everything on it thinking with the ECU and Loom i would be about £5000 so cheaper than the above........
The Duratec has been fitted to the Elise many times before and the ECOBOOST i was told had the same gearbox PCD so i bought some Adaptor plates off the shelf
They also recommended the Silicone Hoses kit, so it looked good (still not fitted to check so heres hoping)
I fitted the Adaptor Plates and Engine mounts, Top mount actually is ok (no its not), it has 2 bolt holes and the studs are too big but i can work with it (no i cant)
The lower mount may not fit. (it didnt)
Adaptor plate is good (yeah)
I then realised the engine had some balancer shafts, so googled delete and Mountune popped up with a modded Baffled Sump
Then i had a phone call from Specialist Components in Norfolk who are ex Lotus guys, Simon said that he supplied Zenos with their ECU's for the E10S and could supply and ECU and Loom for about £1800 and it would come with a 280bhp map and use all the std sensors and......i stopped him there and bought it
Ford 2.0 Ecoboost Management Kit - Specialist Components
I have 14 wires to connect and the 6 wires to the DBW Pedal, plus Simon has assured me he will give all the technical help i need (he so far is good to his word)
So this is where i am at at the moment
The goal is 420bhp (450bhp now as its rounder), as this would be about 500bhp/tonne with a 840kg car (T series was 890kgs) so will be looking at either a forged 2.0 or a 2.3 RS Focus engine next year once everything is working
Managed to pick up a C4 K series Pg1 from my mate Tony, who has a magic shed with rover bits in it, cheap as chips and bolted it to the engine
I also spotted a decent sized chargecooler and Tony kindly let me have it for a good price. Will use this with the std engine and it's twice the size of my home made affair (since sold)
Test Fitting on the engine today
Was a little bit of a pain to go in, but removed a couple of sensors and with some giggery pokery she is in.
Cambelt engine mount is different from the Duratec (3 holes on ecoboost 2 on Duratec), but we should be able to use it (no we cant). Main issue is height, but will put a shim under the chassis engine mount and should be able to get the engine nice and level.
Next is the Turbo, close on the inlet but the outlet hits the main chassis. Dont see this as being too much of a problem(it was) will be able to rotate it 45 degrees (New bracket for actuator) and should fit (it didnt)
Couldnt get under the car but the other issue was the Aircon Bracket hitting the drivers side water hose, should be able to get round this
Plenty of clearance on the pulleys even with the double crank pulley (supercharger)
Also the Oil Filter Housing was removed, looks like i will need to fit a remote filter which i already have
All in All, not a bad day out. Hopefully have a few more updates before Xmas
Gearbox is being rebuilt to a k series bellhousing and Flywheel has been ordered 4.25kg
Registered User
Join Date: Sep 2016
Posts: 19
Christmas came kinda early today, luckily the wife was out too
Grant from GB Enterprises sent me a nice new 4.2kg lightened flywheel, this has been made for the PG1 box (std Elise) drilled to suit the T series (Rover 620Ti) Helix clutch i have (rated to 425lbft). Dual Mass flywheel is about 10kgs (no scales) so a decent saving. I even fitted the Focus clutch (its the same size as the T series), shame the PG1 uses a funny spline
I wont be using the MMT 6 speed, and the Gearbox for the elise as i had a T series PG1 fitted. Good news is this is similar, t series has an additional bearing, to the K series PG1 which is std fit on the Elise. So this is with a great friend who is changing the bell housing from T series to K series and we are looking at reducing the final drive to 4.2 as this is similar to the MMT Gear ratio's 1st to 4th. Fifth being slightly longer at 23mph per 1000rpm which isnt too bad and i wont have a 6th speed. Gearing will be about 160mph which is plenty for a 850kg car made by Farmers from Norfolk with Aluminium and Fibre Glass
Also hated the foam filter i had so bought a massive K&N Air Filter again from Grant
Please note the carpet wasnt my choice, its a new house and the previous owner was Scottish and Colour Blind (its for sale if anyone wants the carpet)
i bought the wife a little Xmas present, she loved it, then mentioned we could of changed the tartan carpet for what it cost and she had better be getting something nice for Xmas
Think i got away with it but saw this on eBay and thought i best have it
Its a Pro Alloy Charge Coooler, these have been run up to 550bhp
So things have been slow for a reason, we worked out that the Std Turbo wont fit with the subframe where it is. I can chop this about but not a fan of this, it would be easy to do but......when i have a GTX2867R sat in my office doing nothing i needed an excuse to fit it
This brings with it some problems, the std pistons tend to go after 300bhp, the Guys in the USA throw Meth and Water at the problem which helps get them to a higher rated BHP but its a bodge for me. So this means i need new pistons, then i might as well get some rods, uprated bearings a new PCV plate. Then there is the question of how much fuelling the Ecoboost can do, see below, and i may need another way of inputting more fuel.
So my fit the std engine and have fun has gone for a burton and its back to i need 450bhp
A friend popped down to have a look at the car on the weekend and it gave me a chance to chat to Tech1 about what we need to do, mainly after speaking to Simon at Specialist Components as he confirmed that above 300bhp the pistons are the weak point.
I also spoke to Total MPS in Newcastle who have made a 420whp (2.0, GT3071) and 895whp (2.3 and wow) ecoboost engine.
Their 2.0 had forged rods / pistons and bigger injectors (Tim these were std 2.3 injectors which i am told are the same / similar to Mountunes) but using the std fuel system made 420 at the wheels which is more than i want (didnt say need, as i now need that) but it was on the limits, so advised additional fuelling
So the list of things to do just got bigger, and a whole lot more expensive.........carpets for the new house will have to wait
1. Custom Engine Mounts the Duratec ones definitely dont fit
2. Custom Loom, remove the elise engine loom and place the ECU and new relay / fuse box in cabin (saves weight, honest)
3. Mounting of the GTX above the subframe, small adaptor needed and Randy thanks for the advice i never took but it will be V-band
4. Tial 0.86 a/r Exhaust housing - Done woo hoo
5. New Forged Pistons and Rods - Done
6. Upgraded Head Bolts - Done
7. PCV Plate, the Ecoboost has a habit of holding boost pressure in the crank case so needs venting via a catch can - Done, not the catch can
8. Bosch Motorsport Pump and 4l swirl pot - Done but not happy
9. Inlet adaptor plate to hold 4 x injectors (std ported) or 2 x injectors after the throttle body (SC have made one before) - Done and fitted
10. Build engine and send it and the ECU back to SC who will run it up on the Engine Dyno - So close i can feel it, but not done
11. Re-fit Engine
12. Fit charger cooler
13. Fit Custom exhaust
14. Try not to change mind - Done, honest
15. Drive it, hopefully further than the last car
Seems pretty easy written down
This is a very rare 4.2 final drive for my U spec PG1, so this will make a C4BSTU box (additional bearing) all steel caged and new seals.
Once this is back we make the engine mounts (er this statement may happen again)
Looks like the engine will be taken apart shortly as going to forge it, possibly adding some cams and maybe a new intake with ported injection
Luckily Tech1 have agreed for me to post items to them so the wife doesn't kill me. The horse also helped out as he needed a tooth pulling which I had to pay for, insurance will send cheque, so wife thinks I am lovely and that the carpets will have to wait.....again
Tial 0.82 a/r exhaust housing and V Band adaptors turned up
Its been a while since my last update as i've been doing some head scratching about what to do
So, parts are limited in the UK and i had not heard great things about total MPS and they didnt have all the bits i needed so decided to look to the USA. This means cheaper prices but more import tax and a lot longer delivery
Spoke to a few tuning companies and settled on
Speed Perf6rmanc3
Gave them a call told them what i wanted to do and they giggled, mainly as most tuning as in 99.9% uses the Ford ECU with a tuner tool, like cobb. They use a lot, and i mean most tuned ecoboost engines, of Meth injection where as speed just use pump gasoline, i explain its called petrol. They have 450whp engines running the same turbo as i do, even better its at the wheels with rev limits of 6750rpm.
At this power the engine starts to get expensive, the timing crank pulley is held on with friction washers and if it slips then the timing goes and bye bye engine so the crank needs to be keyed, the pulley(s) then needs to be changed as well. Pistons are first to go, but even the forged Mahle pistons are rated to 25psi, so first on the list was a set of custom forged Mahle pistons. I will have a little slap on start up so be it they are rated to 250bhp per cylinder and as much boostness
OEM bearings are good, but the MPS boys (same bottom end) use Clevite bearings if they use high revs, so i bought these
Next up, above 25psi the head starts to lift. So i was one of the first people to have the CA625+ head bolts, these are power station grade steel (which is what i do for a living) and are good for 35psi. Main benefit is i dont have to machine the block as they are std 11mm
Next up is the PCV, positive crankcase ventilation, basically uses manifold vacuum to pull the oil fumes out and a non return valve to stop pressure going in and another valve that allows air in (to replace the air being sucked out). Its mainly for emissions and they clog up and cause problems so its being removed and a catch can fitted
I also bought an oil take off, this means i can use a remote oil filter and oil cooler and the oil filter housing had to be removed to fit the engine so thought it easier to do it this way as i already have the cooler and filter housing. took a while to find one with inlet exit on the bottom. This is a std duratec part so i hope it fits
i bought more parts but as it was cheaper to ship seperately they sent two packages, ones in customs still so hope to have that next week.
Also been speaking to Piper as the std cams are low lift and short duration, 224 degrees for the exhaust with 7.5mm lift
Good news is they are looking at some custom cams for me, which will allow me to rev more than std with a linear power curve. I will of course loose some bottom end, but it wont be worse than the t series which was more than tractable. Plus i have lowered the gearing
So next is the inlet manifold and cams........
Registered User
Join Date: Sep 2016
Posts: 19
Finally the remaining bits turned up today
I have some Manley Forged rods, these are the I version and perfect for what i need
Next is the keyed lower pulley, my god its heavy, but the std engine has a friction washer and they tend to stop working above 400bhp its best to key it. Will need to key the crank too
Also checked the Oil adapter against the gasket and the Duratec one fits so happy with that
Cams have been specc'd and ordered from the ever helpful Piper who has now set them up as std products
Just need these to be delivered and a full engine gasket set and we can build the engine
Mk1 engine mount is being made as we speak as well
Its almost like i have a project moving at last
So the Ironman is out of the way and the new house is starting to look like the wife wants it (still have the tartan carpet)
So i have had some time to speak to Piper, who are genuinely wonderful. I asked for some cams for the specs and what i wanted and got talking. Ended up talking about three specs and they have added them to the website and sent me all three specs hoping i will try them all. i did say i may not have the time or money to do so but they sent me three cam specs to play with, and i just have to send back the ones i dont want
The rally specs are the ones i wanted, but need to check the lift and the rev range they have also increased the lobe for the fuel pump from 4.7mm to 5.5mm. We have no idea if this will work but thought we would give it a go
The other issue is no one has revved an Ecoboost past 7000rpm, i am told Mountune have but they dont give out details, and we have no idea if the fuel pump (it has a spring return so may float) or the VVT (both cams) will cope with the revs
Only one way to find out
Products - Piper Cams - Europe?s leading manufacturer of performance camshafts
Full gasket set is on order from Ford and engine build is pencilled in for next week
JUst need to to get all the parts put together, engine mount fitted and..........
So finally a year later than expected the engine is in bits!
Block looks in almost new condition, should be as it covered 2000 miles
Nicely built engine, definitely Japanese was the wording by Tech1 but built to last.
Pistons and rods look meaty too
New vs old pistons
Crank again looks solid, apparently the are good for lots of power and 8500rpm. Main think to notice is the gear for the balancer shafts
This photo does not do the weight of this unit justice, it's close to 10kgs (man pick up test). It's not needed so that's good news
Mountune baffled sump and balancer shaft delete kit fitted
Oil blocked for balancer shafts
Crank is off to have the keyway installed and now decision is what cams to fit
Std head flows well, some 550bhp engines in the USA (running meth injection) but with std ports. Spoke with Marshal at speedperformance and he advised the head are twin track as they create "a tornado" effect in the chamber to aid combustion. I can port the head at a cost of £900 ($960 but then shipping and import costs) but was advised it's not needed below 600bhp
Hopefully have it built by next week.....(i didnt)
Registered User
Join Date: Sep 2016
Posts: 19
So there is good news and not so good news and good news again
Good news is the engine build is on its way, i got very excited and finally thought we'd get things moving and done and i could drive the car. However, we fitted the rods and pistons to the engine and.........see below
Something didnt look right, the pistons were not sitting right in the block. As first we thought possibly that being a GDI engine the pistons sat lower but i called Speedperf6rmanc3 in the USA and turns out that i accidentally ordered the 2.3 Ecoboost rods and not the 2.0 ones.......
Bugger. However the ever helpful Marshall suggested a quicker fix than returning the rods, a 2.3 crank........a stroke of genius (pun intended) and they had just received a set of std 2.3 cranks which are forged and...i stopped him there and ordered one.....as a favour they even keyed and then balanced the crank for me........tops guys
Next issue will be customs clearance and Tech1 finding a slot to build the engine
Problem i have now is the GTX2867 will be on its last legs at 8000rpm, so a GTX3076R would be better, then i can have 550bhp and can tell everyone in the pub. If the wife finds my bills i am dead, although she has a new kitchen we still have the Tartan carpet a year after moving......
These just arrived too so I am happy with that
Also the 2.3l crank has arrived, the joyous moment. The last piece (hopefully and may of said that before) of the puzzle
I was so happy when I dropped it off at Tech1, but Paul wasn't as chuffed. He is normally smiling when I drop something off and his body language was terrible. Long of the short is he and his business partner have decided to part ways and he will be closing the work shop
Bollocks
Good news is he will build the engine for me, this I didn't want to take elsewhere and he has a workshop at home and will finish this. When, was the next question and Paul smiled.
So I now have to find someone stupid, sorry enthusiastic, enough to take on a project half done. I may of found someone but if anyone local knows of anyone (I don't) I would appreciate it.
I'd like to do it myself but don't have the time, or the mechanical know how to make the engine mounts and so on.
I think someone is trying to tell me something, and I think its don't give up
Some more goodies have arrived courtesy of Speedp3rform6nce, cant praise these guys enough for their support and knowledge
This time its the auxiliary fueling systems, i did want the JM manifold but its taking too long and as i am only going for 450bhp SP advised this kit would be simpler, easier and perfect for what i need. Apparently the std inlet flows pretty well and its also light.
The reasons for this kit are two fold, the GDI engine needs a High Pressure fuel pump(above 200bar) and these run out (depending on who you talk to) at around 350bhp, the injectors run out not far after(depending on who you talk to). Uprated injectors are available but and they need more flow. The 2.3 has 4 lobes, the 2.0 3 lobes, on its cams and a different High Pressure Pump but it was a nightmare to change to this. There are some upgraded pumps, but these cost a fortune and are untested at the RPM i want to go to (saying that the std one is too). This kit has an inlet adpator plate with 4 injector holes, and 4 bottom plugs if i want to run meth/water (which i dont). Injectors are 640cc which are big but they are std FoMoCo for ease. Also combined, ported and direct, i should be able to run about 750bhp (which i wont, yet, maybe, possibly, shouldnt do).
Sounds complicated but Specialist Components already have the software to run both port and direct injection already (so i wont need the additional controller), and most High Power GDI engines, like the Mercs, run both port and direct.
Issue will be with the mapping but i will send the engine back to Specialist Components as they have probably the most experience on these engines in the UK, so need to get an exhaust manifold making and hoping Maniflo in Salisbury can help.
I have also found someone stupid enough to take on the engine mounts, and they are local ish, so having a ready mapped engine will make their and my life easier.
The Complete Kit
The Inlet adaptor
FoMoCo Injector, which is a bosch item
Additional Controller that i dont need
So progress at last, Engine builder got a new job (after needing a break) and engine was in one place and tools in another
Anyway a month later the three of them got re-united and the engine is being built (again)
Issue i had was the Main Bearing studs, the OEM items are stretch bolts and once used you need to measure the stretch and then change the torque accordingly, so i rang Speedperf6manc3 and asked what this should be. The ever helpful, if busy, Pablo explained that i needed to fit ARP bolts.
Next problem was searching for the correct bolts, ARP catalogue number came up at £270 and no one in the UK had any, and they were 6 weeks delivery. Rang Pablo again, and asked him to ship some. Turns out the ARP bolts for the 2.3MPS DISI engine are the same as the ECOBOOST, and £175 ! Luckily i found a supplier in the UK, who also sent sweets with the delivery.....
Pauls managed to fit them this week and cams are next
Cams are on lifters as per the Duratec but they are not shimmable, instead the buckets come pre-sized. Great idea but Paul needs to fit the cams check the gaps and then order some buckets.......more delays ffs
Good news on the cams, i decided to fit the full blown 12mm lift cams capable of 650bhp and 8000rpm........just need a bigger turbo, chargecooler, radiator, bigger tyres, more cooling and the head porting.........hmmmmm
Well New Year, New Engine !
Its finally been built, well almost the flywheel, clutch and box need to go on and the gearbox.
Engine with the external oil filter bracket and PCV delete and breather
Without the inlet fitted
With the new auxillary fuel manifold, basically a spacer with ports for 630cc injectors and ports for meth injection
Engine Fully built
I then need to make an exhaust manifold adapter (engine has on internal exhaust manifold) which needs to have an external wastegate something like this
If anyone can make one for me let me know as the USA is the only place to get them and they only sell them as kits with upgraded turbos ffs
Worst still Garrett have released a GEN II GTX2867R which would be perfect for this engine, the current GTX2867 will run out of puff above 7500rpm.........and the internals are not interchangeable
However good and bad news, the tartan carpet has gone and we now have Brimstone
So today i have the, first production dash fitted to the car and wow....just wow....i mean like wow
First off was the box
Then the contents, the dash on the top and the wiring below
I've spoken to Alec about how to control, and whilst you can use the trip reset and indicators he asked if i would like a small joystick for moving around the dash, i said yes a small discreet one with a push button so he supplied this. Idea is to have it mounted on the dash or just use it when you need it and plug it in
Next was fitting it to the standard mount
The original dash was taken out a few months ago and sent to Alec so fitting the new dash took about 30 mins
Fit and finish are pretty damn good and the graphics are awesome, the dash can take up to 6 screen designs (one of which i designed myself and Alec made for me), and then the 7th is the data logger
Took some photos, from afar, sun light was straight ahead but not direct sunlight but the dash was more than bright enough
Overall very very happy and it has more features that you can shake a stick at, everything was plug and play and worked
However i dont have an engine in the car, so couldnt test drive it
Registered User
Join Date: Sep 2016
Posts: 19
Finally getting the manifold made, this was the first attempt. I didnt like how much it stuck out and how the turbo was rotated
You can see that the focus has an intergrated manifold in the head, so my manifold adaptor will be fairly simple compared to a equal 4 branch and a lot lighter too
So second attempt looks a lot better
Registered User
Join Date: Sep 2008
Location: New Jersey
Posts: 1,170
oh my goodness, this build is crazy, but serious kudos to you!
---
Lotus Elise '05 Graphite Grey; Miles: 35,xxx
Bloody brilliant
---
because racecar
Registered User
Join Date: Sep 2016
Posts: 19
Thanks for the comments
I now have the engine at home, I need to add in some oil and water pipes to the turbo and tidy up the breathers
JEK Fabrications made the exhaust manifold, oil return and also the brace which is rose jointed to allow movement due to heat.
I have also looked at the PCV breather and added in an oil pressure sensor (only comes with temp as std) and I need to seal all the joints
Then I need a TMAP sensor, Lambda sensor and stuck whether I ship it back to Specialist Components for mapping (where their normal dyno has a long waiting list) or book it in to make the engine mounts, get the engine running (2 month waiting list) on the std map and then drive to SC to have it mapped.
Ideally I ship it to SC and they get it back in 2 months and I get the engine installed but I don't think the way the project has run its that easy
Registered User
Join Date: Sep 2016
Posts: 19
Wow, you go away for holiday and leave the car with a man and **** gets done.......why didnt i do this before
Anyways, engine mounts are now made and engine is in the car. Turbo hasnt been fitted but i see no reason why it wont fit
Drive shafts fitted all ok, no rubbing (unlike duratecs so i am told)
No idea what this lug is but seems to be ok
Wiring next
Registered User
Join Date: Sep 2016
Posts: 19
Got the inlet and the turbo on today
Looks like it was meant to be in there, lot of room for the turbo and inlet was fitted in 30 mins as it went through the inspection hole
Wiring is now being sorted and I'll plumb in the water and oil hoses when home
---
Dave

Lotus Technician Elise and Exige
Registered User
Join Date: Sep 2016
Posts: 19
The new fuel pump turned up today, big thanks to Gaz at Spitfire Engineering. This (small) pump should provide enough fuel for 500bhp at 3.5bar and Gaz kindly sent me a complete unit, i have to send my old unit back. I went for the Deutschewerks pump
This will save me a swirl pot, lots of fuel pipes and i dont need the Bosch Motorsport pump i had on the T series.
Hoping to have the car wired up to the ECU and Ford Loom next week
Currently Active Users Viewing This Thread: 1

(0 members and 1 guests)