I'd like one, too, if you ever get around to making more of these. I have a Yakima roof rack on my Durango and could steal some of the hardware for the Elise. Would be cool to take my Elise and bike instead of the Durango.
---
"Life's too short to drive a crappy car"
05 BRP Elise with lots of mods
08 BMW 335i, black convertible / 01 Dodge Durango / 90 300ZX
2009 Evo X
My only concern would be the possible damage to the trunk lid or rear clam.
If it works, this would be the best solution for transporting a bike in Elise.
Registered User
Join Date: Aug 2011
Location: Seattle, WA
Posts: 306
that looks iffy to me. I would be worried about my rear clam.
---
"Is it a subtle orange?" um......
2005 Elise - Chrome Orange
2017 Focus RS - Nitrous Blue
Any word on the mounting kit? I am willing to buy - kit or plan.
Just build a rack and mounting system from scratch, it's pretty easy: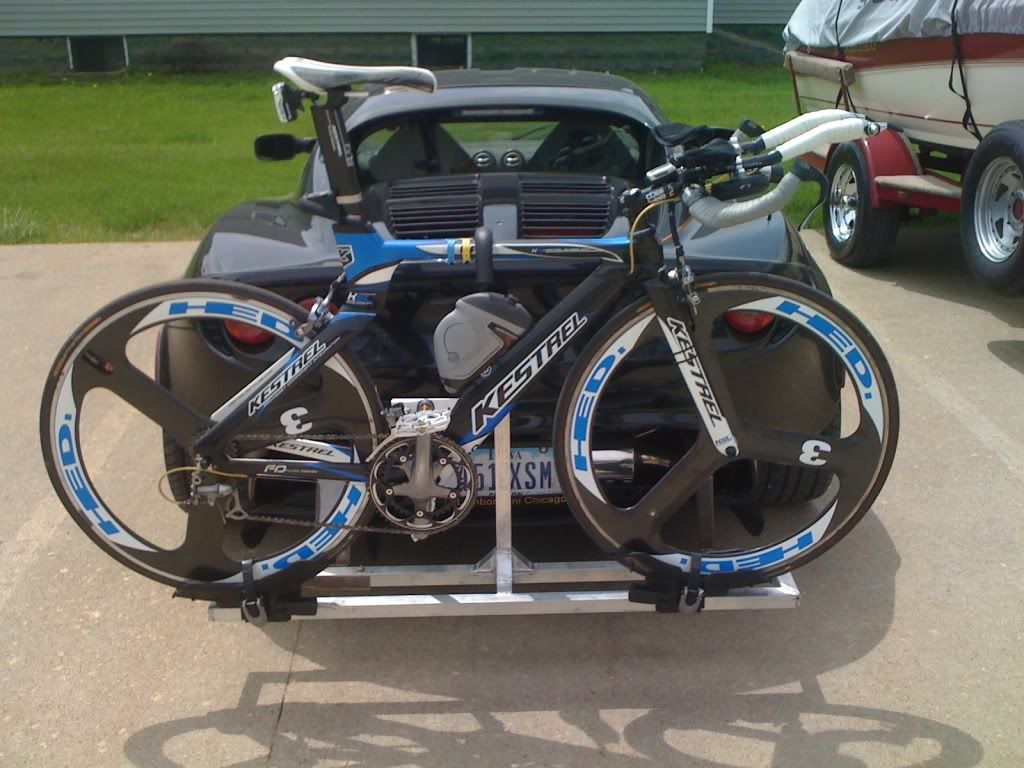 Please tell us how. Would it work with the stock exhust and diffuser?
Thank you!!!!
Reverse engineering
---
I sent multiple emails regarding how to build a bike rack but no response. Nobody wants to share??? So I decided to do it anyways. Reverse engineering.
I used mostly used Yakima parts and some from Home Depot. You would need a couple of Yakima 1A mounts and a 48" bar. Also bought a metal strip for inside and a couple of nuts and bolts from Home Depot. Guy that I bought Yakima parts also had metal bits (Yakima part) that I used them to attach 1A mounts. Only modification I had to make were to drill bigger holes to those metal bits and cut the bar to 35".
Place a metal plate inside (by the roll cage) and put bolts through the holes. Attach the metal bits. Then attach 1A mounts and a bar.
It cost me about $130 total because I wasn't sure which parts to buy or use. Trials and errors. If you know exactly what you need, you could go less than $100 in used parts. If you want to buy brand new parts than you can go over $100 easily.
I drove around town with a bike on my Elise and it performed very well. Easily handled highway speed as well as sharp corners and bumps.
I am really excited that now I can take my two favorite toys.
---
Last edited by chilelise; 03-11-2012 at

10:02 PM

.
chilelise,

Kudos to you mate. Looks good. But...

In regards to not responding sorry dude things have been...well I am sure you can imagine.

In looking at your hardware in particularly the metal bar stock looks kinda thin. I may have gone overboard but I was concerned about any force on the rear window. I put a piece of 1/16th in on the outside and on the inside of the car. Sandwiching the two together. Removing the headliner piece. I will see if I can find some more pics.

Best
---
The word "PASSION" should aways be uppercase.

#349 '05 AS Elise Touring, Hardtop, Starshield, Plinth delete, GPS Garmin 680, V1, V1 mirror, Leather console, Multivex, Alpine CDA9887, JL stealthbox, Focals, Alpine PDX 5, HID, RAC Monolites, R888's, Stage II, Front Slotted rotors, R4-S pads, Stebel nautilus, TitanQR, RLS Phone Mount, and Odyssey 925 now with bracket.
No problem. I totally understand. I want to thank you for posting your photos. Without it, I couldn't have figured it out.

Yes, I had a same concern. Inside piece that I got from Home Depot is pretty strong and also flexible. So it fits around the curve well. I didn't have to remove any headliner. Outside didn't have much space to put on any. But I put a thin metal plate under the support piece.

Before I found the support pieces (Yakima parts), I wasn't sure how I was going to attach 1A without possibly damaging the rear window. Unique L shape of Yakima part made it possible. No matter what pressure I put on the bar, nothing touches or pressure the rear window. Plus, my bike is pretty light and I don't plan to carry more than one bike at a time.

By the way, I tried a Yakima wheel holder but couldn't get it to work because roof section prevented wheel from going into the holder all the way. Wasted $30.
---
Last edited by chilelise; 03-11-2012 at

10:08 PM

.
Here is the detail parts list and installation diagram for those who are interested in doing this. But just in case, you do this at your own risk. I really haven't done any extensive testings. (it has been raining here a lot lately)
Inside
A. Hex bolt 5/16 2in Qty 2 $0.44 Home Depot - 1.5 in might work but it was too hard for me to use.
B. Flat washer 5/16 Qty 6 $1 Home Depot
C. 27 in Strap Tie 12 GA Qty 1 $6 Home Depot - You would need to drill a couple of holes. To make it look nicer, I wrapped it with a 3M carbon fiber wrap.
D. Spacer Nylon 3/8 Qty 2 $1.20 Home Depot – This is to fill up a space. May not be necessary but just in case.
Outside
E. Custom metal piece Qty 2 – I cut a couple of small thin metal pieces, shape of trapezoid to fit above a rear window. Sandwiching with C and E.
F. Yakima Part (I believe it is the Hullraiser conversion kit) Qty 2 $50-60 - This is the critical piece that connects Yakima 1A to the car. This particular shape will prevent the metal connector from rubbing the rear window. You would need to drill bigger holes. I have another set available for sale. Let me know if you need one.
G. Hex Nut 5/16 Qty 2 $0.65 Home Depot
H. 1A Yakima Part (Shear block base + Shear Blocks) Qty 2 $10-20 - You can purchase these brand new or buy a couple of used 1A racks through Crigslist or eBay
I. Yakima bar 48in Qty 1 $20-40 – I believe I shorten the length to 33in. Also added a couple of end caps ($5) (Update: I shorten the bar to 30in. 33in was little too long.)
J. Cut washer 5/16 Qty 2 $0.24 Home Depot. (Update: You may or may not need this part. I removed mine)
K. 1A Yakima part (Shear Block Bolts) Qty 2 $4-7
Not pictured. Yakima 9mm Standard 2A short bike carrier Qty 1 $20-40. And Bungee cords Qty 2 $5
---
Last edited by chilelise; 04-03-2012 at

01:46 PM

.
Registered User
Join Date: Mar 2015
Posts: 2
Hi Dana & Chilelise,

I am keen on putting a similar set-up together for my 2011 elise.

Just wanted to check in to see how these racks are holding up? Have you had any issues or made any mods to improve them?

Thanks!
Tom
If you're looking to tow/haul things with an Elige I think you bought the wrong vehicle. Just because you can, doesn't mean you should.

San
---
#8 Metric Allen Key, Plastic Carpet Buttons
Currently Active Users Viewing This Thread: 1

(0 members and 1 guests)