Registered User
Join Date: Nov 2008
Location: san mateo, ca
Posts: 663
Enclosed trailer min. size?
---
Anyone think a 16' enclosed trailer will be fine for an exige? The car will fit fine, but I'm worried that I won't have enough spare room to set the tongue weight properly after adding tires, tools, etc.
I would go with an 18' for the extra gear.
---
http://www.youtube.com/jerusdc
BOE TVS
Minimum Size Question
---
Will an Elise fi tin an enclosed Haulover 7ft wide (it has a door on the side) x 12 ft long trailer or does it need to be at least 14 ft long?
Registered User
Join Date: Jul 2004
Location: The Woodlands, TX
Posts: 1,022
I would not go any smaller than 14' x 8'. I have a 14' x 8.5' Featherlite trailer for my Exige and there is not much extra space around the car. Featherlite makes a 8' wide (vs the 8.5' that I have), but it is special order only as dealers rarely carry this narrow model. The 8' would work, but I can't see going any more narrow than that.

Also, on my 14' long trailer, I have to position the car perfectly in order for my D-ring straps to be long enough to tighten properly. If the car is barely too far forward or backwards (and I do mean "barely") my straps will not adjust any tighter, but there will still be some slack between the trailer strap mounts and my car. Put another way, if the trailer was a few inches shorter, or my car was a few inches longer (in wheelbase), I would could not use the stock trailer tie down points and would need to have something custom fabricated.
---
2016 BMW M3
2012 Golf R
2011 Exige S260 - sold
2007 Exige S - sold
2005 Elise FF Turbo - sold
By the biggest trailer you can haul. There is no end to the junk you need to haul with a car.

I had to make the call of getting a small light trailer to pull with my current truck or replace the truck and get a trailer. I chose to go with a small super light aluminum trailer and keep my current truck. I should have gone with a new bigger truck and a cheaper but larger trailer.

Of course I could just sell out, take the loss and go bigger. I probably will do that when I need to start hauling a bigger car.
Won't tools and tires fit in the bed of the truck?

xtn
---
2006 McLareghini Bugatterrari, Storm Titanium... installed: air horn, Scroth 4-point ASM harnesses, Sector111 halon extinguisher and mounting bracket, Von Hep exhaust and rear panel delete, Pagid brake pads, red Volks CE28n wheels, Toyo RA-1 tires, Nitron SA coilovers, Sector111 (WorksBell) quick-disconnect steering wheel kit. awaiting installation: Scroth "pull-up" lap belts, Sector111 RTD Brace, Tony's heater bypass mod, and dropped steering rack mounting plates.
Quote:
By the biggest trailer you can haul. There is no end to the junk you need to haul with a car.

great advice.
I have (2) 24" enclosed trailers, and they fill up fast with all my crap.
buy a nice used one that has an A/C on the roof already. its really nice to have to hang out in and just plug into an outlet at the track.
my trailer also has electrical outlets in it, came with a small microwave(velcro one in) and a nice stainless steel workbench area.
~$7.5K for a good pace or haulmark used.
advice on the pace, they used to make them with a PVC cap to tie in the front wall and the roof. dont get that kind, they warp and crack. mine had to be repaired with stainless steel, and it was not cheap to have done.
my trailer also has an awning, and work lights in the side. all nice features in a used trailer. shop around, and you will find a great one cheap. people are dumping them.
PM me your email address if you want some pictures of my Pace Shadow trailer so you can get an idea of this garage on wheels.
Josh
---
1977 Crossle 32F
1999 Spec Miata
Quote:
Won't tools and tires fit in the bed of the truck?
xtn
Sure but with decreased security. I would love a pit cart with dedicated spares and tools that I could wheel in and out of the trailer. Pit bikes are common as are golf carts...
Ah, if I could only afford a tractor trailer set up.
I used a 16' enclosed trailer when racing my M3 touring car. Mounted tires high up on the bulkhead (8 wheels/tires), had another level below that with bins for fluids, tape, etc. and mounted a medium sized tool box on the center floor against the bulkhead as well. Also, had a jack, fuel tanks, etc. located on the back on the perimeter and various wall attachments for other things. Don't have a picture. After I sold the M3 I used it to tow my Exige. It is fine. Only problem is that with a smaller sized trailer it is tough to get in and out of the Exige as the width is a bit narrower than a larger size trailer and you must squeeze in and out of the car with door open just a crack. I used to climb in through the window of the M3.

I towed it with a 2000 Grand Cherokee V8 with air lift springs that I mounted in the rear and a weight distribution hitch. Later I bought a 2004 Durango that I also used the weight distribution hitch with (but no air springs).

It's a great size. Just be organized and look up for storage, not down. They are light at this size so you can tow with a smaller vehicle and it fits in a regular parking space.
---
2009 Exige S 260; Ardent Red

Previously
2006 Exige; polar blue metallic; track pack; t/c; lsd; stage 2: sold
1996 BMW M3 dedicated track car: sold
1988 BMW M3 race car: sold
Registered User
Join Date: Aug 2010
Posts: 6
I know this is an old thread but I have an all aluminum custom made trailer that is 7.5' x 14' with a 3' v-nose. The roof has been cut down over a foot from 'normal' and the door opening is 49" tall.
I don't own a Lotus myself (yet) but I have hauled my friend's Exige in it with no space issues. There is an escape door over the driver's fender that, if the exige was raised ~1" off the floor, the Exige door would have opened fully into. Despite that, there is a 6500lbs Warn winch on the floor which is how we put the car in. I haven't weighed the trailer alone but the shipping docs said 1650lbs (must be low) and the sticker on the trailer says ~2000lbs.
My car is also midengined and with some random gear/tires/gas in the v-nose the tongue weight seems great. I tow it with a Lexus GX470 and it tows like a dream. Cross winds, semi trailers, nothing really unsettles it. There are times where I wish it was bigger but it tows so great and I don't need to have a big truck reserved just for towing.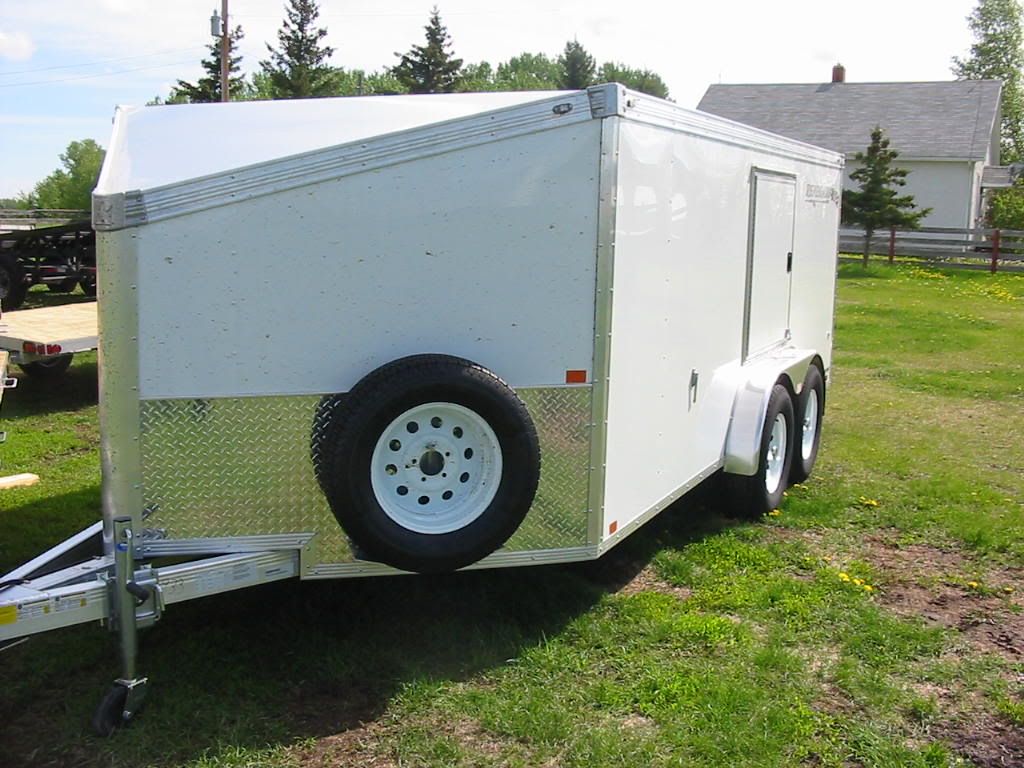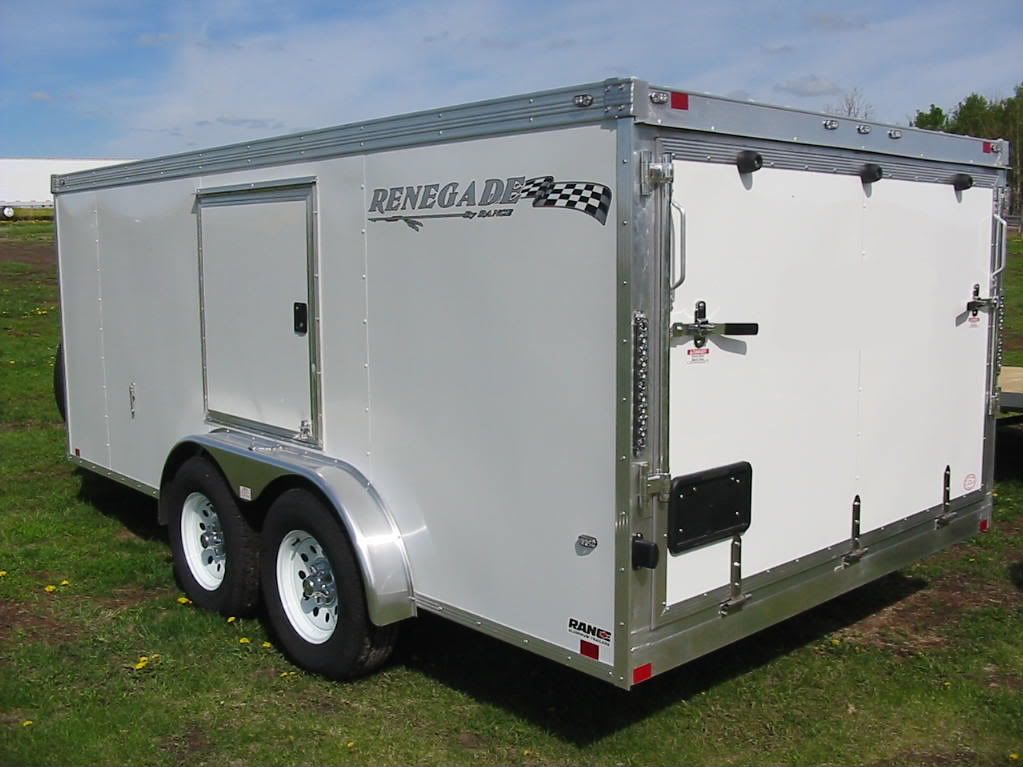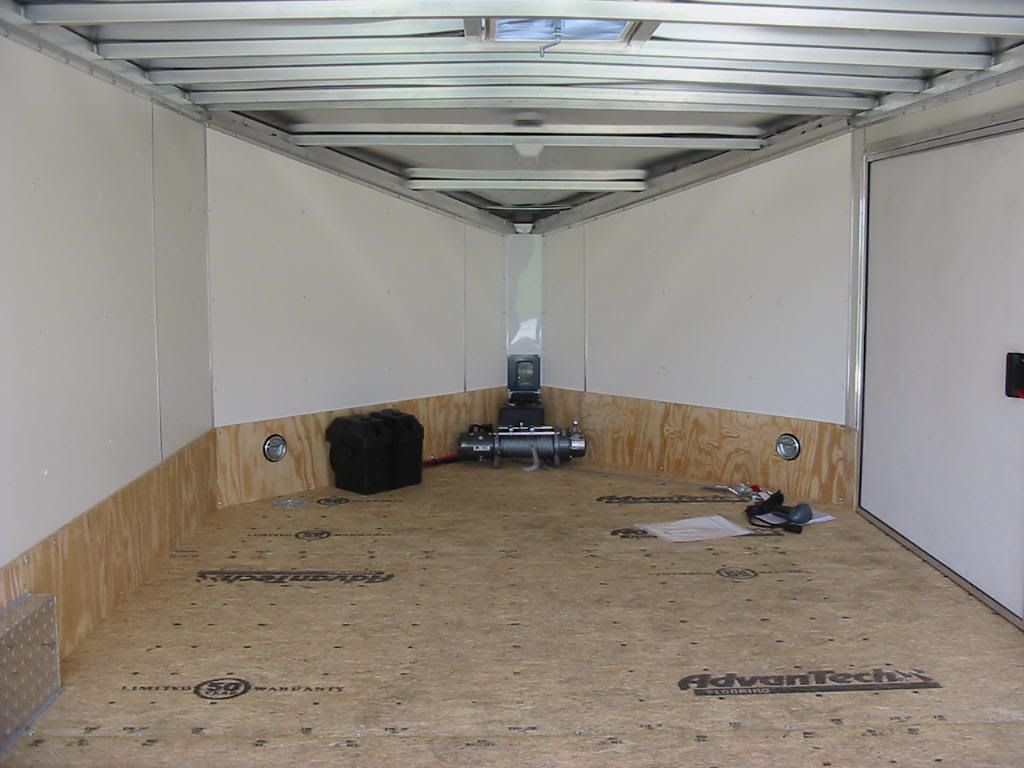 Currently Active Users Viewing This Thread: 1

(0 members and 1 guests)