Registered User
Join Date: Mar 2016
Location: Ga USA
Posts: 20
Registered User
Join Date: Mar 2016
Location: Ga USA
Posts: 20
Long version: Having quit drag racing 5 years ago and with our small business doing well, my dad and I decided we wanted fun street cars. I ended up buying a Cayman S after he had been checking out some Boxsters. My dad wanted something different at that point and the Lotus was a great fit for him! We went to Miami to pick it up - with a side trip to the Keys of course.
It was a awesome car. We had many good times. Until one day, while dad was driving spiritedly, soon after cresting a hill, a deer ruined it all.
Exited the road at roughly 70 mph. Hit a 6" pine tree square on, spun around and hit a much larger tree with the back. Emerged totally unscathed. Had no cell phone. Walked 1 mile home. Amazing.
We pondered what to do with the car for a while as it sat after the accident. We kept a battery tender on it always so the pesky alarm and immobilizer didn't hamper a future project. Motor ran, trans shifted. Ideas began flowing. Finally, insurance came back with a buy out price of only $1200! That meant we now had a new project on hand. From here on out called raceLotus. First order of business, strip it down to see what we got that's salvageable. At first glance, it doesn't look promising. But most the bones are intact, minus the passenger rear suspension. The car was stripped of all bodywork because basically every single panel had damage. Only the passenger front quarter behind the wheel survived and even it had broken mounting tabs at the top. We decided on a budget build based on our initial good fortune with the $1200 value. Total stripped down racecar with the bare minimum. That would be the cheapest route by far based on what we had to start with. Partially inspired by the show Roadkill's CorvetteKart, we began stripping all HVAC, interior, extra wiring, anything not absolutely necessary.
Valuable parts removed were then sold on eBay to cover the cost of replacements. My dad even met member LotusDan when selling the original wheels. The passenger rear of the car would still need a wheel, tire, hub with ABS sensor, lower frame mounting bracket for control arm, lower and upper control arm, tie rod, coilover, new bolts/nuts for all this and a brake line. Not to mention would any of this even come close to lining up after such a horrendous crash? Trying to save money, and with some careful filing, the axle splines were saved. The caliper was also saved but took a beating. The car also needed an oil cooler and radiator/fans plus a fix for the broken brake reservoir line to master cylinder fitting.
With this decided, and with our work really picking up, the car sat for a while. By this time, dad had purchased a 2007 Exige S. Got an awesome deal on it and loved the car. But it had a few minor issues. The second gear had a crunch to it. And the engine moved way too much under hard acceleration. And the paint was in unloved condition. We slowly amassed parts to fix it, with the idea being we were going to use the known good trans from raceLotus and buy a replacement for it.
---
Last edited by Aedo; 03-11-2017 at

05:41 PM

. Reason: fixed tags
Registered User
Join Date: Mar 2016
Location: Ga USA
Posts: 20
At the same time, finding the replacement parts for the raceLotus wasn't always easy. Sometimes aftermarket upgrades were cheaper than stock replacements. We took advantage of this and bought upgraded parts for the Exige S and used the leftovers from it to finsh raceLotus. Finally, when we had time off work for a few days in a row, we performed the transmission swap. The good one from raceLotus went to the Exige S. While we were in there, it also got a lightweight flywheel, HDSS ACT clutch, and motor mount inserts. The Exige S also got new lower control arms and toe links, so raceLotus got the better Exige S toe link connection bar thing. The Exige S was now much more racecar itself and better than ever!
Back to the raceLotus, we bought a set of used sportpack coilovers from a member here on LotusTalk, a used transmission from MonkeyWrench, a used upper control arm from eBay. All the other parts we needed we ended up buying new. We liked the motor mounts and clutch/flywheel combo so much on the Exige S, we treated raceLotus to the same thing, along with a K&N air filter. This car however, is so much easier to work on with no bodywork. So the trans/clutch/flywheel install went off without a hitch after having just done the same thing in the Exige.
Then came time to reassemble the suspension and come up with a way to mount the radiator. The control arm and coilover attachment brackets all needed some light "massaging" from a hammer but for the most part already lined up. The upper control arm and coilover went in easily. The lower, not so much. So after some more massaging action with a sledgehammer, the lower control arm went right in! All these pieces even bolted up easier than we had thought. No obvious binding through the range of motion.
We gave it a quick alignment and everything was surprisingly easy to get within spec. Then the radiator needed mounting. It took some thinking since there were no original brackets left. But we did it. And buttoned everything up for the first start up. So great to hear it make noise, even if it was about midnight! Followed the next morning with a quick test drive. It went great!
---
Last edited by Aedo; 03-11-2017 at

05:43 PM

. Reason: fixed tags
Registered User
Join Date: Mar 2016
Location: Ga USA
Posts: 20
So awesome to have everything work after being down for so long. Doing doughnuts in the yard have never been more fun! Bleeding the air out of the cooling system took some time. At first we wanted to keep the door bars and stock roll bar for a true budget build, but we began thinking nobody is going let this jalopy on their racetrack looking like this. So we had to step our game up. Roll bar and real battery mount. Seats too along with belts. Started with the roll bar. 1 3/4" .120 wall DOM. Way overkill for the light weight but its better than stock that's for sure. Moved the lower mount of the roll bar back from the stock location to accommodate taller drivers in the future. It's a little taller than stock too. Made the third base mount with a 3/8 rivnut into the aluminum. I used the stock rear attachment portion and moved the motor mount bracket and coolant tank bracket to fit the new bar.
Then the fun part - fitting a 6 point harness. We just used the stock belt mounting location for the lower belts on the upcoming test day knowing we were getting a different seat eventually.
Also gave it a more suitable alignment with maxed out (no shims) front camber, some shims in the rear with 0 toe up front and 1/8" toe in for the rear. Then we took it on its first real test, an empty parking lot at a friends unoccupied warehouse in an industrial area. Brought a couple of cones and had a blast. A few minor issues though.
We had lots of front end lockup under braking. The two rear rotors had sat outside and accumulated rust which helped the front have too much bite comparatively. We realized that we needed ABS and some weight on the front end. Also the front felt too stiff. Generally understeering in most conditions, except when trailbraking but the front tires still wanted to lock up. The car would consistently pick up the passenger side front tire when accelerating hard and turning right. So after that test session, our next step was to take off the front swaybar and add a new seat. So we tried fitting a Sparco Sprint seat. Bad idea. Should have researched the forums. No tube frame seat is going to fit. Onto the next one, a Kirkey 15" intermediate road race aluminum seat (15" is the smallest one they make). And custom aluminum brackets with 7/16" bolts supporting the seat. We used Geforce through bolts for a seat bracket mount, lap belt and submarine belt mount. We love the seat, fits great. It looks tight but fits us perfect. Were both about 5' 11" and 32" waist.
Then we built custom aluminum brackets for the new battery up front in the unoccupied HVAC cubby hole - an XS Power 320 amp 15 lbs and ran some 2 gauge power wire to it with a master switch just behind the driver's head on the roll bar. Then it was time for ABS. I assumed it wasn't working because the wiring coming from the sensor in the rear hub had been pulled clean out. No way to fix it that we know of without just replacing the entire hub. So a new hub was installed, sensor plugged in, and the ABS light went off! Now time for a more serious testing and the first autocross!
So test session #2. Another empty parking lot. Much better this time with ABS. It feels so good being able to brake that hard into corners. Still unsure about the sway bar. There was no more tripoding accelerating hard out of tight corners, but we couldn't tell if it had more or less grip. An LSD would have been a nice addition. We're getting a lot more comfortable with the car. We began playing with tire pressure. 24f/28r worked well on the mixed asphalt/concrete surface we were running, getting the rear tires to the wear triangle, and the fronts slightly past it. The car needs a little more front camber. We're thinking about machining the knuckle for some extra clearance. Otherwise it went well. Now it's time for its first race next Sunday.
I will definitely upload some pictures of the car at the autocross - so stay tuned.
---
Last edited by Aedo; 03-11-2017 at

05:44 PM

. Reason: changed tags
Registered User
Join Date: Mar 2016
Location: Ga USA
Posts: 20
So as we sit now: extreme weight reduction, wiring remains but everything possible unplugged and removed (air bag module, HVAC controls, etc.), some sound deadener left from the previous owner, sector 111 wheels, A048 tires, no front sway bar, sport pack coilovers, stainless brake lines, aftermarket radiator & fans, lightweight steel flywheel, ACT HD clutch, motor mount inserts, catback exhaust, K&N air filter, no snorkel, factory tune, all underbody panels attached except front panel.
To be race ready, we just have to make some aluminum brackets to support the rear portion of the diffuser. While it's not the most aerodynamic design, I'm still really interested to know what it weighs...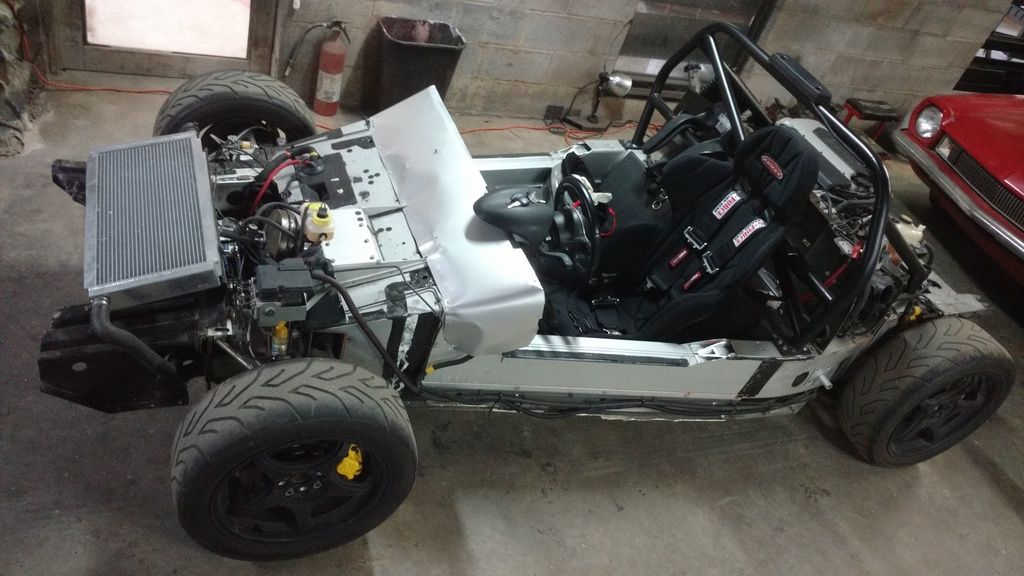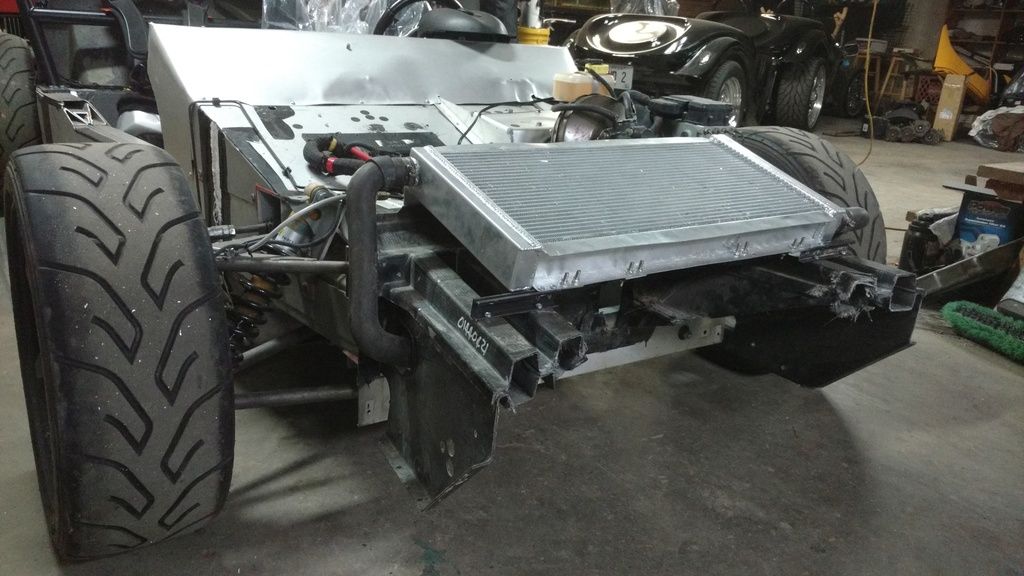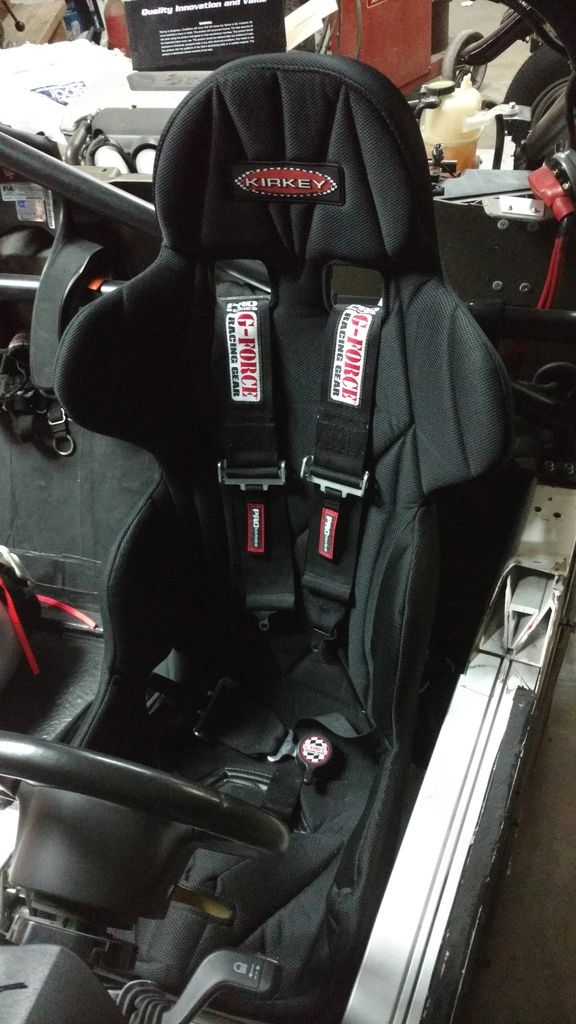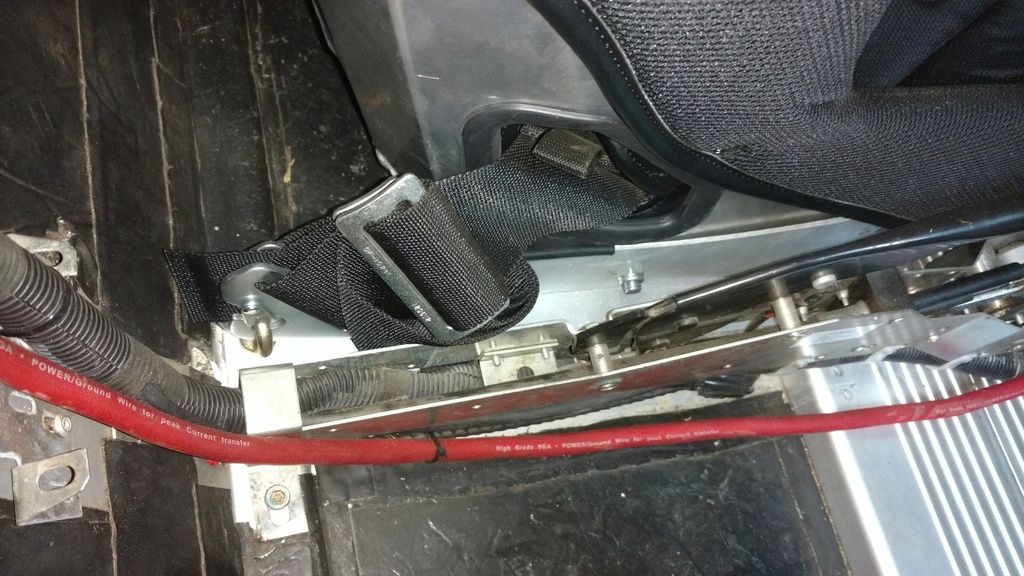 And the dash with the practice cones riding shotgun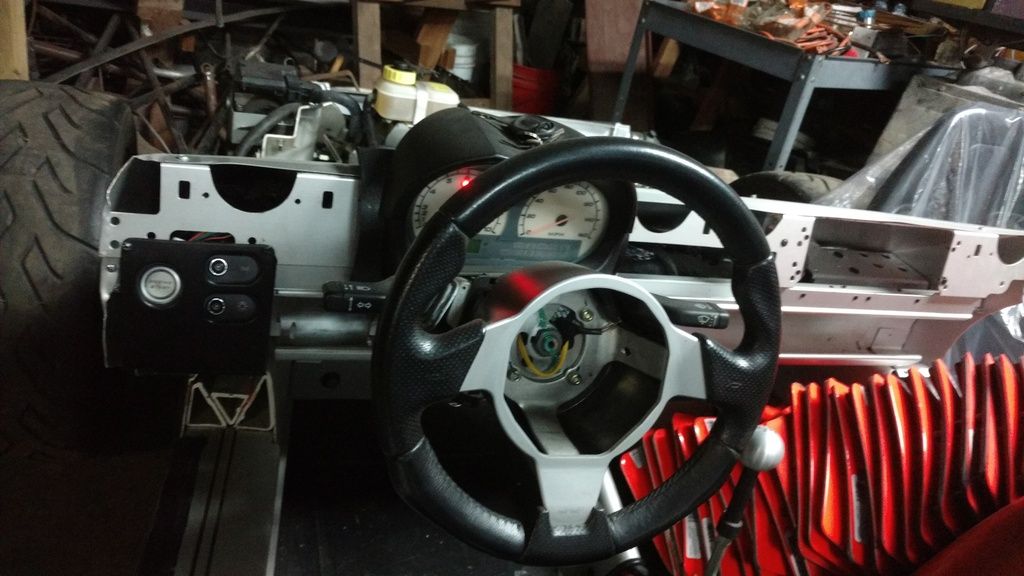 ---
Last edited by RockLotus; 03-18-2017 at

11:40 AM

. Reason: image tags
Registered User
Join Date: Mar 2016
Location: Ga USA
Posts: 20
The autocross was a blast and raceLotus was a big hit. Luckily for us, the tech inspector's only complaint was "You don't have a windshield so I'm not sure where to put this sticker". The course was on a mostly smooth asphalt parking lot with lots of little rocks/pebbles/stones. It made for a fun to watch and quite slippery 180 degree finish where half the cars spun out. The afternoon runs were much faster after the morning cars swept off the rocks and the temperature rose, both on track and in the tires. The car never got over 200 coolant temp even with idling the entire 4 run session.
Our car did well, but there is room for improvement. It's still generally nervous in the steering (not sure why we expected anything less). RaceLotus pushed wide hard in the low traction 180 degree corner. Too much damping and probably too much spring rate also. We're thinking we should at least soften up the front for a lower ride height and more rake which should help turn in. We are currently considering going back to base model coilovers all the way around. The car could also use some more front camber. And we definitely need to install a passenger seat for ride alongs - there were a few people who said they wanted to go so bad that they would sit on the floor for a ride along if the event organizers would let them.
So, out of about 25 cars, I got beat by a Miata, S2000 and an Evo on slicks. Not too bad for its first true test.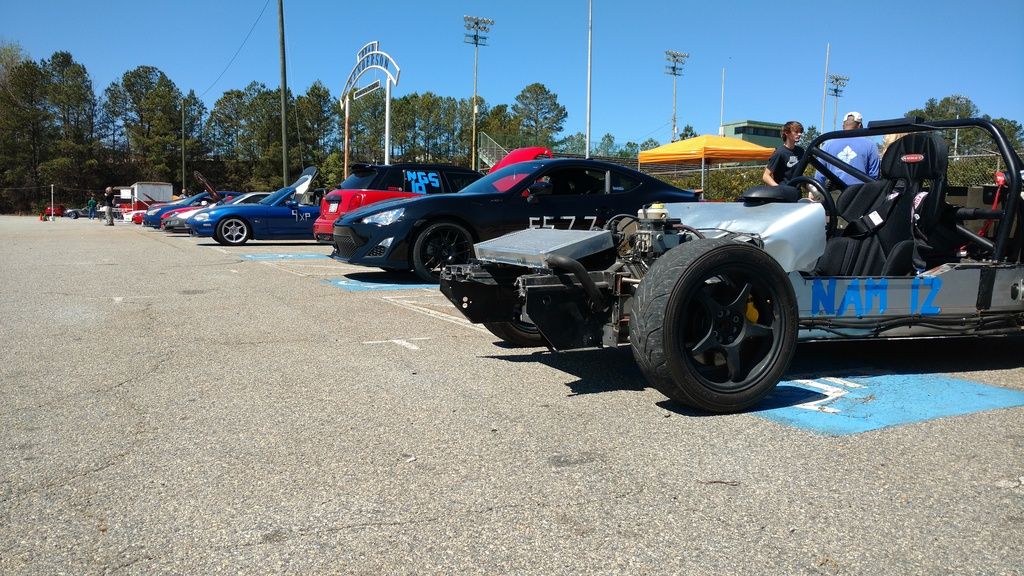 Along with our canine crew chief: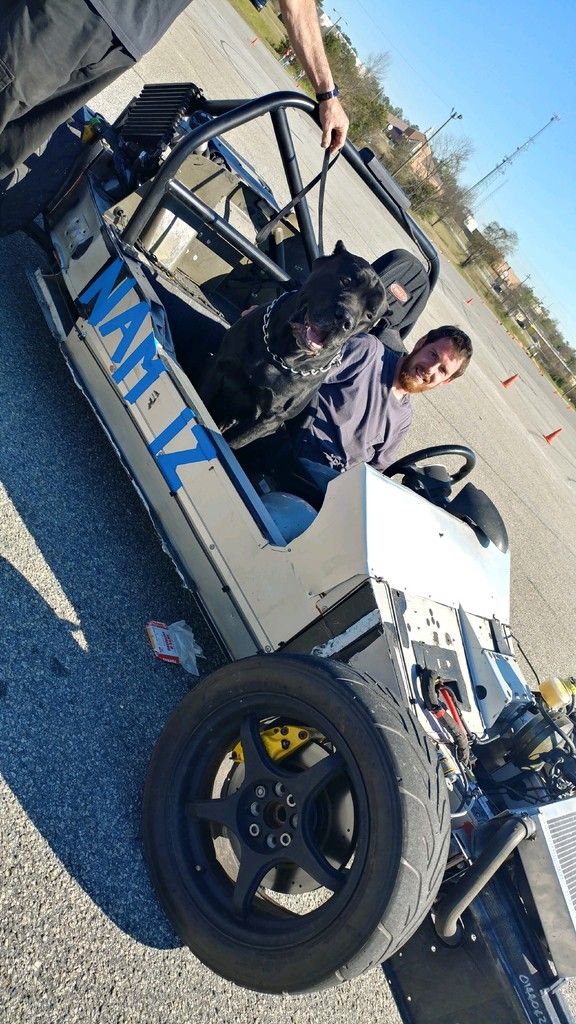 purveyor of lightness
Join Date: Feb 2004
Location: Leawood, KS
Posts: 4,046
That's SO DAMN awesome - but you DEFINITELY have to weigh it!
1000 lbs? lol
---
** save ~10 lbs gain 1 hp ** EQ: Y=(190*X) / (1984-X) where Y is (HP) and X is (lbs)
'07 Lotus Exige S310
WTC 2
Registered User
Join Date: Mar 2016
Location: Ga USA
Posts: 20
I added the passenger seat and matching belts for some extra fun this coming Sunday. It's so much easier bolting in the factory seat base instead of making brackets. The rear two mounts got drilled out and eye bolts installed for the seat/lower belt mounts to match the driver side. Also, the new belts are stamped Jun '17 - but hey I'm not complaining.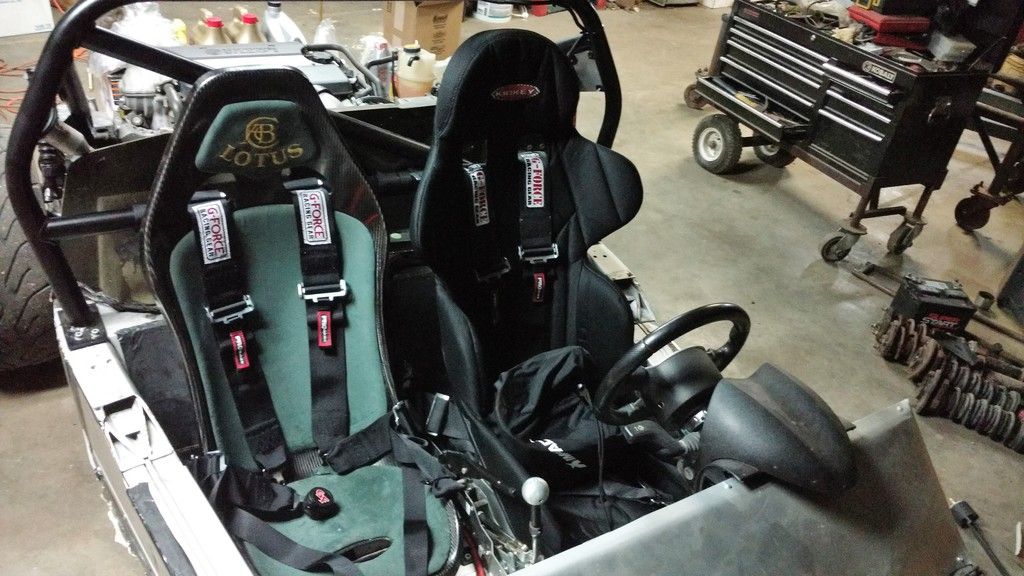 While we're on seat pictures, here are some driver's seat bracket pictures as requested by another member
This is just .125" (1/8") aluminum angle shaped around the seat holes and floor space. Corner guard protector on one edge to prevent belt chaffing. Both front bolt holes are barely accessible because of how wide the front of the seat is. Add the aluminum bracket to this width and both bolts are almost touching the 90 degree part. The front two snaps of the seat cover are left undone because it fits fine and they are too big of a pain to do/undo.
Passenger side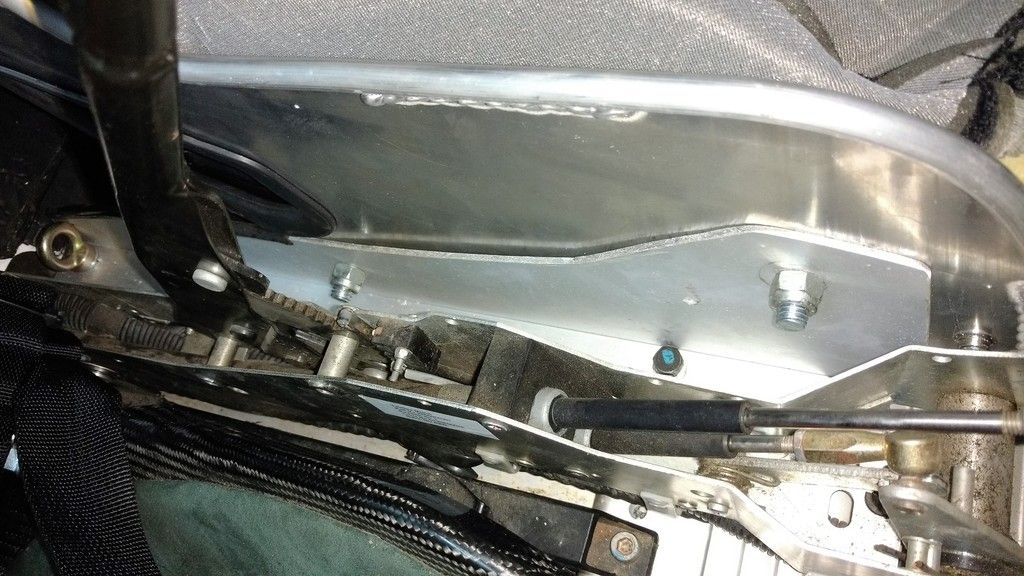 Driver's side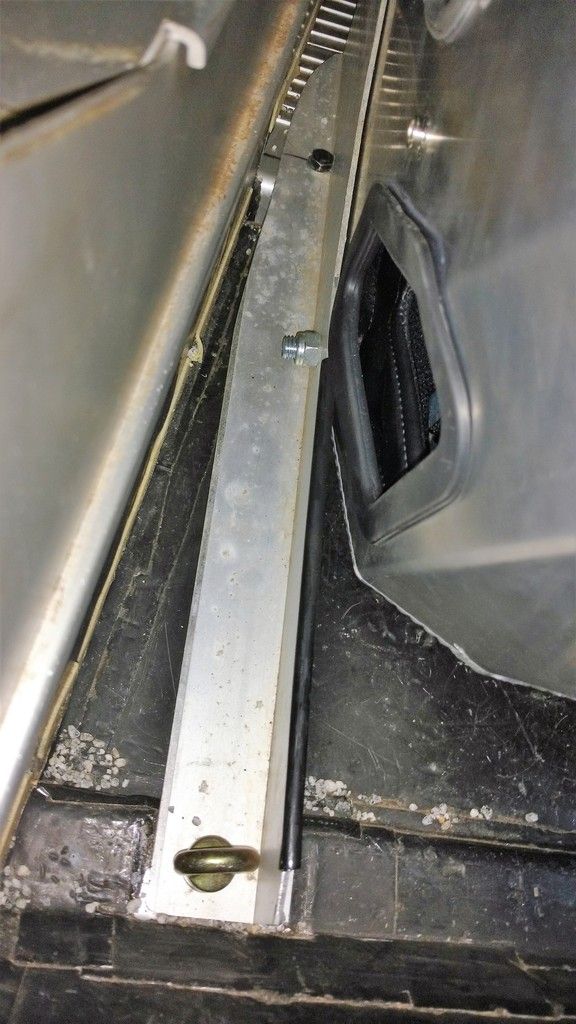 The steering arms got milled down on the Bridgeport for more front camber. 5mm was removed. With the light weight and LSS coilovers, I was only able to get -2.0 degrees on both sides. So the rear will be set to -2.5 (slightly more than previous) and we'll see how it goes.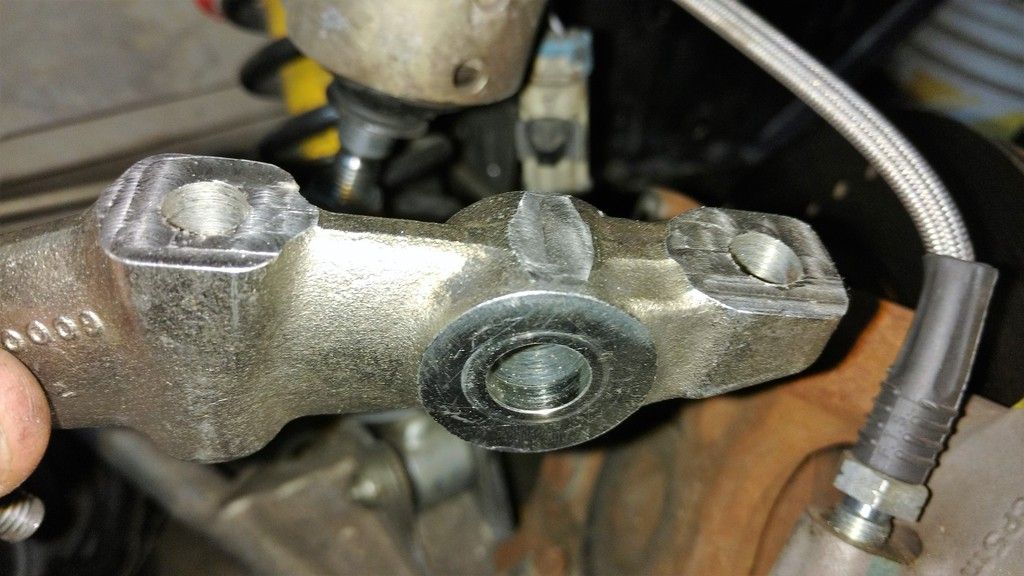 Registered User
Join Date: Sep 2008
Location: Bear Mountain, NY
Posts: 1,250
just simply WOW
---
Lotus Elise '05 Graphite Grey; Miles: 41,xxx
Registered User
Join Date: Dec 2015
Posts: 41
Thanks for posting the seat pictures,,,,much appreciated.
Registered User
Join Date: Mar 2016
Location: Ga USA
Posts: 20
The extra camber and weight in the passenger seat were a definite improvement. So the autocross went better than expected. Lots of cars (around here lots of cars means 30 or so).
But when the runs were over, raceLotus had the fastest time of the day!
The car still understeers in the really tight sections more than say an unmodified Elise, but the turn in is ridiculously quick. The visibility in this car seems to us to be a big advantage. You can cut so close to cones. The slalom feels stupendous. You would think we totally messed up the balance of this car but I've got to say it feels more go kart than ever.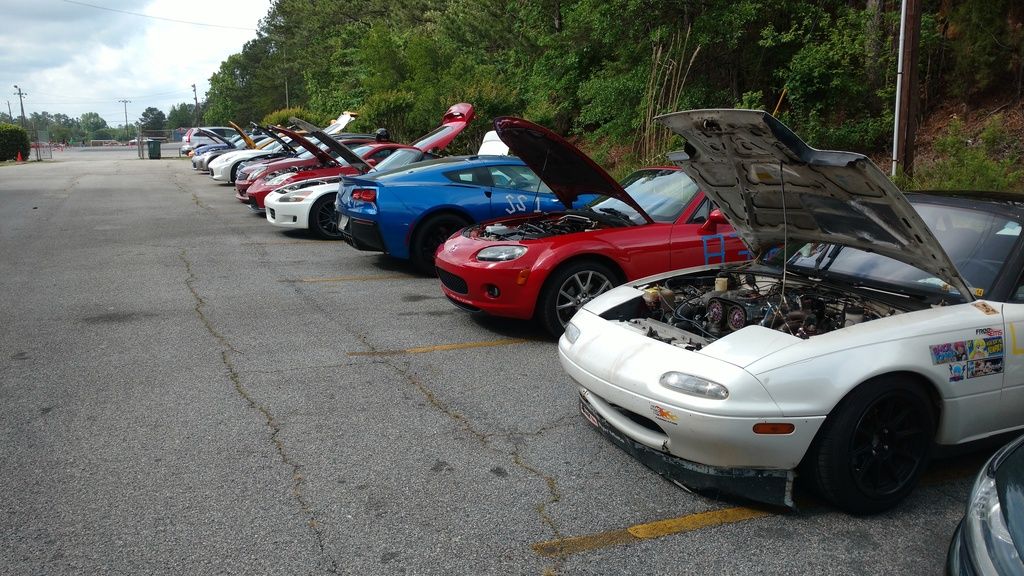 Looks kinda out of place, doesn't it?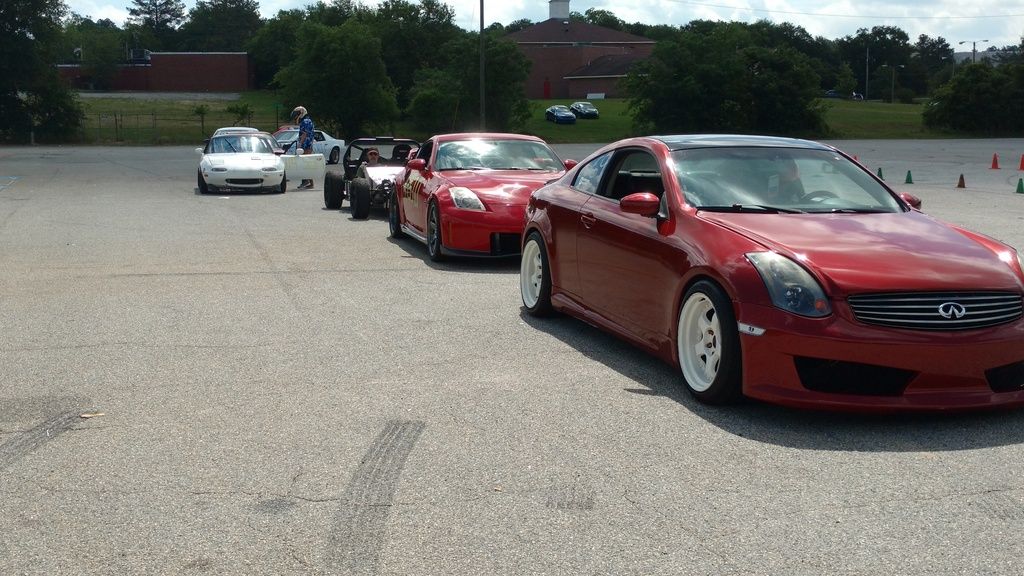 Rubbing the win in the Exige's face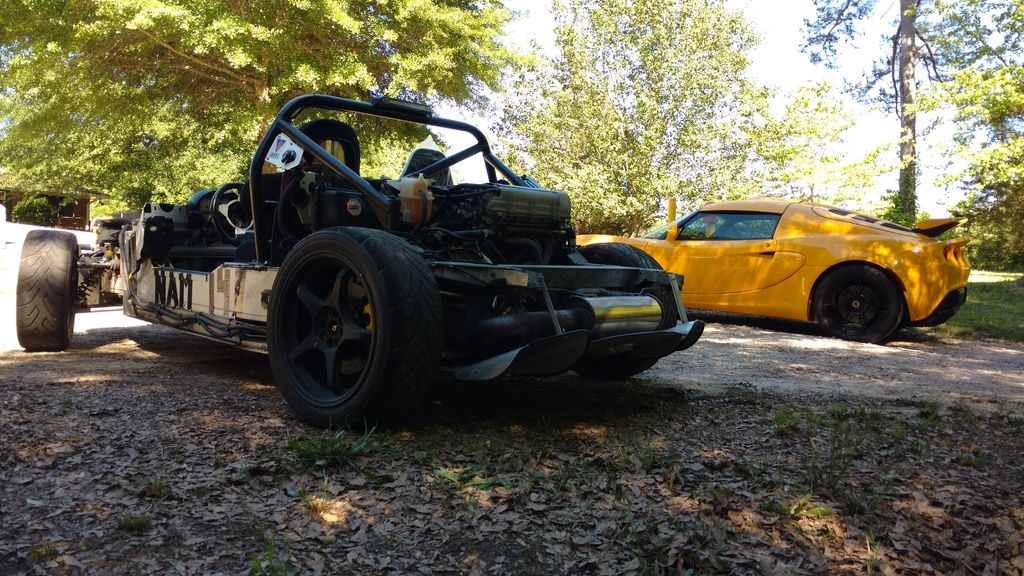 Currently Active Users Viewing This Thread: 1

(0 members and 1 guests)