Holloway Performance, First impressions
---
I just finished rebuilding/installing my geabox. I installed a new Quaife diff, new crownwheel and pinion, new syncros and the Holloway UN1 upgrade plus a new spigot bearing on the flywheel. I haven't driven the car hard yet because I'm still breaking in the CW & P but so far I'm very pleased.

The kit consists of a one piece, strengthened primary shaft, First gear (3.00 to 1), Second gear (1.94 to 1), Fifth gear synchro hub, Fifth gear sleeve and thrust washer, strengthened front roller bearing, strengthened rear taper roller bearing, misc. circlips, washers, and primary shaft nut. It definitely looks like a quality kit. Only first and reverse are straight cut, not second. Also, the dog teeth on 1st and 2nd are about 50% larger than stock. The gearbox doesn't require any modification either. The kit just just drops in.

After driving the car for a few days, I noticed the new ratios suit the V8 way better than stock. 1st is much more useable than before. I haven't tried any quick upshifts into second yet so I can't comment on that but the downshift from 3rd to 2nd is way quicker than before. Also, gear whine is almost none but then again my exhaust is pretty loud. And the little whine there is, is only in 1st. No issues getting in & out of gear; the gearbox just feels great.

So as of now, I'm very satisfied. I'll report again once it's broken-in and I run the car through its paces.
Sounds great. I think I was your neighbor for a short time I have an Elise. I am in Tampa now with the car (Yes I did drive it here). Glad to hear you are making great progress with your car.

All the best
---
The word "PASSION" should aways be uppercase.

#349 '05 AS Elise Touring, Hardtop, Starshield, Plinth delete, GPS Garmin 680, V1, V1 mirror, Leather console, Multivex, Alpine CDA9887, JL stealthbox, Focals, Alpine PDX 5, HID, RAC Monolites, R888's, Stage II, Front Slotted rotors, R4-S pads, Stebel nautilus, TitanQR, RLS Phone Mount, and Odyssey 925 now with bracket.
Yes Dana, that was me. Nice to hear from you. So when did you move to FL?
Do you have any video of your setup? Would love to see/hear a modded Esprit.
Gonzo;
Great to hear that you're back among the running.
We should get together for another drive. Maybe closer to Christmas when my work travel schedule calms down and I get a little time at home we could set something up?
Registered User
Join Date: Sep 2005
Location: NY
Posts: 347
Thanks for the update, it is great to hear how this upgrade is and will work. Seems positive so far, hope it continues.
Thanks guys, it feels great to drive the car without worrying about the trans!!!
Gonzalo, you're officially ready for 500 rwhp.
More miles on the car, and everything is great now. Here are a few vids from yesterday.
Here's a rolling start. Part throttle in 1st due to wheel spin, WOT the rest.
YouTube - Esprit V8 rowing thru gears
Here's a standing start. Part throttle in 1st again to avoid wheel spin, WOT the rest.
YouTube - Esprit V8 rowing thru gears Pt 2
On the subject of synchros, I did not have good luck with aftermarket synchros. 5th gear synchro never right from mile 1 so I replaced it right away with a used OEM and everything was well. 1st-4th worked fine while I was breaking in but failed once I started driving the car hard. So I split the case again to replace the synchros. I could not find any new OEM syncros in the states and I really wanted to drive the car so I put in my good used OEMs. It's all good now.
When I split the case, this is what I found:
The friction face of the 1st-2nd aftermarket synchro looked fine but the biggest differences I found were matterial does not seem the same as OEM and the ridge where the synchro spring rides on on the back is not as defined as the OEM. The aftermarket one just has a cast round shoulder as opposed to a defined edge on the OEM.
Aftermarket: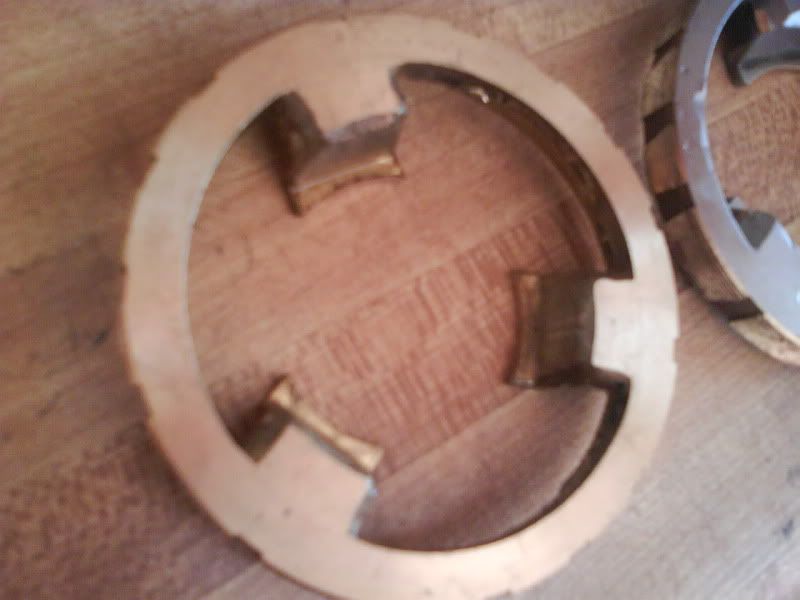 OEM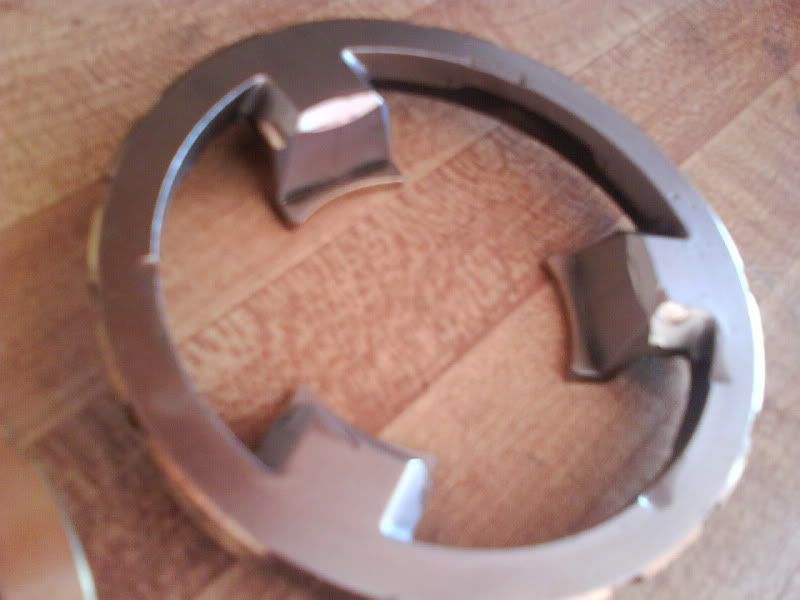 The 3-5 synchros have a coating on the friction face of the synchro. The coating on the aftermarket ones looks almost like paint compare to the OEMs. The coating on the OEMs seems thicker and is textured.
Here's 3rd. notice the coating after only break in miles:
Here's 4th, the coating was beginning to fail too:
So beware of cheap synchros.
Quote:
Gonzalo, you're officially ready for 500 rwhp.
:lol: No, the car is perfect at 380rwhp. I think 450rwhp is max I'd run on this car for those high speed runs.
Currently Active Users Viewing This Thread: 1

(0 members and 1 guests)