AEM DIGITAL WIDEBAND UEGO CONTROLLER 30-4100! Authorized Dealer!
---
$199. SHIPPED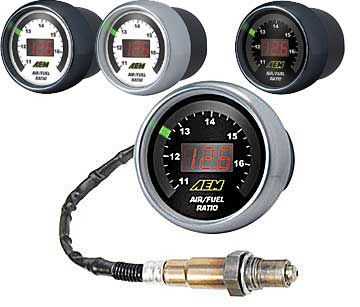 AEM Digital Wideband Controller Gauge Kit part number 30-4100. The Kit comes complete with: (1) 2-1/16in. UEGO Gauge Assembly, (1) UEGO Sensor, (1) O2 Sensor Weld Bung, (4) Butt Connectors, (1) Installation Instruction Sheet, (1) 4 Lead Harness, (1) UEGO Sensor Harness, (1) Silver Bezel, (1) Black Faceplate, (1) White Faceplate, (1) Black Bezel.
AEM's Wideband O2 UEGO Gauge is a must for anyone looking to maximize engine power and safety using advanced tuning monitoring. When tuning an engine, accurate Air/Fuel Ratio data is critical to performance and safety. Running rich can cause a loss in power, while running too lean may result in serious engine damage. The AEM Wideband O2 UEGO Gauge features large LED numerals which enable the user to see very quickly when there's even a .1 change in ratio, providing time to shut things down before engine damage occurs. Each gauge comes with interchangeable black & silver bezels and black and white gauge faceplates for multiple color combinations. The unit's 52mm (2-1/16") gauge housing fits in most gauge pods and can be remotely mounted virtually anywhere. All AEM digital gauges feature a 0-5v analog output for use with data loggers and virtually any engine management system, such as the AEM EMS or FIC.
pm me or email me if interested
[email protected]
Currently Active Users Viewing This Thread: 1

(0 members and 1 guests)