Vandenbrink Fra Mauro - Lotus-based coachbuilt supercar?
---
Alright there is absolutely zero information on this past Vandenbrink's own recently-updated website and pure speculation.
Their site was down recently, and I just happened to check back on it today with several updates, including a very Evora-looking concept they're showing off.
Here's the tight-lipped quote off their site:
Quote:
Project 'Fra Mauro' is a hardcore sports car with a jet fighter inspired body, made out of carbon fiber. The new coachwork is designed over an aluminium 'tub' chassis originating from a highly exclusive brand. It is fitted with a very reliable 4.2 Liter V8, located behind the seats.

The base car of this project has won several prestigious awards by the press and industry and together with Vandenbrink's all new and lightweight body design this car is going to be something very special.
The design shares many cues from the Evora, including some aesthetic and functional elements, as well as a very similar general proportion. And look at the windscreen, which is pretty much unchanged. The only thing thwarting the Evora relation is the mention of the V8 platform, which they claim to already be released and garnering press. They also mention an aluminum tub chassis.
Spyker has a 4.2L V8, and Van den Brink has had work experience with Spyker, as well as the proximity of their current operations. Any of you people more inside know anything? What about AgentTripleX's Spyker insiderness?
Here's what she looks like. You be the judge.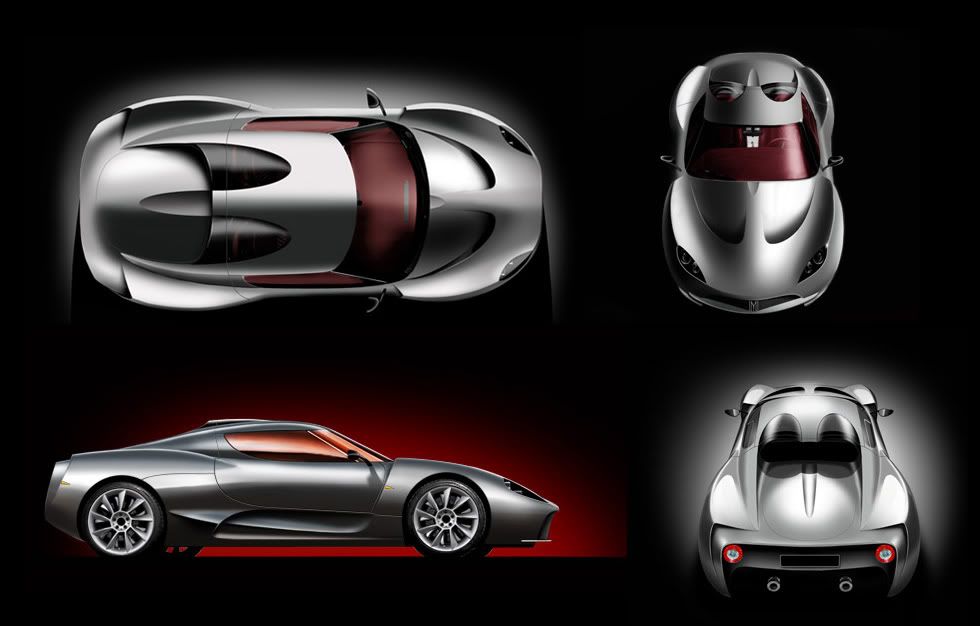 Source:
http://www.vandenbrinkdesign.com/?page_id=147
---
Cut me I'd bleed Lotus. -Gordon Murray

Registered User
Join Date: Jun 2007
Location: Marin, California
Posts: 4,116
Looks like an Evora and Spyker had a child...
---
07 Magnetic Blue Exige S
"Mostly though, it's just a triumph of British engineering." -Jeremy Clarkson
looks way way better than the evora
...i was watching a lotus evora development presentation linked here last week, and early on the presenter mentioned that its platform had was already being adapted by a manufacturer he wasn't at liberty to disclose - could this be it?..
---
2005 Federal Elise | Touring | Storm Titanium
...85,000 miles and aging beautifully...
I like the weird dual Gurney bubble moonroof deal - good for tall guys, bad for bald guys
---
2006 Exige (wife's car)
2005 Caterham Superlight (4 wheel motorcycle)
2004 Subaru STI (Urban Assault Vehicle)
1966 Lincoln Continental - in progress (dropped and chopped)
The platform is modular and can take a lot of different configuration for engines. This is the same chassis that Lotus will be fitting a longitudinal V8 themselves so it is totally plausible. That is a good looking car. I like it.
I see many design elements here...
For one, the rear looks like it's straight from the one-off Ferrari P4/5 except for the exhaust placement.
Secondly, I see a lot of Spyker in the design, and now that I read the article, I understand why.
Here is the Spyker Zagato that it makes me think of...
And of course, in the front you see some of the Evora.
Registered User
Join Date: Feb 2007
Location: Sherman Oaks
Posts: 1,315
---
2005 Starlight Black Elise, -hardtop/touring/black interior/sector111 carpet buttons!
2008 Infiniti G37-S
2012 Mazda3i Grand Touring Hatchback w-SkyActiv
1974 MGB Roadster
(1991 300ZX 2+2 - RIP
girl, you treated me well.
---
2005 Saffron Yellow Elise (Sold)
Currently Active Users Viewing This Thread: 1

(0 members and 1 guests)