Save Will Buxton
---
For those who may not know Will has been sacked from F1 starting next season by the new owners. Personally I like the guy, he's into it, informative and funny. Granted Peter Windsor did a great job but Will 'sparks' life to it.

Is there some way we can contact the new network owner of F1 and give them a "Keep Will Buxton" campaign? Let's see here... if they were to use the guys from the US version of 'Top Gear' I'll fall asleep.

We also need to keep the original crew of Bob, David, and Steve who know from personal experience in the sport how to 'broadcast' it.
What?! Do you have a link for info on this? Will is the man, he can't leave! Here is Will and I at a pub in Montreal last year (I'm on the left). Really cool guy.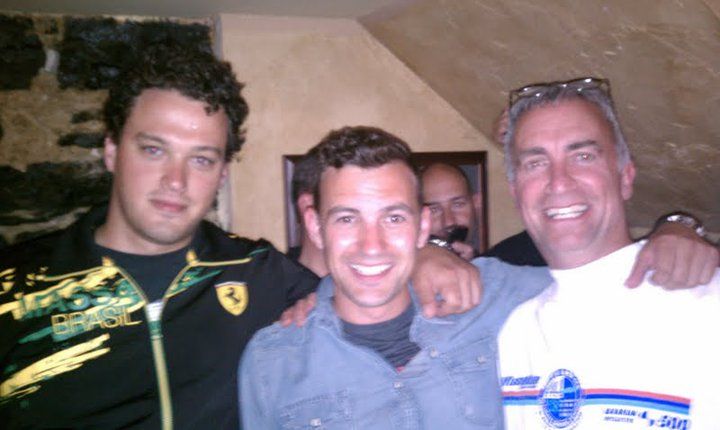 ---
2005 Krypton Green Lotus Elise
1993 Black BMW 325i
speed got dumped i heard from F1. So who's picking it up? FOX?
---
** save ~10 lbs gain 1 hp ** EQ: Y=(190*X) / (1984-X) where Y is (HP) and X is (lbs)
'07 Lotus Exige S310
WTC 2
Registered User
Join Date: Dec 2006
Location: 2 laps down
Posts: 6,791
Yes Will's insight and knowledge of the sport would be hard to beat.
---
Anyone can make something complicated. It takes genius to make it simple. Einstein.
2011
Evora S
Racing Heritage Edition (#3 of 4) (Now with alexsharkeyross)
2005
Elise LRG, track prepped
,
1974
Lotus Europa
Special
3841R in
JPS
livery
2007 Toyota Tundra (about 10 cup holders), traded for
2015 Tundra TRD PRO
2007 Audi S4 DTM (RIP) 1980 Rover SD1 (new home)
2015 Honda Civic Si
2016 370Z Nismo
2013 Bentley Continental GT Speed 2019 Lexus LC500
Registered User
Join Date: Dec 2011
Location: North Dallas, TX
Posts: 224
NBC is picking up F1. Speed is owned by FOX, and the whole station is being converted to a 'sports' channel.

Hopefully, Steve - David - and Will will also be transitioning to NBC. Bob I think will stay with FOX.

Will is a real genuine fan of F1, and an incredibly cool guy to boot. I met him this year at Montreal (with Sam Bird) and we had 1 or 12 drinks.
Matchett's Chalk Talks - OK; his broadcast skills are mediocre at best. He doesn't shut up and states the obvious repeatedly. I hope he disappears.
"Push, push, push" - over a cliff I pray.
i would hope NBC would pick up david, steve, and will... i mean seriously - it would be massively stupid not to, and in the big picture those 3 are probably the cheapest line item cost of the whole broadcasting F1 gig... go with a proven package team and your bottom line isn't affected either way, and your top line is boosted. it would amaze me otherwise - however, i am frequently amazed...

i haven't heard anything, and we probably won't until after hte season -
---
"I really started paying attention to cars was when they came out with the Nissan Z, the first body. Then I seen the Cherokees, the old square ones, and I was like, "Wow, that's cool." Then I seen the Isuzu jeeps and I seen the Wranglers."
-Lotus Cars VP of Global Design
---
Last edited by Type82; 10-31-2012 at

08:51 PM

.
where is the article that NBC said they will not hire him?
---
"I really started paying attention to cars was when they came out with the Nissan Z, the first body. Then I seen the Cherokees, the old square ones, and I was like, "Wow, that's cool." Then I seen the Isuzu jeeps and I seen the Wranglers."
-Lotus Cars VP of Global Design
Currently Active Users Viewing This Thread: 1

(0 members and 1 guests)