Registered User
Join Date: Jun 2014
Location: Evergreen, CO
Posts: 1
"Lotus also claims it will be the first fully electric hypercar built and to go on sale from a British manufacturer." How can they claim this? I think the Aston Martin Rapide E is first.
Quote:
"Lotus also claims it will be the first fully electric hypercar built and to go on sale from a British manufacturer." How can they claim this? I think the Aston Martin Rapide E is first.
The answer you already have..... the Rapide is not a hypercar, the Aston AM-RB 300 is what you might refer to, I think they are saying they will beat that car to market.
Lotus's All-Electric Hypercar Debuts July 16th

The Type 130, Lotus's first fully new car since 2008, promises signature performance in an EV package.

This post, originally published April 16th, 2019, has been updated with the car's launch date and another teaser video.
Lotus confirmed in April at the Shanghai Auto Show that it will soon release an all new, all-electric hypercar, currently dubbed the Type 130. We've yet to see the whole thing, but the company has released two short teaser videos of the car so far. It's set to be unveiled on July 16th, 2019 in London.
The Type 130 will be Lotus's first truly new vehicle since 2008, and its first all-electric production car. This isn't some rebodied Evora with an electric drivetrainóit's an entirely new car. The teaser images shown were "illustrated through computational fluid dynamic modeling, demonstrating its unique lines and airflow."
The company dropped a teaser video in May showing the car's charging port section, which is hidden by a body panel when not in use. The video also shows off the car's light-up Lotus badge.
"Type 130 will be the most dynamically accomplished Lotus in our history," said Lotus CEO Phil Popham in a statement. "It marks a turning point for our brand and is a showcase of what we are capable of and what is to come from Lotus."
In January, Lotus announced a partnership with Williams Advanced Engineering, the sub-division of the Williams F1 team responsible for developing cars such as the Aston Martin RapidE and Singer DLS. So it's safe to assume the firm is involved in the development of the Type 130 as well.
Will a Lotus without an internal combustion engine still be fun to drive? Well, we'll just have to wait to get behind the wheel to find out. Judging by how this project is going, though, we're not too worried.
https://www.roadandtrack.com/car-sho...ebut-shanghai/
The Lotus Type 130 Is a Lean, Mean Electric Hypercar Debuting on July 16

The first all-new Lotus in more than a decade is seven-figure electric hypercar that Lotus plans to produce starting next year.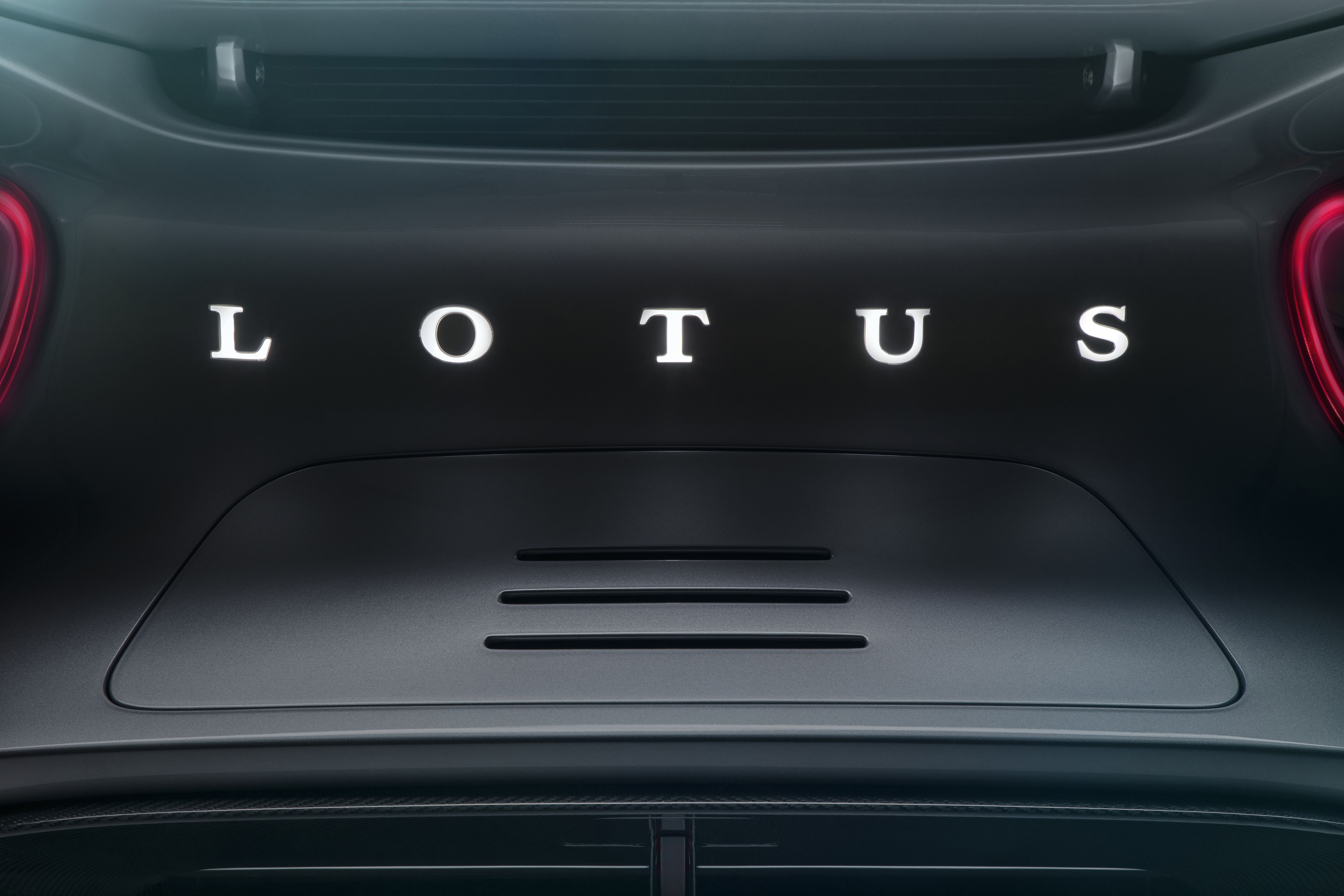 The Type 130, formerly called Project Omega, is in the works at Lotus's U.K. headquarters, and C/D has seen the nearly complete styling model.

This will be the first all-new Lotus to go into production in 11 years.

The electric hypercar will be produced in limited numbers starting in 2020, priced over $1 million.
UPDATE 5/31/19: Lotus has announced that the Type 130 hypercar will debut in London on July 16 of this year. Only 130 will be built, with Lotus saying that "several hundred" potential customers have expressed interest in buying the car since it was first talked about at the Shanghai auto show. The brand also released a new teaser photo and a video that both show the car's rear end. We can see an active spoiler, the top of a carbon-fiber diffuser, a charging port, and a light-up Lotus logo.
Lotus is set to launch its first all-new model since 2008 with the creation of what is being described as an electric hypercar. Project 130, as the car is known internally, has been officially announced at the Shanghai auto show and, for now, is previewed by the abstract image that you see below. But having already seen an almost-finished exterior styling model at the company's Hethel HQ, and talked to senior executives about it, we're able to add more to the scant official details.
Formerly known as Project Omega, the 130's move to a "type" name is confirmation that the new car is now destined to make production. The car will be formally introduced later this year at an event in London, with limited production following in 2020 and a price we can expect to be comfortably into seven figures. Although street legal in some markets, the car will not be type approved for use in the U.S., but Lotus insiders confirm they expect some will make it to the States.
As the teaser image suggests, the car is low and aggressively styled. In overall length, it is similar to the current Evora, according to Lotus's design boss, Russell Carr, but the 130 will sit considerably closer to the ground and will be wider; Carr says it will measure about 78 inches across compared with the Evora's 74.2 inches. It is a two-seater, and the cabin will be compact, accessed through scissor-opening doors. Like the Ford GT and the forthcoming Aston Martin Valkyrie, the new Lotus will have a teardrop shape allowing air to be flowed around this in huge channels beneath the front fenders.
But the most impressive feature is a detail the official rendering makes no reference to: two substantial air tunnels that are integrated into the rear bodywork and which have the rear light elements integrated around their exits. Carr admits that this part of the 130's design have been inspired in part by the technical look of LMP race cars. From anyone following the Type 130 the most obvious styling detail will be appropriately Lotus-minimal: what's not there, rather than what is.
The Type 130 will use a core carbon-fiber structure and will have a battery pack positioned behind this in the space that a traditional car would use for its internal combustion powerplant; the plan is to show both this and the design of the pushrod-operated rear suspension off beneath a transparent cover. The rear licence plate mount will also be removable to help improve aerodynamic performance when the car is used on track. In addition to a substantial diffuser the car will feature drag-reducing DRS-style flaps and a moveable rear wing.
We don't have any performance figures yet, but we can safely assume the finished car won't be slow. Lotus Cars CEO Phil Popham promises that the 130 will have a level of urge "entirely appropriate" to the rarefied part of the market that it is aimed at. The electric powertrain, which will feature all-wheel drive, is being jointly developed with Williams Advanced Engineering, meaning two of the most famous names from the golden era of Formula 1 are now working together. We would be surprised if the total system output doesn't carry a four-figure horsepower rating and if range isn't at least 250 miles under the European testing protocol.
Other design details include a camera-based rearview mirror system, and, like the McLaren Speedtail, the 130 will use deployable pods that will motor out of the doors. "We were a little bit frustrated when we saw those on the McLaren," Carr admits. "We'd already been working on them for some time." Work on the 130 began very soon after Geely's takeover of Lotus.
The cabin will feature plenty of carbon-fiber surfaces, but Carr promises it will be more liveable than the interiors of cars like the McLaren Senna or the Aston Martin Valkyrie. The seats will be movable, positioned far enough apart so driver and passenger don't need to trade cooties. Instruments will be digital, but the design buck we saw featured conventional switchgear instead of one of the increasingly popular touchscreen-only types. "You want to be able to find functions without taking your eyes of the road," Carr said, which sounds reasonable to us.
"The trick we're trying to play with this car is to get the balance between prestige and luxury right, but also to make clear that it is still a very high-performance car," Carr said, "We don't want people to think it's a stripped-out track day monster, because it will be much more practical than that. But equally we don't want to make a Bugatti, either; it has to be a Lotus."
Ordering will be opened later this year with what we're told to expect as ultra-limited production; our suggestion that this would be fewer than 20 provoked no dissent from a Lotus spokesman. The price will be at least $1.3 million at current exchange rates.
This story was originally published on April 15, 2019.
https://www.caranddriver.com/news/a2...car-confirmed/
---
2016 Ruter #31 Bus, (not Ardent) Red
2011 Elise R, Ardent Red
2010 Evora, Solar Yellow
1971 Europa S2, Lotus Yellow
Reveal in an hour.....
---
2016 Ruter #31 Bus, (not Ardent) Red
2011 Elise R, Ardent Red
2010 Evora, Solar Yellow
1971 Europa S2, Lotus Yellow
Leaked photo..
2006 Exige
Join Date: Aug 2006
Location: Arizona
Posts: 671
You guys nailed it! The carfection video was a great rundown of the car. Nice post @
AZelise
!
---
2016 Ruter #31 Bus, (not Ardent) Red
2011 Elise R, Ardent Red
2010 Evora, Solar Yellow
1971 Europa S2, Lotus Yellow
Loves to talk
Join Date: May 2017
Location: Nashville, TN.
Posts: 735
I was skeptical but this is an exciting statement. Very impressive. This makes for interesting speculation about what they'll be doing for the rest of us, and when.
---
Lew
'17 Evora 400 MT
Registered User
Join Date: Jan 2015
Location: Toronto, Canada
Posts: 247
I love the reverse light detail. The 'T' in the rear logo becomes the reverse light.
Registered User
Join Date: Jan 2015
Location: Toronto, Canada
Posts: 247
I'm very excited for the future of Lotus after seeing this car. When relaunching a brand a statement like this is so important. The design direction is very strong and there are applications to what we're seeing here in more affordable vehicles. Aero, the minimalist interior, overall styling are applicable to the aluminum chassis cars. You can even see a hint of Evora in the upkick in the side window.

While we're not going to be seeing $50k Lotuses again, knowing that the brand can thrive is fantastic.
Currently Active Users Viewing This Thread: 1

(0 members and 1 guests)