For Sale 2006 "V2 Motorsports Built" Lotus Exige
---
For Sale 2006 "V2 Motorsports Built" Lotus Exige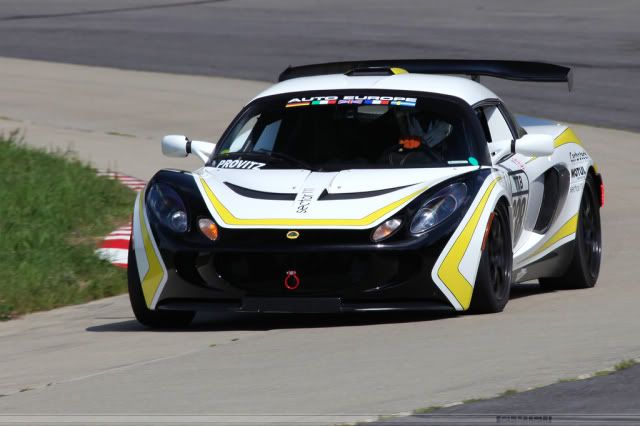 This is my personal car. This car has been fantastic to me but I just don't have time to use it anymore. So now it's time for someone else to enjoy it. I just can't stand seeing it not being enjoyed to it's fullest. If you want to fly under the radar this is not the car for you. This car sure catches the attention. The car has 12,910 miles on it. It sure does not show, it looks like a car with only 2,000 miles on it.
The car is extremely clean and well prepared. I built it as the ultimate track day car while maintaining it as street legal. Safety was a premier focus of the car while it is on track. Next we focused on durability. I did not want a track toy that would be undependable when I was trying to enjoy it. Lastly we focused on grip and handling to maximize what the cars platform could provide. We did not go with forced induction because we did not want to sacrifice any of its dependability and cost to maintain. Lastly we wanted it to look the part. I believe we nailed it all with this car. So you can drive it to the track in the morning, Have fun all day on track, drive (with the A/C on) to the car show on the way home and bring home a trophy. Then pick up Chinese before getting home ☺ What more can you ask for?
I took a customers Lotus to Autorama car show and it came home with a trophy. This car is much nicer that his was.
Any time I have had it out for a track day it has always been the fastest car of the day. I can say giving a point by has never been experienced when I was driving the car. This is by far the best handling Lotus I have ever driven. It is very easy to drive fast. No scary twitchy tendency's as with so many out there. Just smack the throttle to the floor and it sticks and goes. Throttle lift over steer is very easy to control and used to rotate into the turns. It is just a treat to drive fast. This is the car that I used to develop all the V2 Motorsports products for the Lotus.
Obviously a lot has been done to the car to get it to this level. List as follows.
Rear panel delete $89.99
Larini 8" exhaust. A more mature tone. $649.99
Header Wrap $35.18
Ceramic-coated cat and pipe $160.85
Toe Link Brace $699.99
Carbon Fiber wing $480.00
Remote oil pressure sending unit $89.15
Painted stripes with pearl in the yellow $4900
Vinyl graphics $415
AIM Mycron Dash $200
Powder coated diffuser $140
Diffuser exhaust hole blocked off $60
Lotus Sport ECU $800
Accusump $418
Wheel studs $199
BMW black lug nuts $40
Roto Torque wheels $650
V2 fuel tank upgrade $800
Back up camera $320
G-pan oil pan $525
A6 Hoosires $1200
Mono light wheels $2800
Amsoil oil and filters, Always! $90
Custom cage $5800
SFI rated head impact foam on cage $165
V2 Steering arms and shims $238
Cut spindles for more front camber $140
Lotus Sport sway bar $190
Nitron GT3 shocks $4299
V2 Shock reservoir mounts $75
Nitron A-arm balls $590
Painted uprights $140
New
Wheel bearings $490
Ball joints $304
Tie rods ends $87
Carbon fiber Canards $432
Star Shield $900
Convex Mirrors $120
Safe Craft Center Net $155
SYS mounts $139
V2 Steering wheel adaptor $100
NRG steering wheel quick release $155
Safe Craft Fire system $525
Safecraft belts (6 Point) $430
Custom made SFI Window Net $80
Floating rotors $599
Carboteck brake pads $300
Master kill switch $190
Belt shoulder pads $40
Seat modified for Hans Device $40
Carbon fiber cold air intake $555
Cost of parts added/modified $33040.15
Estimated labor cost to build this car. $10,000
So to replicate it starting with a used 2006 would exceed $73,000.00
I am willing to part with it for $46,000.00.
Click on the link below to see many more detailed pictures of the car as it sits today.
2006 Exige - a set on Flickr
lowballing…..I think not.
586-822-8806
---
Ralph Provitz
WHRRI SM Champion
WHRRI Top 10 Driver
2006 Exige
D Sports Racer S08
V2 Motorsports
Wow! Beautiful car! GLWS!
---
2005 Krypton Green Lotus Elise
1993 Black BMW 325i
Beautiful!!!
This has been one of my wallpapers for the past year!
GLWS
SOLD
---
Ralph Provitz
WHRRI SM Champion
WHRRI Top 10 Driver
2006 Exige
D Sports Racer S08
V2 Motorsports
Currently Active Users Viewing This Thread: 1

(0 members and 1 guests)