Discussion Starter
·
#1
·
2004 LOTUS ESPRIT - YELLOW / BLACK - ONLY 15K MILES!!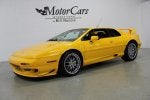 It has been 10 years since Lotus ended production of their most iconic and longest produced vehicle of all time!! Although there have been many different variations of the Esprit since 1976, it has always retained its famous wedge shaped body design. As all things, it has been refined and changed through the years to compete with the current sports car market. For the money the Esprit was always the good looking under dog that was loaded with power and ability! Adapted from a 4 cylinder turbo to a V8 twin-turbo set up in 1997 this beast became a raging monster that is still one of the most under rated sports cars avaiable today. With 350 HP to the rear wheels and 295 Ft/Lbs of torque this beast gets off the line in a big hurry (4.2 sec 0-60). Brand new, the Final Edition cars sold for just a shade under $100,000, which was a great deal compared to its most recognized competition of the Lamborghini Gallardo (400HP) at $165k base price and a Ferrari 360 (400 HP) at $150k base price. Now the thing you need to remeber is that the Lotus is rated at 350 HP to the rear wheels, so at the crank it puts out more like 375-380 HP. And of course when you start to add on options to your Ferrari or Lamborghini you will see the price hit $200k and more. So for a touch more performance, people were paying nearly double the money. The best part is, the Esprit is far more exclusive then either of these cars. There were only about 10,675 made since 1976 and only about 13 total for 2004. This is a rare piece of Lotus history, and best of all it is in the true Lotus colors, Yellow/Black.
This is the final year for the Esprit and 2004 models include Eibach springs, Bilstein shocks, and adjustable spring platforms. Updates include stainless steel grilles in front spoiler, restyled rear valence, engine builder's signature on intake plenum, diamond pattern seat stitching, shortened gear lever with brushed aluminum knob, and tire pressure monitor.
You will not find a nicer Final Edition car around. They do not come up for sale very often, but this car was sold to one of our local customers a few years ago and after some chasing we were able to buy it back. We are proud to offer this 2004 Final Edition Lotus Esprit for sale!! It offers both keys, 2 tops (glass and body colored) and original books. This car also had the OEM wheels Chrome dipped which are still in excellent condition!! This Esprit, looks runs and drives like a car with no miles!! It has been well kept and preserved for the owners to come. This 2 owner Esprit is worth every penny and will be collectible for many years to come!!
Do not miss out on this fantastic piece of Lotus history!! It will not last long!!
Contact Bill Nuccio Jr for more questions or info at 630-878-4629 or
[email protected]