Discussion Starter
·
#1
·
Well, I've had my fun with my Elise and now I want to play around with an Evora. This car is certainly not for everyone, and will only appeal to a niche market, ie. those who don't have to deal with emissions or are looking to build a track monster.
With right around 17K miles, and 2K miles on the new motor the car is in good condition. This is a car that's been driven and so isn't perfect, but it's also insanely fast.
First lets talk about issues:
Given I live in a very rural location there a small chips along much of the lower paint.
The license plate plinth has been repaired after minor contact with a concrete parking space stop. From 5 feet out it's hard to tell there ever was a problem and if you put a spoiler on the front you wouldn't be able to tell. Since I'm obsessive about fixing things for strength, the back side of it was completely reinforced with multiple layers of fiberglass mat. This is because there were some hair line cracks after impact and I didn't want them to worry about that area being weakened. One other minor issue is the paint I got doesn't match exactly. Since my plan had always been to put a spoiler on there I didn't bother with it.
At one point there was a massive intercooler in the trunk which vented via a cut out in the floor of the trunk. That has since been repaired by sandwiching an aluminum plate between layers of fiberglass. It's probably stronger than original.
While tuning on the dyno excessive heat buildup in the trunk melted part of the carpet, ruined a very small bit of some fiberglass on the trunk, and melted a section of the Sector 111 bootie. This happened because the bolts holding the turbo to the manifold loosened and exhaust vented directly onto the trunk. To solve the issue, the turbo is now attached to the manifold with locking copper nuts, and nordlock washers. It hasn't loosened since. In additional a layer of heat shielding that is good to 1800 degrees was riveted to the entire section of the trunk facing the engine bay.
This car *will not* pass emissions. It has a standalone AEM EMS, the engine check warning light has intentionally been de-soldered from the dash, because the stock ECU is driving the dash but nothing else is hooked up to it, there is a separate LED mounted to provide warnings from the standalone ECU.
Ok that's all the bad I can think of. Now for the good.
If you want it the car has an upgraded stereo system including a custom front passenger well mounted subwoofer, kicker speakers, and a kenwood head unit and amp in the trunk. If you don't want it I can remove it and covert the stereo to a stock setup, for a minor reduction in price.
The engine cover/trunk lid is black, I have a red one with a scoop that vents directly into the trunk that could be included as well.
You can dial in as much HP as you want, up to 400RWHP is the most I've gone, but frankly it's almost too scary to drive at that. Since it's a turbo it puts out insane torque and I've not replace the transmission with an E153 so I've dialed it back to around 330WHP at 11PSI, with a switch on the center console that will get it to 380WHP at 16 PSI. The engine is built to handle as much as you can throw at it.
This car has a standalone Series 2 EMS from AEM, custom spliced into the stock harness. At the time it was built there were no plug and play options. The car idles better than stock, and if you feel all Fast and Furiousy you can plug your laptop in via the USB cable in the cockpit.
I've added some controls for the standalone EMS into the center console. Right now I've got a switch setup to toggle boost from 11psi to 16psi. The plan was to use the rotary dial to adjust traction control and the switch to enable/disable tracktion control.
In order to make sure everything can be monitored the car has an Oil Pressure/Temp Gauge, an AEM UEGO wideband AFR guage, and an AEM Serial guage that can display pretty much any data you want from the EMS.
-I've gone with a GTX 2863R to allow really quick spooling. The turbo kicks in around 3800 RPM, so you are well within the powerband with any track driving you'd do. The redline has been moved up to 9000 RPM, at which point the car sounds like a jet about to take off.
I've dynamatted a bunch of the car for sound deadening, which has drastically cut the noise
I've performed some of the mods to the A/C so it runs fairly cool.
The start button has been replaced.
The wastegate is venting to atmosphere out a small cutout in the diffuser panel, I did that on purpose cause I like it sounding like a jet. Plus if you get on it it'll shoot a bit of fire out...not intentionally like some, but still, it's kinda cool.
The car has new AD08s on the rear with AD07s up front.
Pretty much everything related to producing power been upgraded, plus the normal things like fuel starve,oil pan and rear toe links have been addressed.

You can see my car at the end of this video, though I wish he had left the sound on it. The 337WHP was at 11PSI. I was not the one driving, and don't condone going that fast on a street. But it's still cool to watch.

https://www.youtube.com/watch?feature=player_embedded&v=qdtmQ7b4a5U

You can find the full story behind how I ended up with this particular build in my replacing everything thread found here:

Since that thread I have switched over to an Air/Water cooled setup.
Here's a list of all the parts that have gone into the build:
From Monkeywrench:
Wiseco Piston Set - Toyota 2ZZ - 10.5:1 - 82.0mm $659.00
MWR Sleeved Block Only - Toyota 2ZZ-GE

Cylinder Bores: Bored and Honed by MWR (must purchase pistons)​

Toyota/TRD 170F Thermostat - Toyota 2ZZ 1ZZ 2GR $29.00
MWR ARP main stud kit - Toyota 1ZZ/2ZZ $99.00
MWR Main Bearing Set - Toyota 2ZZ-GE Std $80.00
Toyota OEM Oil Strainer (Pickup) - 2ZZ-GE $38.00
Toyota OEM Piston Oil Squirter Set (4) - 2ZZ Engine All $65.55
Toyota OEM Oil Pickup Gasket - 2ZZ-GE $3.02
MWR Rod Bearing Set - Toyota 2ZZ-GE Std $110.00
MWR Thrust Bearing Set - Toyota 1ZZ-FE 2ZZ-GE $19.00
MWR Forged Steel Ultralight Flywheel - Toyota 2ZZ-GE all $315.00
ACT Clutch - Lotus Elise, Exige, 2-Eleven All - LE1-XTSS Street $470.00
MWR Built Cylinder Head - Toyota 2ZZ-GE $2,340.00

Valves: MWR Stainless​

Valve Springs: MWR Performance Valve Springs and Ti Retainers​

Camshafts: Performance cams installed and shimmed (purchased separately)​

MWR Cam Set - Toyota 2ZZ-GE - Stage 3 $695.00
RC Fuel Injector Set (4) - 750cc High Impedance $360.00
MWR Moroso Oil Pan - Lotus/Toyota 1ZZ, 2ZZ $474.05
Loctite Grey RTV Gasket Maker Sealant $6.50
Toyota OEM Exhaust Manifold Gasket - 2ZZ With Air Injection $19.00
Toyota OEM Front Crankshaft (main) Seal - 1ZZ-FE, 2ZZ-GE $7.00
Toyota OEM Head Gasket - 2ZZ-GE $55.00
Toyota OEM Intake Manifold Gasket - 2ZZ-GE All $8.00
Toyota OEM Timing (front) Cover Seal A - 2ZZ-GE $13.00
Toyota OEM Timing (front) Cover Seal B - 2ZZ-GE $6.00
Toyota OEM Valve Cover Gasket - 2ZZ-GE $13.00
Total: ~$5900
From Radium Engineering:
Lotus Elise Modular Rear Clamshell Kit Options:BraceSurfaceFinish : Bright Dip Black Anodized $195.00
Lotus_FST, Radium FPR (+$149.00) fuel_rail : I want to purchase a Radium Fuel Rail (+$199.00) Fuel Surge Tank : 600hp capable Walbro FST $1,238.00
Lotus Elise/Exige Dual Catch Can Kit $430.00
Lotus Elise/Exige/211 Coolant Expansion Tank Kit Options: Radiator_Cap : Cosworth 1.3 Bar, 130 kPA, 18.9 psi (+$29.00) $358.95
Lotus Elise/Exige/211 Turbo Exhaust Manifold, 2ZZ-GE Options: Thermal_Wrap : Yes (+$299.00) $924.00
Universal Fuel Pressure Gauge $59.95
Coolant Line Set-up (fittings, aluminum parts, and hoses except to the overflow tank) $299
Total: ~$3500
From Sector 111:
Oil Cooler Radiator: $399.99
proRAD: $519.99
COOLANThoses $550.00
ONEcoolerLINES $450.00
Girodisc Stainless Steel Brake Lines $110.000
sportINSERTS $69.99
The Bootie $99.99
DSbrace $249.99
Total: ~$2450
From Black Watch Racing:
Lotus 3 hole Gauge Bracket: $72
BWR Dashbag: $38
Total: $110
From Turbo Laboratories:
AEM Series 2 Standalone EMS: $1500
Custom harness for EMS: $700
Custom downpipe, exhaust system features Borla ProXs twin tip exhaust: $500
Total: $2700
From Votion Speed:
TYPE 2 Water to Air Intercooler Kit - Basic $389.99
Total: ~$390
From ATP Turbo:
T31 V-band Exhaust housing for GT 28RS through GT35R or GTX30/GTX35 $249.00
Weld_GT3inch_vband_flange_on_exit_side $50.00
ATP-OIL-012 Oil Feed Line -3 - SS Braid 4 Ft. $39.00
Garrett GTX2863R 425HP Dual Ball Bearing Turbo - less turbine housing $1,283.49
Polished_Comp_Housing_Option $65.00
Oil Return Flange with integrated -10 Flare $29.00
Straight 1/2" NPT to -10 AN $6.00
Oil Return Line -10 - 16" ST/ST $45.00
MVR 44mm Wastegate 90 Deg Elbow, 100% 304 Stainless $69.00
Clamp, Tial 44mm / Tial MVR Inlet $45.00
Total: ~$1880
SiliconeIntakes.com
Various red silicone hoses and Aluminum pipe
Total: ~$400
Total Overall in just parts: ~$17,000
The next things I had planned are Penske Doubles from BWR and areo, which I haven't decided on, then possibly a big brake kit. Of course if/when the transmission goes I'd do an E153 conversion. The car has been used as a weekend toy to drive around the canyons of Utah, and so I've only had it on the track once.
While I understand that one *never* gets anything close to what they put in to a car back out of it,
I'm asking $38,000
I'm a straight shooter, and would rather just tell you what I'd like to get out of it. I don't have much room to move on the price. I think it's very reasonable, bordering on a steal since it has low miles and in the current market I could return it to stock for about $4K all in, and sell the car for $34K, then sell the parts separately for $10K or so (which you are welcome to do if you want. I think $37K is well worth the extra bits that are on the car. I'd rather it went to someone who wants a well sorted turbo build that provides a great base platform to build an insanely fast track car. But if you want to return it to stock (or pay me to do so) that's ok too.
Since the plan is to use this money towards an Evora I'm not looking for trades.
Below are a bunch of pics and I'm happy to take more of any part that people want.
Finally, it has vinyl wrap on it that I can remove if you'd like. It's not the best quality cause I did it myself, but again from 5 feet it looks great. I would at least leave the vinyl on the rocker panels since it covers up all the nicks in the paint that is so common on these cars.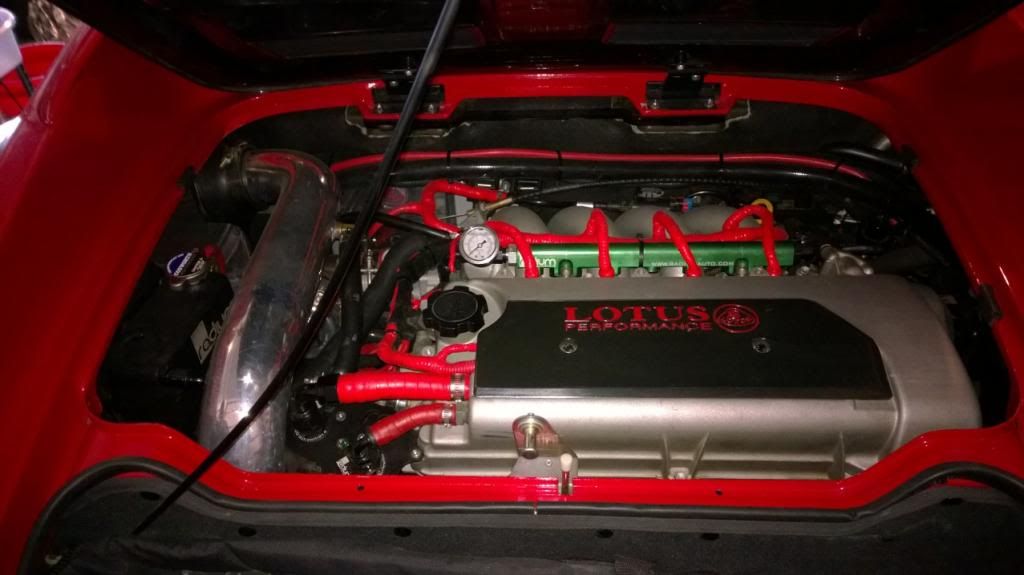 The following photos were taken today: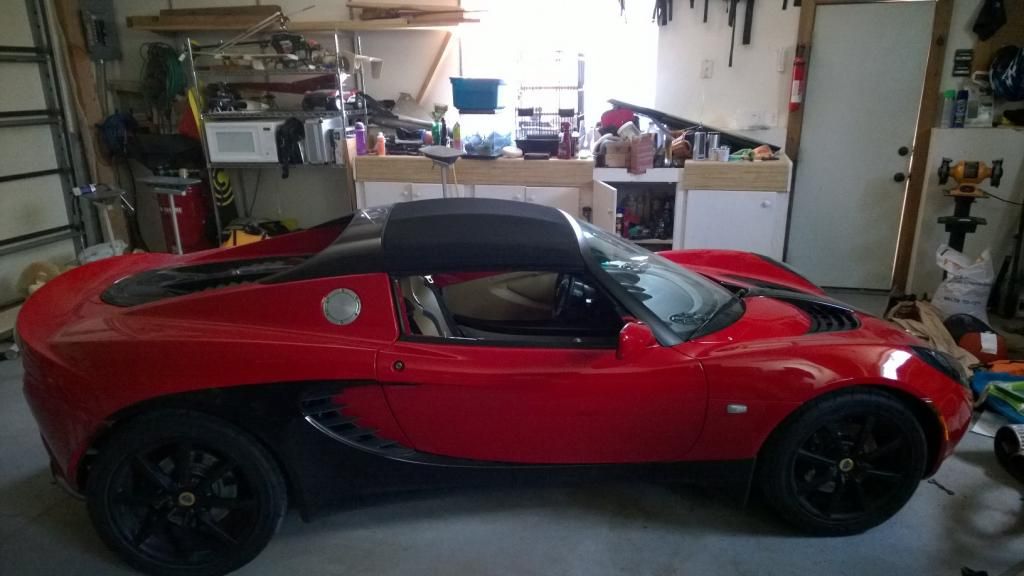 Best way to contact me is via email jeff @ dalbydigital.com
Thank you for looking.