Discussion Starter
•
#1
•
Key word "A"...not "the". There are a few alternatives, this is just what I came up with at no cost to me since I had everything laying around the house.
I was just toying with the Sector111 Darth Cupholder to see if I could retrofit it anywhere in the Evora cockpit..turns out you can! I had imagined that the notch/bend in the metal would be an option for clamping to the seat adjustment bar..but had no idea that it would happen to work perfectly!
Parts:
Darth Cupholder (modified)
Aluminum plate (can't remember the gauge sorry)
2x bolts
2x wingnuts
1 mil rubber sheet
Epoxy
Spray on truck bedliner in a can
Sorry, but no how-to step by step, and I'm kicking myself for it now, but I think most can figure it out by the pictures. I cut some plate to shape, filed it down to ensure there are no sharp edges or corners, test fit in the car, drilled holes on it and matching holes in the Darth cupholder.
Then, in order to prevent slippage, damage to factory parts, and noise and vibration, I epoxied some rubber sheet in the three places: in the V notch where the bar will go, on the bottom of the plate where it will grip the bar, and on the backside where it rests against the seat base.
Tape off, spray with rubberized bedliner for durability/looks, and voila!
Now the party trick, and what happened to work out so perfectly...the picture is rough, but you can see how the angled portion of the darth cupholder sits perfectly against the base of the seat frame underneath, preventing much movement and ensuring a stable mount once clamped down.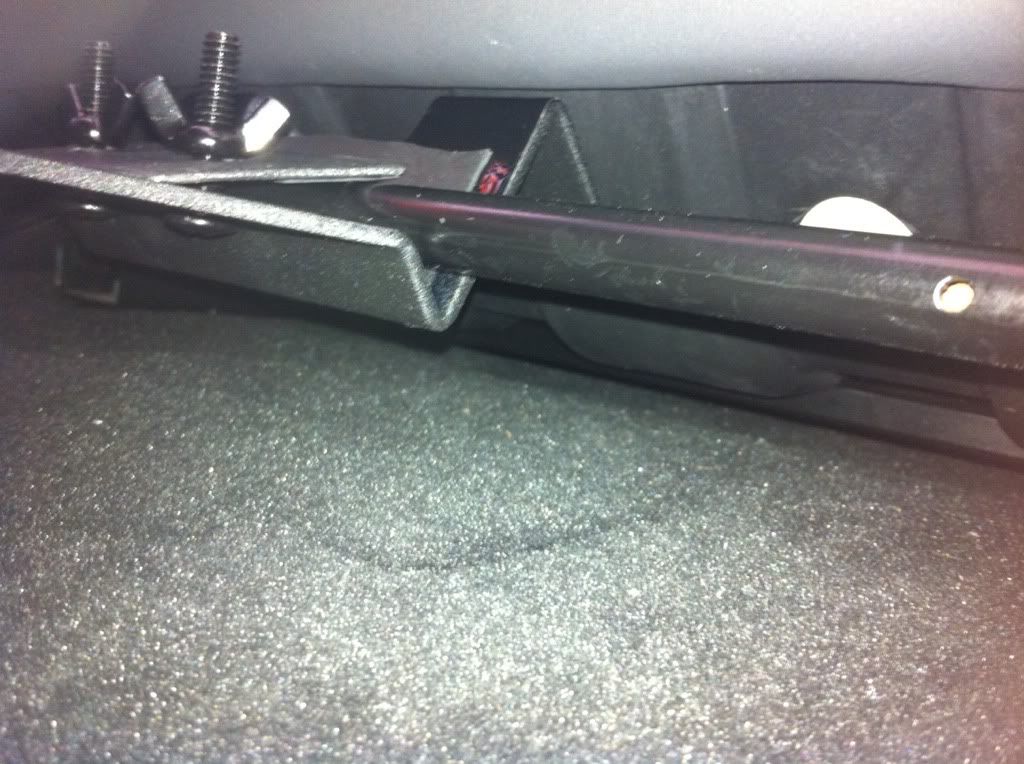 All clearances are good-no contact with the leather and works great. I ended up using slightly longer bolts just to make it easier to get the wingnuts started, but you could really use any size/shape/length.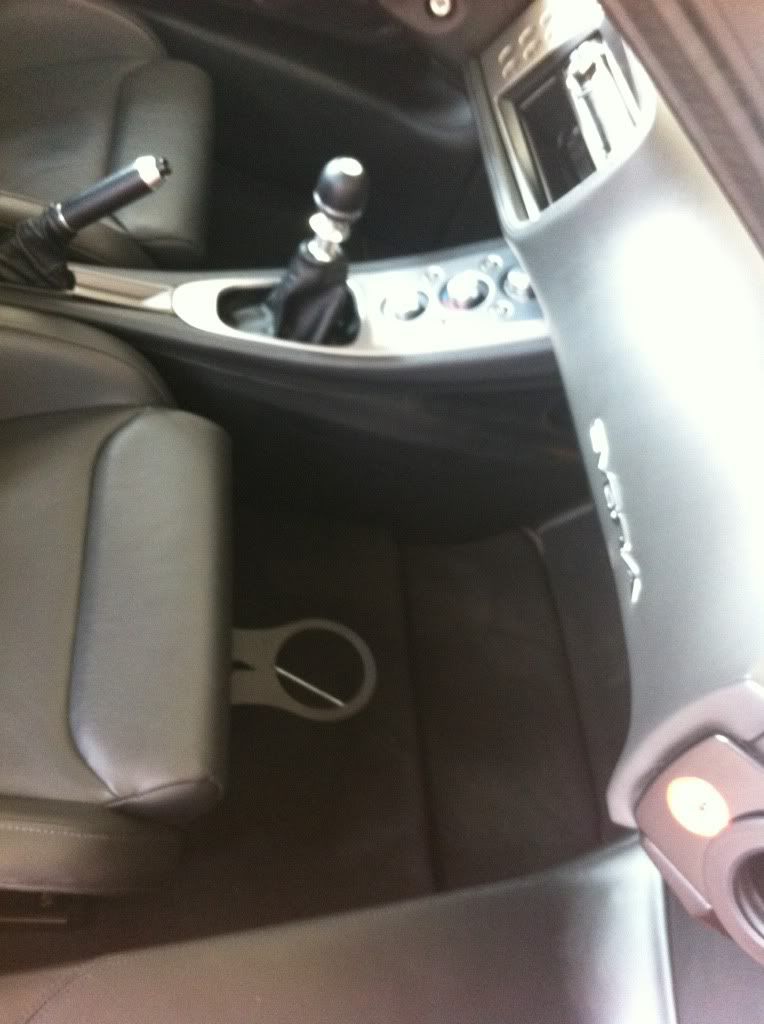 Holds cups/mugs well. It doesn't move, makes no noise, doesn't interfere with entering and exiting the car at all when empty, and is relatively low profile. A bonus is that you don't see the bolts really unless you are trying to look down onto it.
It isn't really high off of the floor, so even with the spring (I only use one, I found two was too tight) the cup/mug *could* rock a bit under load, but it will not tip over.
My personal preference is positioning it where it is now, but you could put it anywhere on the bar, on either passenger or driver side.
It DOES stop the seat adjustment bar from working, but since it is on my passenger side and we don't really have people in the back, no impact. And it only takes 15 seconds to take on or off and stow.
All in all very little cost, simple, cosmetically acceptable, and only about 30 minutes of work to modify. Paint drying time not included. Another option for you guys out there.
And I have to give 2011 Chrome Orange some credit for getting my mind thinking down this path-this one is sort of an evolution/change from his idea.
OC guys-I have another darth cupholder and the materials if any of you are interested.