Discussion Starter
•
#1
•
Hello Lotustalk,
I've been reading the forums frequently over the past year or so. Well, I finally managed to pick up my own lotus from a fellow lotustalk member over the memorial day weekend since it was a 4 day weekend for us military folks :clap:
A 2010 Exige s240
This is going to be a long one... just a warning.
A quick intro: I am an owner of a 1995 RHD Subaru Impreza WRX STi type RA ver II (genuine, imported from Japan) and the car has been in the shop for over 2 months to get it painted... I really wanted a sporty second car and I chose the Lotus out of everything else (GTR, Evo, Supra, Corvette, Viper)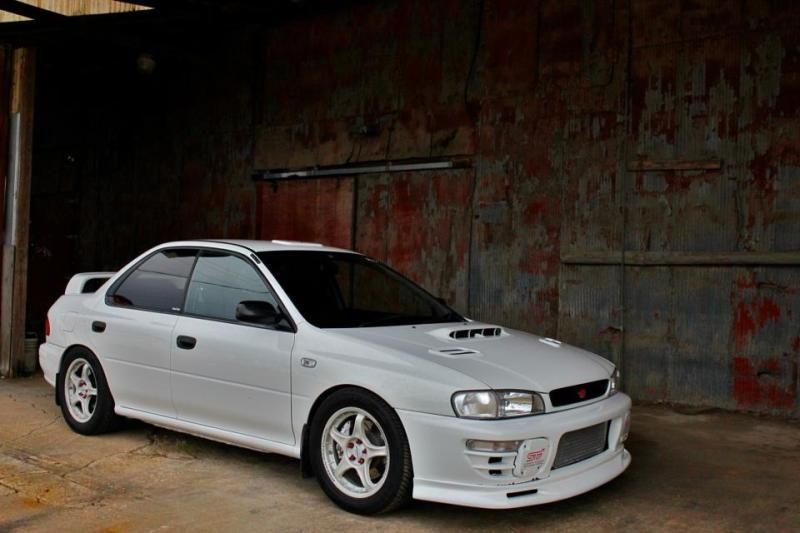 First of all, it was probably the most painful car buying experience ever. I am located in Alabama and she was located in New Jersey. The seller didn't want to even hand me the keys until the money was in her bank, even though I was bringing a certified check from USAA. She was worried that I may put a stop on the check after driving it off with the car. After days of discussing how we are going to do this (because I didn't want to give someone a big check and then I hear nothing back from her after the check is cashed), we finally agreed to have USAA overnight the check to her on Thursday before I pick up the car on Friday (she wanted to take it to Wells Fargo and the make sure it's not a fake check) and she sent me a copy of bill of sale & title with a statement that a sale is pending and that she would send me the signed copy of the title once the check is cashed.
Thursday comes around and she is furious that the check did not show up. I called USAA and found out that they sent the check to me, even though I specifically told them that it needed to go to the seller. The seller didn't want to go through the sale, which meant that my plane ticket there (along with the ticket that I bought for my father to fly in from Chicago) was meaningless. While I'm still in my flight suit at work, I convinced her that I would send her a scanned copy of the envelope and the check so that she could trust me.... After I sent her the scanned copies and I was on the road to Atlanta to fly out at 0600 Friday, she sent me a text saying that the last name was spelled incorrectly and that she will not sell me the car unless I have the bank wire her the money
anic:
Once I've landed at the airport, I called USAA to explain the situation... they made an exception to make the wire transfer (I absolutely love their customer service). The seller's son (who's the driver of the car and the co-owner) picked up my father and I from the airport. I checked out the car and it was mechanically sound. The only bad part about it was the exterior. There were some bubbling and scratches on the starshield, the front splitter had some paint cracking in the middle, and the whole body had endless swirls and scratches :huh: It seemed as though it was never properly detailed. However, the car was priced so well that I was either going to machine detail it or have a professional do some paint restoration. I would rate the exterior a 6/10 and that's how bad it is in terms of swirls and scratches, but no paint was chipped off so it wasn't a deal breaker.
I agreed to purchase the vehicle and had USAA talk directly to her bank to do the wire transfer. After 3 hours of waiting, the money finally showed up and she signed the title to my name :coolnana: The funny thing is that I only thought that the car had the track pack... well once I got there, he told me that it had the LSD and I also noticed the harnass bar behind the seats. I couldn't check if it had adjustable suspension for the track pack, but I'll check that later. I was very happy that it had the LSD and a potential track pack :crazyeyes
I started my trip from New Jersey to Alabama, which was about a 18-19 hour drive. I stopped in Virginia to spend the night and finished the trip with a straight 12-13 hour drive. It actually wasn't that bad, but I am used to a very stiff ride from my STi and the car was even quieter than my STi as well. My father slept without a problem in the passenger seat haha. I had things that popped up during the ride down... An engine check light came on so I immediately pulled over and checked the manual. It was a stead light so I went to Autozone to pull the code. It was emission related so I was relieved and I tightened the gas cap back up to see if the light would go away. The light did disappear after a few hours. Another thing that happened was that the car lost power at the gas station. I first thought I somehow immobilized the car, but then later found out that the batter's positive terminal was loose. Pushed it back in and hit the road... I was so scared that it would pop out again during my ride but made it back safe.
Anyway, my impressions on the car (in case you are not an owner and still wondering how it feels):
- The car absolutely does what you want it to do. Steering is stiff (no power steering) but very responsive and accurate. I can feel every bump on the road in the steering wheel, my butt, and sometimes my face. However, the Lotus suspension was actually more forgiving versus the stiffer suspension on my STi.
- I wasn't a big fan of how the shifter felt. This is mostly because I'm used to the really short throw and a heavy weight knob on the STi. I will have to look into some short shifter options for the Exige
- I mentioned to my father that the car almost feels like flying a helicopter (what my job is). It's loud, you can feel the wind, and you can feel everything that you are doing.
- A/C: It actually worked pretty nicely in mid/high 90 weather. It does go back and forth between cold and warm, but I don't even use A/C in the STi so it wasn't a problem for me. If my father wasn't with me, I probably would have driven the whole trip without A/C.
- The car stalled once coming to a stop at the gas station. I know this topic has been brought up before so I figured I'd chime in.
- Getting in and out of the car is a feat itself. Took me a few tries for me to get comfortable with it and not bang my head everywhere.
- The car feels fast, but in a very smooth way. In the STi with a little big of a bigger turbo (around 300whp, 2800lbs gross weight) your head slams back to the seat after 4k rpm. In the Lotus, it's a gradual "pull." However, it is still pretty fast and feels like you're glued to the ground when you're taking high-speed corners
- Everywhere you go, you get looks and people asking you about your car. Then some people are like, "What.. it only comes with 240 hp?" :thwack:
- My right butt cheek was getting sore from the throttle work and inadequate driving shoes. Something to keep in mind if you're thinking of doing long distances.
- Fuel Economy is GREAT! I was getting 28 MPG the whole way, even though I was getting on it once in a while. I get around 20-22 on the STi.
Anyway, that's my rant. I've very excited to start working on my car and restore the beauty back to how she is supposed to look. I sent an email with pictures to Starshield to see if they could replace some pieces under warranty. I have a professional detailer who's ready to restore the Phantom Black paint.
Things I will do in the new few weeks:
- Exhaust: BOE 1/4 stick through stock diffuser
- Soft top: If I find a used soft top.... if not, I might just buy the new one if I get impatient with this haha.
- Tires: It still has stock tires, so I may look into some Toyo R888.
- Tune: Looking at either the Koldfire 270 tune or Blade 300. I might just settle with Koldfire for now until I get the Subaru back and then see what my options are.