Discussion Starter
•
#1
•
Hi,
I've been researching for a way to mount my V1 in the Elise. I have a V1 in each of my other vehicles as well. They all have a long stalk behind the rearview mirror, I just used a Blendmount.
In the Elise, the rearview mirror has no stalk. Some people put their V1 behind them, mounted on a bracket, then screwed into where the interior light switch is, between the 2 seats.
I want the V1 to be in front of me.
I bought this metal bar from eBay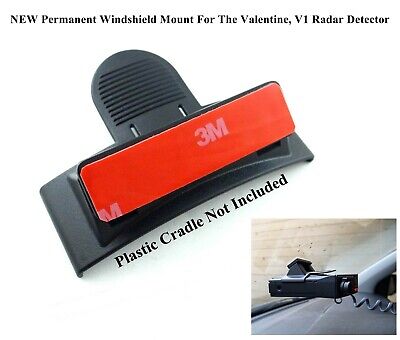 NEW DesignedPermanent Windshield Mount Good For The Valentine, V1 Gen.1 & 2 Radar Detector. permanent windshield mount ( Plastic Cradle Not Included ) for the Valentine, V1 radar detector. For: Valentine, V1 Radar Detector Gen.1 & 2.
The eBay photo shows the bar stuck to the windshield.
That didn't work for me because the body of the V1 keeps touching the windshield and preventing the bar from making a solid contact with the windshield.
The metal bar is screwed into the clip that comes with the V1. I then placed Gorilla 2-sided tape on the metal bar, and stick it to the sun visor.
As we all know, the visor is useless for what it's called, now I've found a purpose for it.
For power I used the Savyy, it plugs into the OBD-II port.
SAVVY turns down the volume of V1's warning automatically at low speeds so you can keep your attention where it belongs.
www.valentine1.com
I also have a dash cam, mounted to the windshield with 2-sided tape. The mount is sold by the dash cam manufacturer. I don't know what tape they use, but it's rock solid, in all kinds of weather.
Hope this is beneficial to someone.