Today was a really hot day for modding. It was my day off so rather than be lazy I wanted to finish what I started the other day. First thing I did was paint my diffuser black (thanks wrh3 for the friendly PMs & paint recommendation). I used a little over one can of Krylon Fusion spray paint. I did one full coat then touched up a few unfinished areas afterwards. It was very simple and might have took an hour or so. It's not the greatest paint job in the world but for the price I can't complain.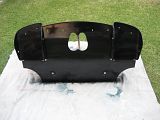 After that I thought, "Why not just paint the Rear Panel Eliminator too?" So I added them to the mix and everything got painted black.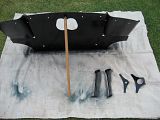 I let them dry overnight and put the diffuser on the next morning. Now she's starting to look good.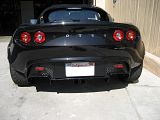 UPS was supposed to drop off my Arqray single tip titanium exhaust today so I wanted to get everything else out of the way first to keep the install time as short as possible. It was close to 90F so I started real early hoping I'd beat the heat... that didn't exactly work out though.
I first pulled out the trunk liner and threw in my Sector111 Bootie.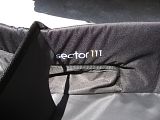 No more cracking bottles of detailer spray under "spirited driving conditions." Everything is nice & neatly organized.
Next I pulled off the diffuser, rear panel, stock exhaust & heat shield. Just when I finished everything and was taking a water break I heard the UPS truck... perfect timing. :up: Here's my exhaust compared to stock: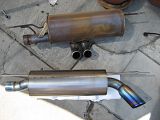 Pieces everywhere: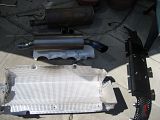 After getting everything off by wrench I only needed to cut off that last piece of shielding with some heavy duty scissors.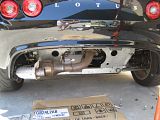 Next task was to wrap the 180 degree bend with header wrap. I picked some up at a local ricer shop along with some metal clamps from Kragen.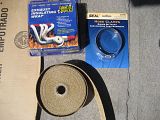 I had to make a half circle cut for the O2 sensor but that was the only issue. I then wet the wrap as the directions stated, wrapped tight, and clamped. Not a bad job eh?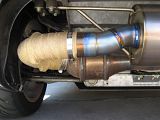 Almost done. I ended up using both hangars on the driver's side and only one on the passenger side. No worries, it feels real solid.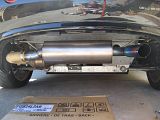 Finally I reattached the diffuser and bolted on the rear panel eliminator. I used the leftover screws & clips from the diffuser and rear panel. After double checking everything and making sure all the bolts were tight I was finally finished.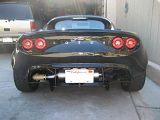 It might have took 4-5 hours for everything but I took a lot of water breaks and drank around 3 liters total. I went for a spin a little while ago and at first I thought it sounded a little farty at low end. But once she got warmed up and I found some open road
WOW
this baby sounds sick at WOT!!! Loud as hell but proper loud. Thanks slc for hooking me up with such a great exhaust, I'll put it to good use.
:nanner2: