Discussion Starter
•
#1
•
My life has been nuts lately. I bought my first house a two months ago. Still going through stupid paperwork. The close date is projected to be September 10th. I'm pretty excited about that. To make my life even more exciting, I put my two weeks notice in at work yesterday. I am super excited about that! Years of hard work that went completely unappreciated. I produce 200% more than any other employee in my department (I have 2 years of recorded statistics to prove it) and I have seniority over everyone (including my boss)... yet somehow, I got passed up twice for promotion and now currently am being paid the least out of 13 people. I got to the point where it just wasn't worth it anymore. If they don't appreciate my second-to-none work ethic and performance, I will just take my talent elsewhere... and by "elsewhere", I really mean, I'm going to paint for Honda here in the 'burbs. I have decided that I can't sit in an office anymore... it's just not for me. I gotta be active building/painting something.
Anyway, I just got done painting my friend's dad's Porsche...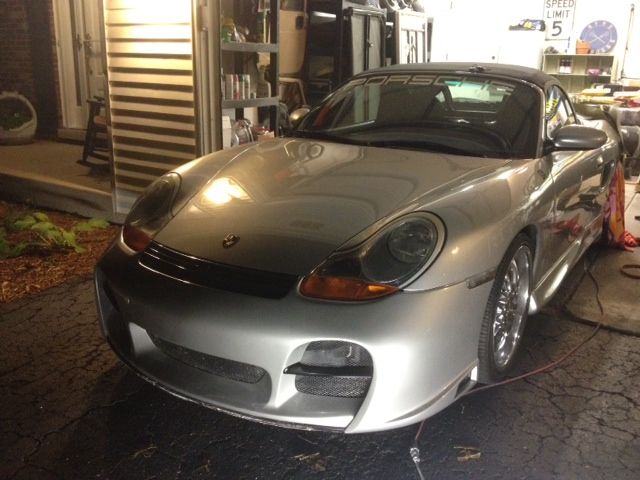 It's 10:20pm and I'm pulling the Porsche out only to pull in a Nissan Maxima that had a ladder dropped on it. Needless to say, I will be up very late tonight fixing cars for friends. I can't complain though... the money is good.