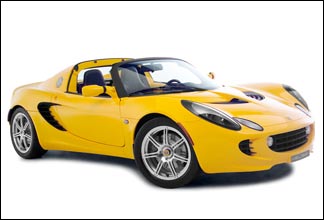 Lotus Elise
«back next»
In a world of overweight, overstuffed sports cars, the Elise is a revelation.
This tiny Elise gets only 190 horsepower from its 1.8-liter Toyota engine but the car weighs just 1,975 pounds. How light is that? A little Mazda Miata roadster weighs over 2,400 pounds. Such a power-to-weight ratio lets the Elise run from 0 to 60 mph in a fiery 4.9 seconds while managing 37 highway mpg. What's more, Lotus' renowned racing and engineering skills have produced a car with balance and reflexes akin to a $200,000 Ferrari's.
So, is the Elise a bargain at $39,995 or an overpriced bauble? Certainly, there are several better-established players around the same price. All are more suited to daily use than the stripped-down Lotus. (You want cupholders, you say?) Also, only about 2,200 Elises will be sold here this year. So expect the usual price premiums in the giddy early stages.
Bottom line, only fervent, hard-core drivers will want an Elise. After one drive, they'll want it desperately.
Price: $39,985 (As tested: $42,130)
Bragging points: Euphoric performance, exotic styling, purity of purpose
Nagging points: Rough riding, noisy inside, not for the faint-of-heart