I have planned on making a build thread for both of my Elises, as they are both ridiculous in their own right. Here's one of them.
So I had been in the market for an Elige to build something stupid fast with, preferably something already turbocharged to save me a bit of trouble. Even better k swapped to save the trouble of sorting that out, although I have no doubt stupid power would be doable on a 2zz I think the k20 would be a better platform.
The Kings Performance Lotus came up for sale in late June 2015, which I only had to sleep on the thought of buying it for a day before deciding to put in a deposit. A bit more sorted than I had intended to buy, but certainly on the right track and well in the direction I was wanting to go with the build.
The goal is to make a killer street car. Something close to an end all. To have a Lotus keep pace with the Supras, Corvettes, Vipers, Gallardos and GTRs at drag and roll race, and dominate them and everything else when corners are added to the mix.
The plan is to run this car at national level drag and roll race events, e.g. TX2k and Texas Mile. Locally I will track and autocross the car because why not. Depending on how the car behaves I may run it at higher level road course and autocross events. I will also probably daily the car in the warm months :evil: This is not my first rodeo.
There are a lot of videos, forum threads, etc on this car already.
https://vimeo.com/126755858
WORLD'S FASTEST Lotus Elise K20 Turbo - Honda-Tech
http://www.lotustalk.com/forums/f259/turbo-k20-elise-9-4-159mph-street-car-295497/
Some controversy there over a "drag lotus" or "that's not an Elise because it makes too much power or has a k20 or whatever". To which I say, an Elise doesn't come with the 240whp a VF2 or Rev300 makes so is that not really an Elise either? How about a Rev400? Where is the line drawn? Frankly I don't care. I put some 35k miles on an NA 05, I think the VF2 was a marked improvement. Some more power on top of that even better. Better coilovers and steering arms better yet. Ditch the fragile C64 trans, more confidence in the car, an improvement in of itself. Etc etc One toe link failure or oil starve is all that you need to figure out beyond doubt the Elise could use improvements.
My goals are above.
Constructive comments and suggestions for meeting these goals are appreciated and will be taken under advisement.
Before I start adding my contributions to the car, here is the build list as far as I know.
k20 + gt30r lotus elise - Nissan 370Z Forum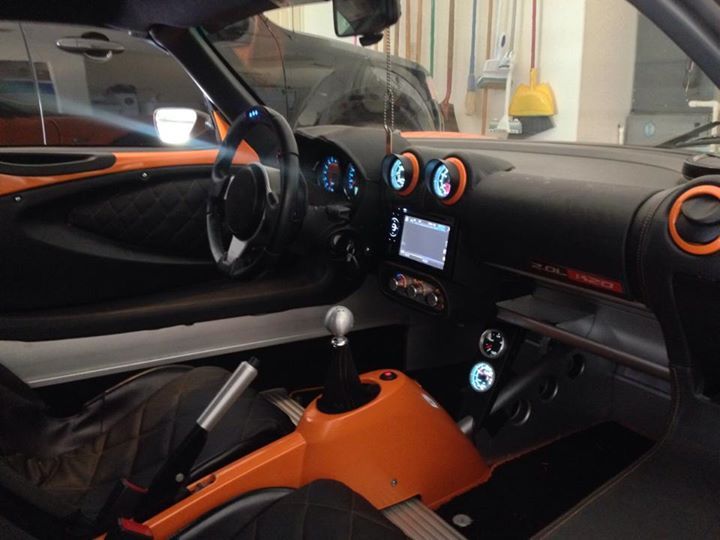 Before kings got their hands on it/carry overs from bbs350z's build:
painted from solar yellow to chrome orange
highline tuning front splitter
shaved body lines (front and rear)
shaved front turn signals
widened front and rear fender bottoms
black vinyl wrapped access panels (on hood)
powdercoated rear diffuser
55w hid setup
custom led front turn signals
custom led rear taillights
custom led brake lights
radium auto quick release rear clam kit
diamond stitched leather seat and door inserts
custom double din setup
alcantara shift boot
alcantara hvac surround
leather cluster cover
215/40/17 and 245/45/17 nitto nt555r
ebc yellow pads
brand new balljoints
brand new track rod ends
sector111 bushing kit
bc racing coilovers (400lbs front 450lbs rear according to BC racing who I contacted)
stud conversion w/ locking lugs
custom center exit exhaust
custom aftermarket intercooler setup and fans (iat temps are 10* above ambient in the az heat)
custom radiator
innovative mount kit
aem 340lph pump
King's Performance build:
Acura K20A2 Engine
CP/KP Spec Pistons
Carrillo Pro-H Rods
ACL Race bearing set
ARP Head studs
KP Spec Oil pump
SuperTech Dual springs
SuperTech Titanium retainer
SuperTech HP Valve set
SuperTech valve seat, seals & keepers
KP Timing chain tensioner
KP Lower Timing chain gear
KP T3 Manifold
Precision Gen 2 6266 BB Billet T3 Turbo
KP Titanium turbo blanket
KP 3″ Custom SS Downpipe/Exhaust
KP 1.75″ SS Dumptube
Precision 46mm wastegate
Precision PT1000 Water to Air Intercooler kit
KP Custom Heat exchanger kit w/ Lines & fittings
KP Water/Ice Aluminum tank w/ water pump & lines
KP Aluminum piping, hose & clamp kit
Powder coated Wrinkle black
KP Water Overflow reservoir tank
Tial Q 50mm BOV
KP Dual fuel pump hanger
AEM E85 320 lph Intank pump x 2
KP E85 Black Nylon braided lines
KP Black fittings
AEM Fuel rail
Aeromotive Fuel pressure regulator w/ gauge
KP 1200cc Hi-Imp Injectors x 4
KP Inline fuel filter w/ bracket
AEM V2 ecu
KP 4 map sensor
KP Boost controller solenoid
AEM Wideband gauge kit
PS Fuel level gauge and sensor
Racepak IQ3 Dash display
KP Custom complete car harness
Quaife 5 speed Sequential Transmission (With 2 gear ratios: (1) Drag & (1) Road race)
Quaife sequential shifter & cable
Wavetrac HP LSD
Competition Stage 5 clutch kit
Competition LW Flywheel
Aluminum Radiator
BC Coilover kit
Rota Grid 16" Front / 17" Rear Flat Black wheels
Carbon Fiber side scoops
Front splitter
Rear Diffuser/Splitter
DBA Slotted Rotors
Hawk pads
KP Braided brake line kit
Odyssey 925 battery
Interior all black with Orange stitching
OEM Bucket seats black with diamond Orange stitching
Alpine CD/Radio
Infinity 6.5" Speakers set
KP Harness bar
Simpson 5 point seat belt
Sparco Race steering wheel
NRG Quick release hub
Firewall inside of the car has Dynamat sound deadening
Made 505whp on 93 octane fuel
750whp on Q16 race fuel
Between the last two owners, I would guess there is near or over 80k in the build, and I am sure I will pay my dues as well.
Issues to address:
K20a2 AC compressor does not fit due to clearance with firewall, will see about a smaller compressor, or fabricating a bracket
Inadequate amount of rubber. Until I decide to go all out in a certain direction, this is what I think will be most appropriate for one tire setup being used for everything and being capable of driving to and from events like a true street car.
I have on order
front Team Dynamics 1.2 which will run 225/45r15 Toyo R888
rear Bogart 3 piece 18x12.5 and 335/30r18 Toyo R888
Both powder coated black
Plan is to cut the rear fenders as needed and add flares (depends how I feel about the rubber sticking out)
Easy handling improvements:
V2arms or similar and proper alignment and corner balance and lower down to ~118/123 f/r ride height or as the geometry allows.
possibly buy a set of 550lb front 800lb rear springs for track/autocross
Tune for E85. Pulled the 1650cc injectors from my SSM car and swapping those for the 1200cc that were in the car from King's. 1650s were oversized in the SSM car so it works out. Waiting to hear from Kings on how it comes out but the expectation is well over 700whp on Mustang dyno. The ECU will also hold a map for 93 pump gas at around 500whp which may be more manageable for races that involve corners.
I have some concerns about the adequacy of the charge cooling system when tasked with road course duty. In a forum post bbs350z says that it had no problem keeping IATs within 10c of ambient in Arizona heat, and Fernando, the owner of the car with King's Performance told me he had no problems with Florida heat either, but he never road coursed the car and used ice in the reservoir for very low temps when he drag raced. Maybe (hopefully) it's fine, more experimentation needed.
I have already ordered a second set of trunk mounts for my comically huge maximum allowance SSM wing to move it between my 100% prepared SSM car and this car which I may run in XP for kicks and grins. Will probably move my 275 A7s between cars also.
Probably will move the sparco wheel to my SSM car and the momo team from it to this car.
Have a few other ideas but need more experimentation.