Discussion Starter
·
#1
·
So not to be cliche, but this is to document my DIY intake "mod" step by step. It all came about in talking with Ramtin (so it's all his fault) about his mod back in the day. So thanks to him for triggering this. I decided to take it a step further based off of his idea, and add a heatshield. The great thing about this is it doesn't throw codes like most intakes, is cheap, works well, and is easily reversible (just need a back half of the airbox). Since my car doesn't need to smog out here I'm not worried about CARB.
To start, the main components: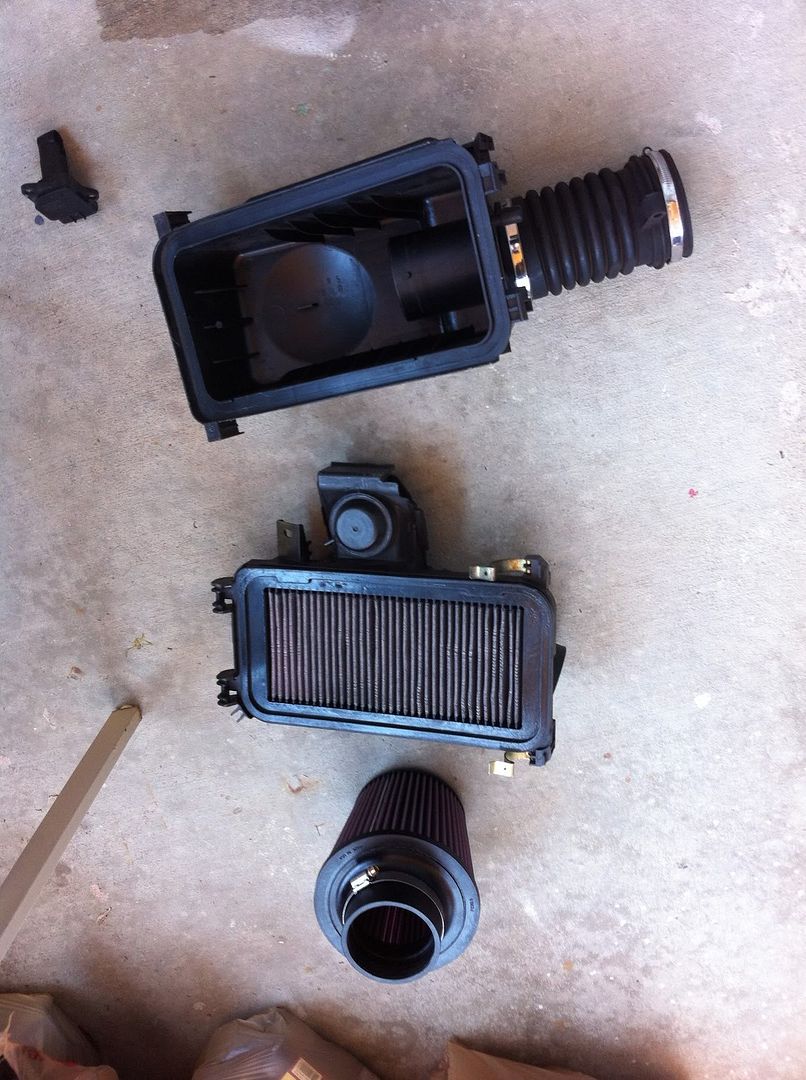 I had previously been running the car desnorkeled, with a K&N filter. I purchased the car like this and on average clean the filter every two oil changes, or roughly 8k miles. Everyone knows how huge of a pain in the ass this is. Overall the intake sound was pretty good, with a pronounced intake noise when I give it some juice, but mild.
To start, remove the airbox assembly from the throttle body forward. You can set aside the front half and factory filter. I removed the MAF and cleaned it while I was at it, and make sure you set it aside somewhere safe.
Here is the main piece we are looking for: the portion of the rear airbox that protrudes inside the airbox itself. This will allow us to keep the factory MAF location and mounting, keep all the dimensions from the MAF back identical, but mount up a conical filter.
Remove the white plastic piece (not pictured) that is attached inside.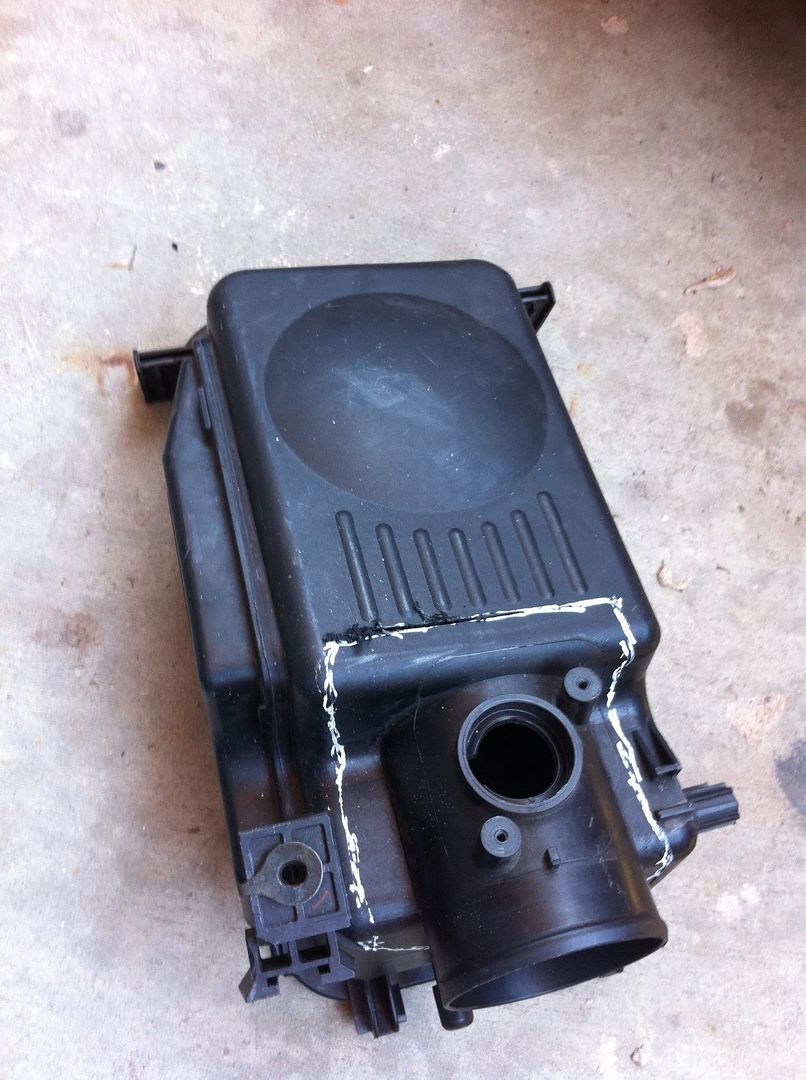 I used a whiteout pen to visibly mark where I wanted to save. Be sure to leave excess so that you don't overdo it. It's best to go back and grind off excess later. In my case, I wanted the extra in case I decided to mount the heatshield to that. At this point I wasn't sure exactly how I was going to do the heatshield.
I used a dremel with a heavy duty cutoff wheel and it was a snap. You will most likely have to trim some of the extra junk off in order to complete the cut. I went back with a sanding drum to clean up the edges after I was done.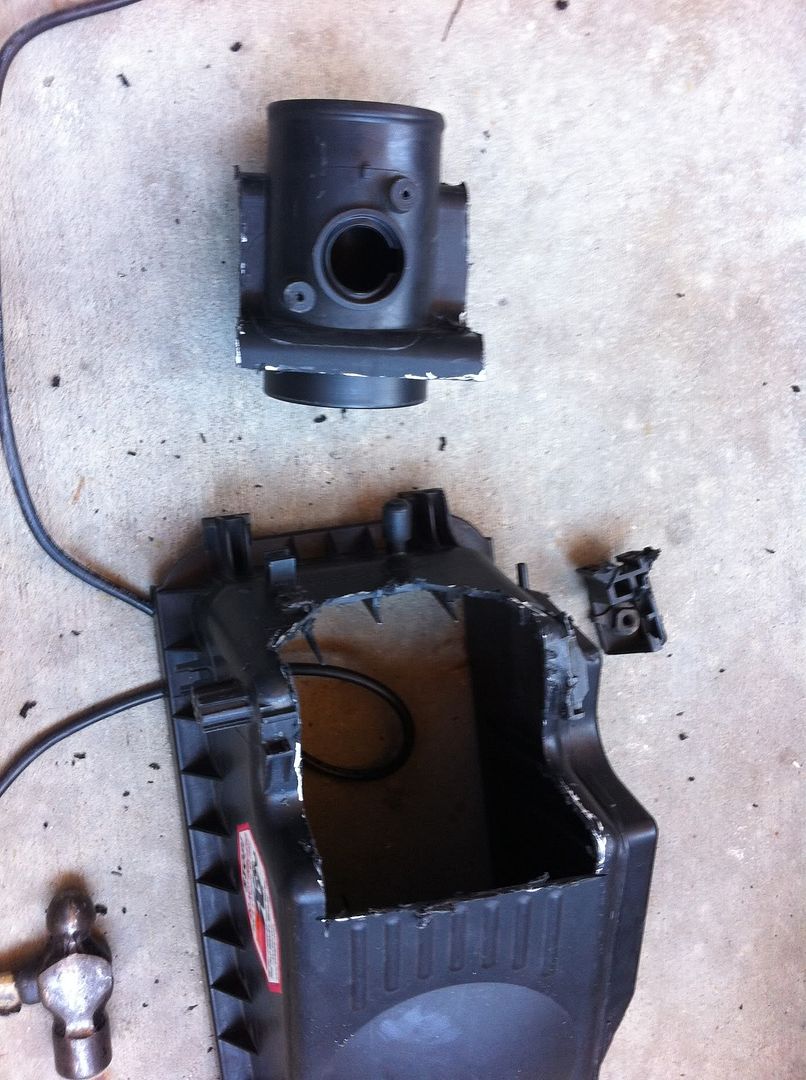 Done. I made sure I marked the piece so that I didn't put the filter on the wrong side..I know it seems obvious but I could see myself flipping it, and then throwing a code because the MAF had moved.
All put together. I used a K&N universal conical filter, rubber cap. The intake flange you need is 2.75" but they are tough to come by. Since there is plenty of room to expand in length and diameter, you don't have to be too picky. I decided on this one, with a 3" flange, 6" length, for about 45 bucks at O'Reilly. I used a silicone rubber 3 to 2.5" adapter sleeve to make sure the filter fit snugly to the intake tract. Worked great.
Next up was the long part..lots of trial and error: making the heatshield. I started with normal posterboard, and put the intake tract together. I attached it in the engine bay for a test fit (without tightening the hose clamps) and then sort of eyeballed my initial go. I measured my clearances on each side, drew it out (hope you have good spatial reasoning!!) and then gave it a shot. Not too bad, a little trimming here and there, then gave it another shot. As I was going I was using a sharpee while it was still in the engine bay to mark where to trim, extend, etc. After the second go I was pretty lucky and did one final go, but this time starting over based off of the initial run. Put it in and it was about 80%...a little trimming here and there and voila, perfect.
Next up was the hard part..figuring out how I could make a metal version that would drop right in (the posterboard I would just bend and shove into place)...a little playing and I figured out a two part version that went right around the edge of the flange, and then bolted together, would work best.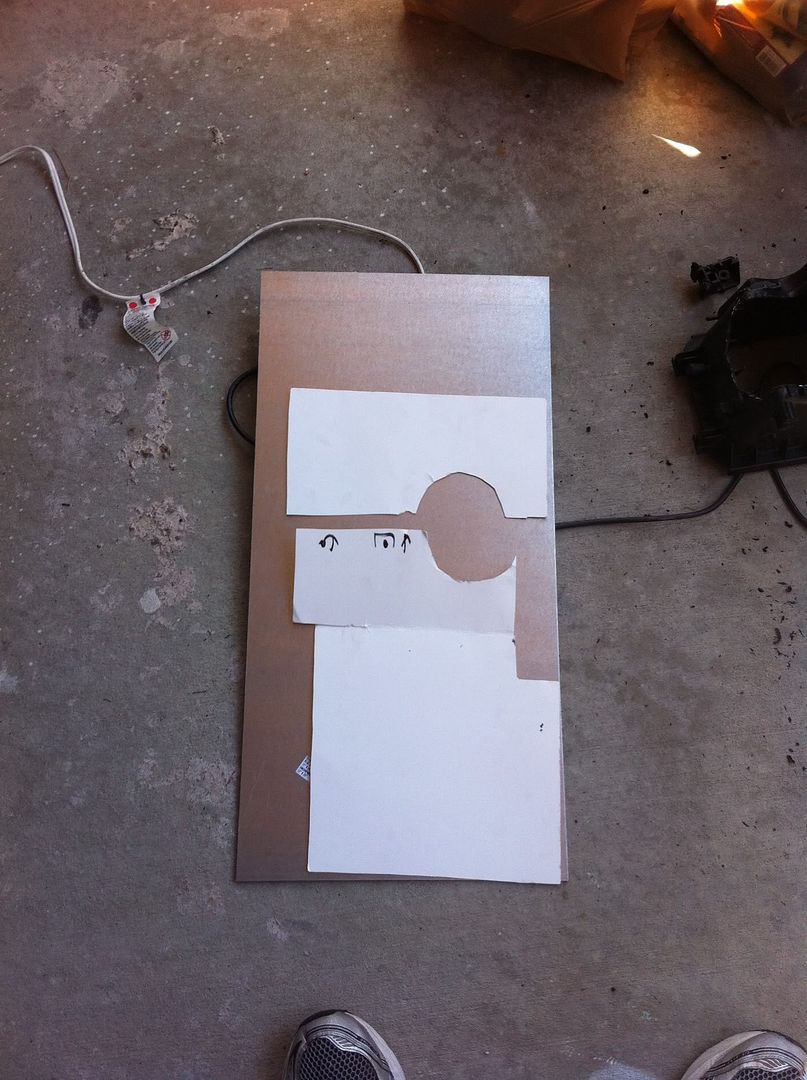 There's the posterboard template laid up on the steel. I went with 22 guage steel from lowes...about 7 bucks. Just flexible enough to bend and trim with my trimming shears, but sturdy enough to hold tight in the engine bay.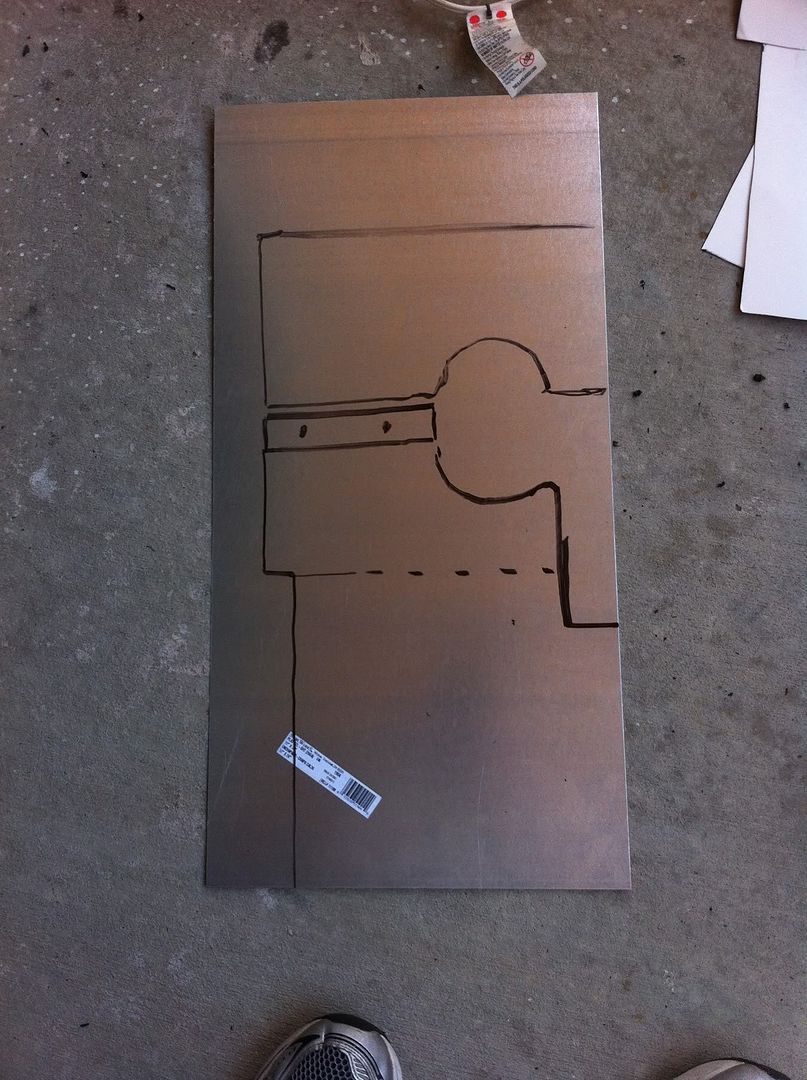 Marked out.
I used trimming shears, a file, pliers and a drill to get it all set up. Hammered the bend to a nice shape. I made one of the pieces have "Adjustable" holes so that I could slide the bolts up and down a bit to ensure a good fit.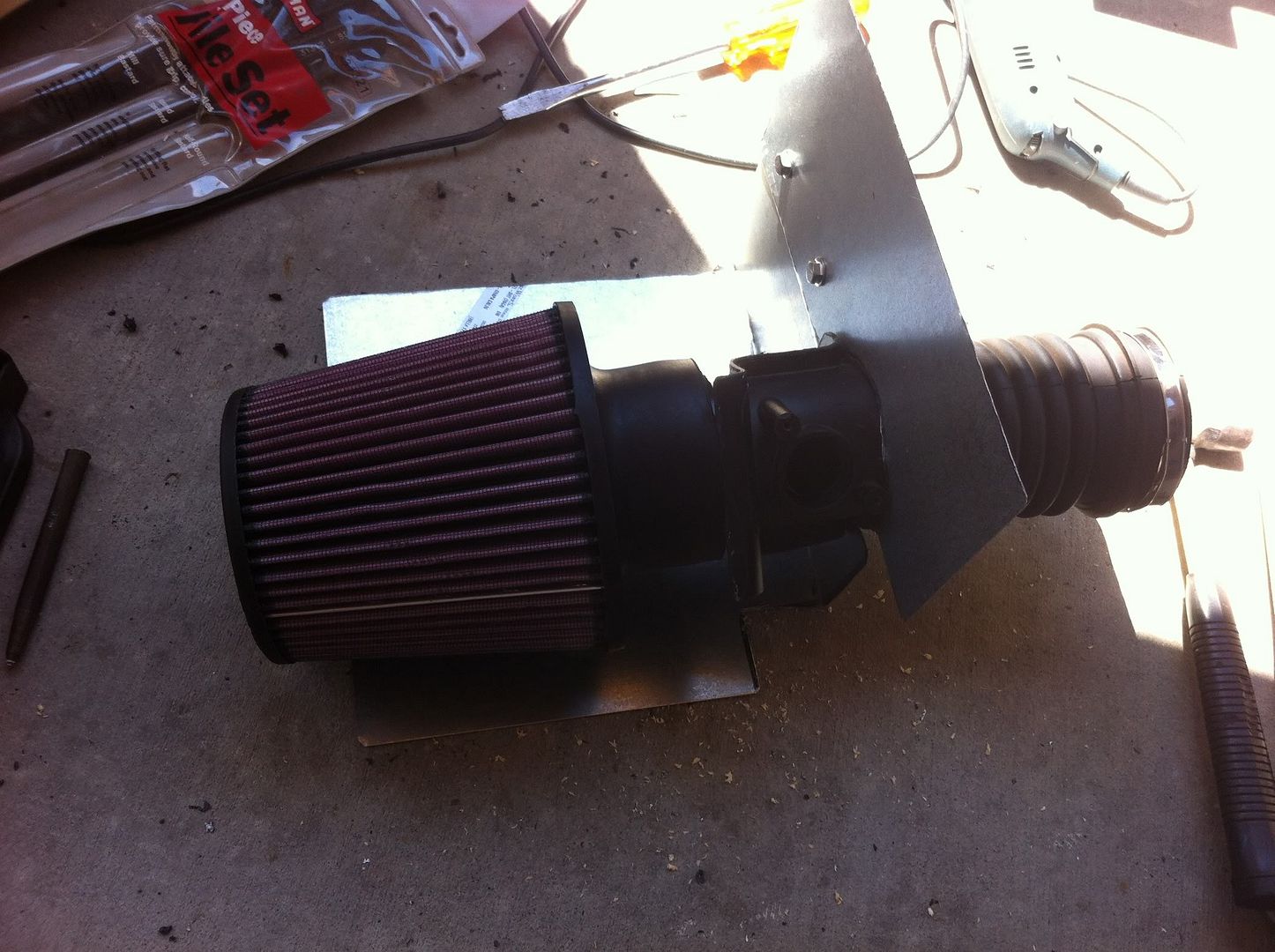 Test fit. Fit around the intake perfectly, so next was back to the engine bay to make sure it would work. Bottom piece sets in place first, then the intake goes in and attaches, then the top piece comes in and bolts up. Works perfectly-the intake keeps the heatshield in place snugly at the bottom, the dimensions were perfect otherwise. Double checked the trunk lid open and close to make sure it wouldn't interfere...
I went back and then used clear door edge trim (the stuff that protects your door edges) that I bought for 3 bucks. This kept me from cutting myself, kept the edges clean, damped vibrations, and ensured I wouldn't wear on parts in the engine bay. I put a piece on the edge where the two plates bolt together to keep them from vibrating. I had some small hex bolts and hex lock nuts laying around that worked perfectly to secure them together.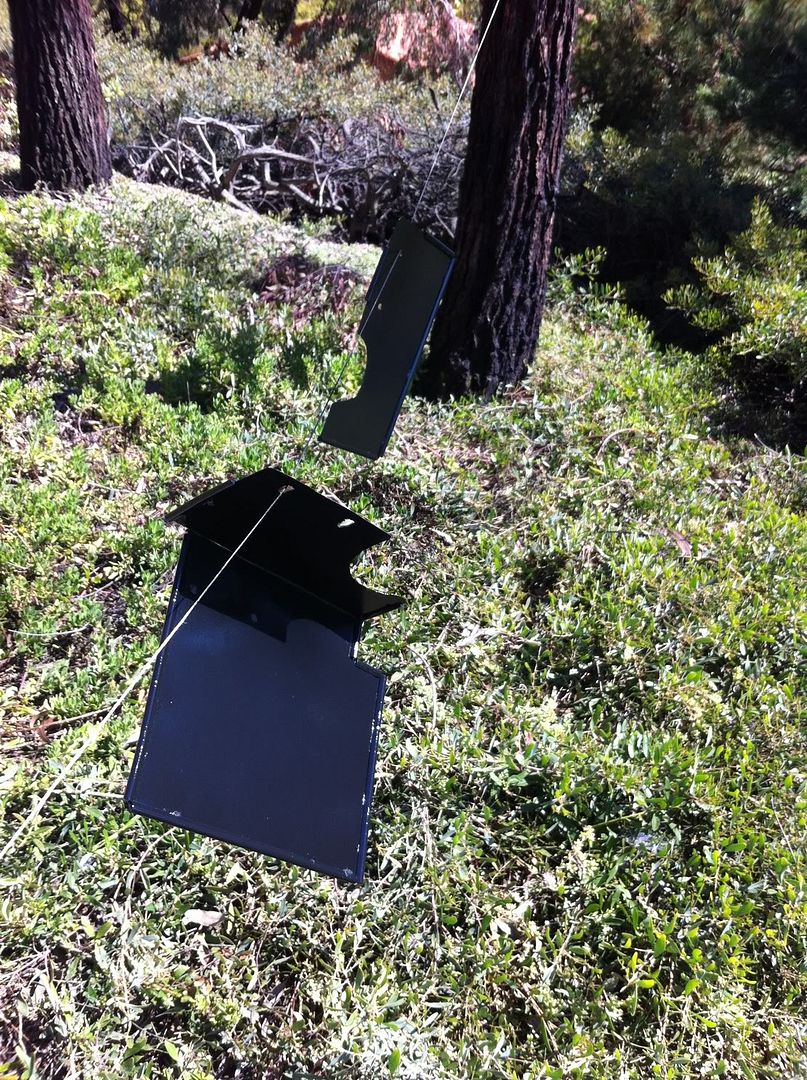 Next up, paint. I used krylon engine enamel in black. It's different than the high heat in that it is only rated to about 500 degrees but that should be perfect as a slight insulator on the intake. It is nice too because it's a bit thicker, glossier and more epoxy coat like than the high heat (grill) coating.
Back to the car to put it all together!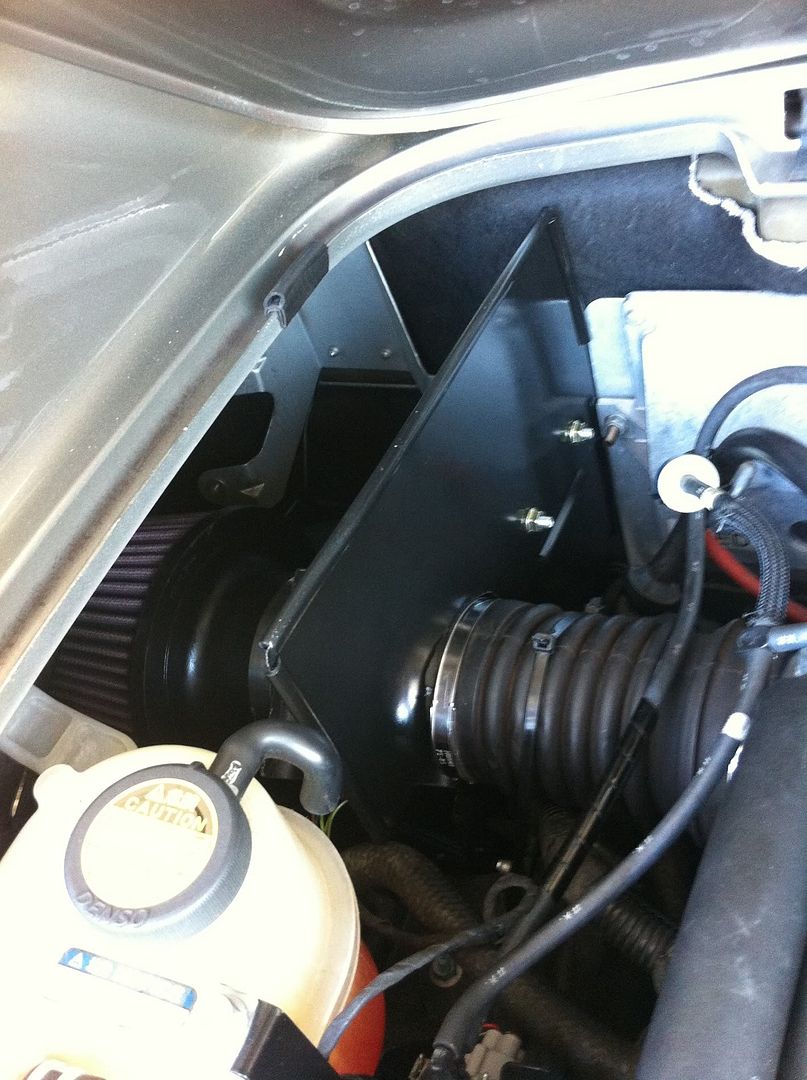 As you can see it looks pretty neat and tidy. I could probably clean it up a bit more but as is I'm thoroughly happy.
Side view from the side scoop/intake. An important last step (not pictured) make sure you take the two vacuum hoses (one goes to the side of the box, the other to the flipper valve on the bottom) and connect them. I did this by cutting one of the plastic bungs off of the factory airbox rear half , cleaning it up, and using it as a male-male connector for the two hoses. This will "trick" the ECU to thinking the vacuum is stable. According to Ramtin, it will idle roughly otherwise.
Overall I am very happy. I unplugged the battery while the paint was drying in order to reset the ecu. From start to finish, it took about 5 hours, with the heatshield being the longest part, including an hour to dry. Hooked the battery back up, let it idle about 5 minutes. No codes, no idle issues, nothing. Car ran smoothly within about 15 seconds of the first start.
I drove it around pretty well and let it warm up, then worked it through the gears easy/hard and got on it a bunch.
The sound is great-much meaner, throatier noise. Volume is up about 10-20% in a good way, on full throttle. Around town it's a bit more aggressive, but not bad. Ironically the drone I used to have at 4k rpm and 80 mph because of my stage 2 exhaust has become much more mild. Different tone for sure, very nice sound. Some intake hiss at idle but once you start moving it's gone. You could hear the throttle body opening and closing before since I was desnorkeled, but it's even more pronounced now. The only negative I have found thus far is I seem to have developed a harmonic resonance due to the filter-it isn't the heat shield but at idle there is a pronounced moan. If I get tired of it (once you move it's gone) I may try a different filter to see if it "tunes" it out.
Don't think it's making more power for all the reasons people experience with other intakes. Noticeably though the throttle is more responsive-I have no explanation for it, but it rises and falls much easier, and heal toeing and revving are much more responsive.
Possibly the biggest plus? Cleaning/removing the filter is now a 2 minute job..it is SO simple to do.
I am not sure exactly how effective the heatshield is, but it protects the filter a good amount and I am guessing it's better than if it weren't there. For very little monetary investment I definitely thing it was worth it.
To totally secure the intake I ended up using two zipties to secure the hose to a bracket attached to the frame. Keeps it nice and snug, no vibration.
Overall I am very happy!
Here is a video, though note since the iphone attenuates the volume it isn't dramatically different..but trust me, in person, it is.
Intake Mod before and after - YouTube