Discussion Starter
•
#1
•
OK so ive finished my journey around Australia (well half of it anyway), and thought I'd share my experiences, learning's and observations
.
So let me start by saying, I did a bit of an express tour.
I went from Perth to the Goldcoast, which is total opposite ends of the continent, so over 4000k's as the crow fly's, however I was well aware that the first 2000k's was pretty boring, as the Eyre Highway (you know the Nullabor) is the straightest road in the world, and I saw little point of taking one of the best handling cars of all time along the straightest stretch of road in the world., so in turn I shipped my car from Perth to Adelaide, so that I could take in the scenic parts of Australia, and some of the best driving roads
.
DAY 1 (Adelaide to Portland)
So here is me picking up the car at the Adelaide depot
Note the Pimp hat will be making a regular appearance through my trip
.
So Day 1 I obviously started in Adelaide. Adelaide is a city of population about 1 million at the edge of the great Australian bite, it is located on the coast and has a series of hills to the east. So as I arrived in Adelaide at 12 noon. I had to get a start if I wanted to make my way across.
I headed straight for the Adelaide Hills to find some fantastic roads not anything like what ive become accustomed to in Perth. With speed advisory signs as low as 15kph and tight hairpin bends it was fantastic, it was a good shakedown for the little lotus before the big trip.
This is a picture of the Adelaide hills, the city is not a particularly overwhelming one with little highrise, so its hard to see in the pic.
So after a blast through the hills, I headed towards Victoria so that I could spend the entire next day driving the "Great Ocean Road".
I drove until the sun went down and had covered some 600k's by 7pm and reached a portside town called Portland. Where I stayed in the Local Caravan Park. Many people have raved about how nice this little town is, however I was only there overnight, and there was little that caught my eye during the evening.
DAY 1 SUMMARY: Adelaide was a surprise, it was much larger than I had thought, and a lot more 'contemporary' than I may have been lead to believe. The roads were of good quality, and the drivers were very courteous. The hills outside Adelaide offered some great driving within a short distance from the city, and must be a pleasure for those who live there. However it was apparent how the drought is affecting the area, as everywhere I looked the ground was dry and brown, and it was apparent how the water shortage had hit this part of Australia.
DAY 2 (Portland to Melbourne)
So the next morning arrived and I packed up from the caravan and headed towards the great ocean road.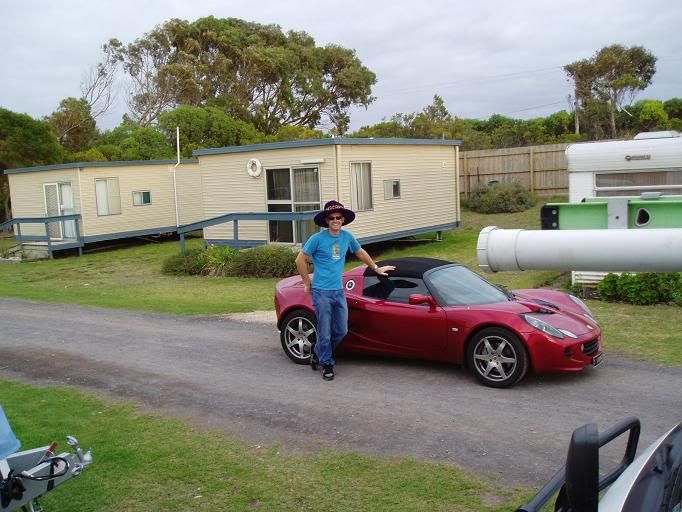 I drove for a little while with some un-inspiring roads with long sweeping bends and nothing that I felt was worth 'writing home about' and then I came across this
, and I think it was a sign that my happy place was not far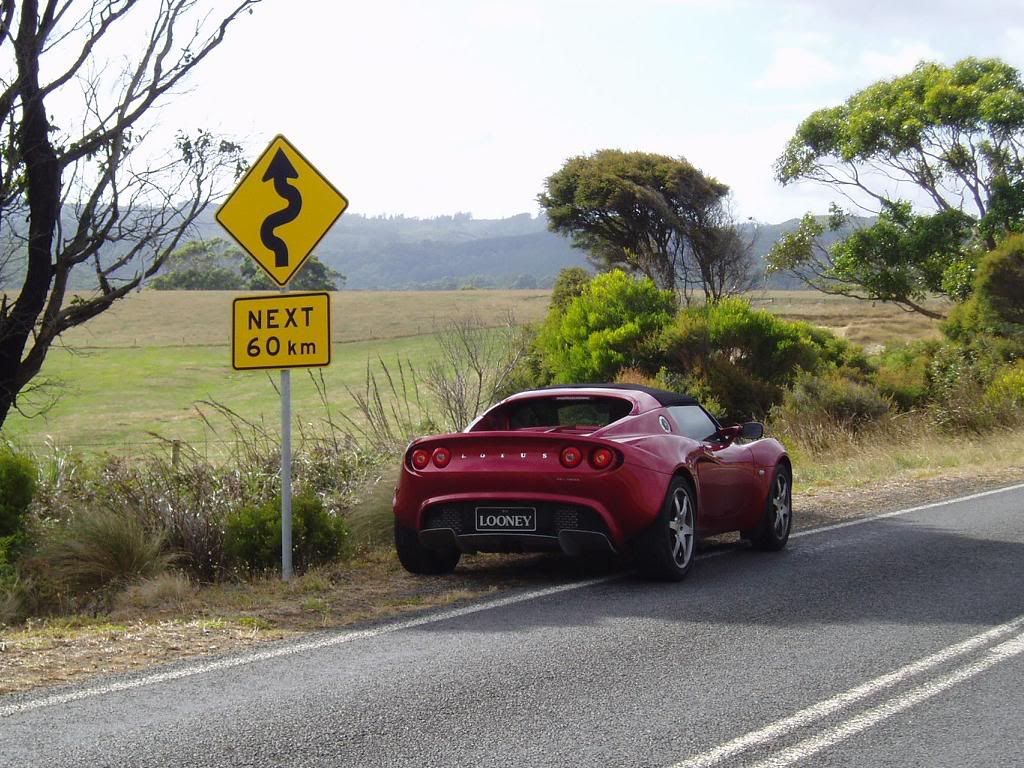 Shortly after this sign I entered a heavily wooded almost 'rain forest' like road, which had tight hairpins and ascents & descents which made for one of the most challenging drive's ive ever had,
The speed limit through the area was 100, however most of the corners had advisory signs of 40kph or 25kph, so even on full tilt the Elise barely got to the speed limit before the next corner.
Now it was at this point of my trip that I had finally arrived at what I was seeking. The ideal 'roller coaster' driving roads and although many people say that the 1ZZ engine Is the one to have, I can assure you that the lowly 2ZZ in my little Elise S was nothing short of perfect for the conditions. As many of you know im actually not a fan of the 1ZZ and here the 2ZZ was in its element, with its lower torque usability being perfect for the conditions.
I drove this 15k section of road some 5 times. And none of which I took a photo, because I was having such a great time driving. The first pass I was a little cautious but still taking a fair pace, and passed some council workers who waved.
The second pass hey again waved but this time clapped as I drove past.
The third pass I didn't see them, but the 4th time I got stuck behind a caravan, so would stop for a minute, drive a section till I caught the caravan, then stop again. And one of the stop points I stopped and chatted with the council workers for a bit (they were just picking up the cones after doing some survey work that morning). They were of course extremely interested in the car, and gave it a look over. They commented that my car seemed to go through the roads with a minimal of hassle, yet most cars going through that area seemed to struggle under the conditions.
I continued to drive the great ocean road all the way along the Victorian coast until I reached Melbourne, here are some pics along the way.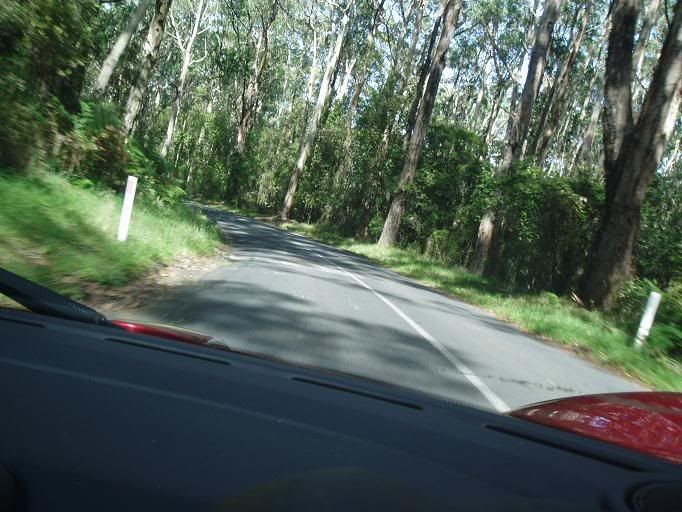 This is the road to the Otway Lighthouse, it was quite beautiful and tree lined
The Great Ocean Road is amazing, you have 'rain forest' esque areas for a while, then rolling hills on your left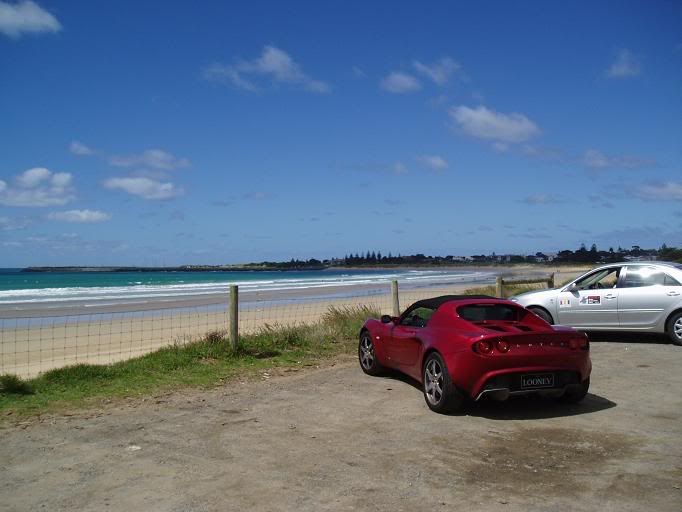 And beautiful ocean to your right. This is a view across to Apollo bay. It was a very nice little town, however had no good photo spot's so this was all I could get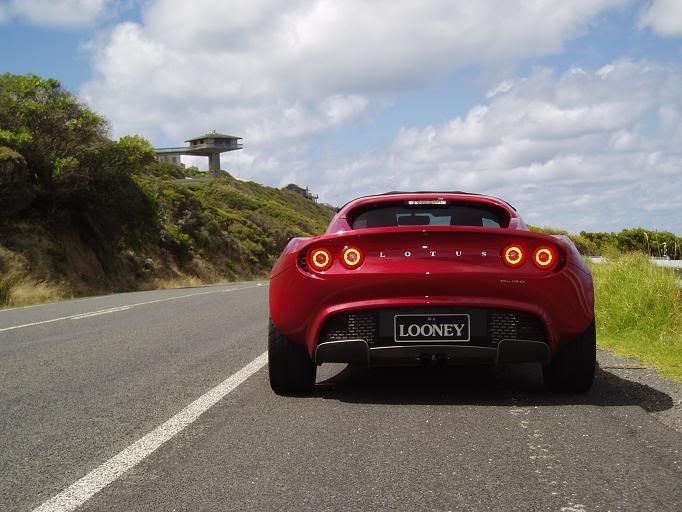 As I continued along the Great Ocean road towards Melbourne I saw this spectacular looking house, obviously well known to Victorians but still an interesting thing to see
So by late afternoon, I had made it to Melbourne.
I stopped on Chapel St for a quick rest. For those who don't know Melbourne, Chapel St is one of the main Café Strips through Melbourne.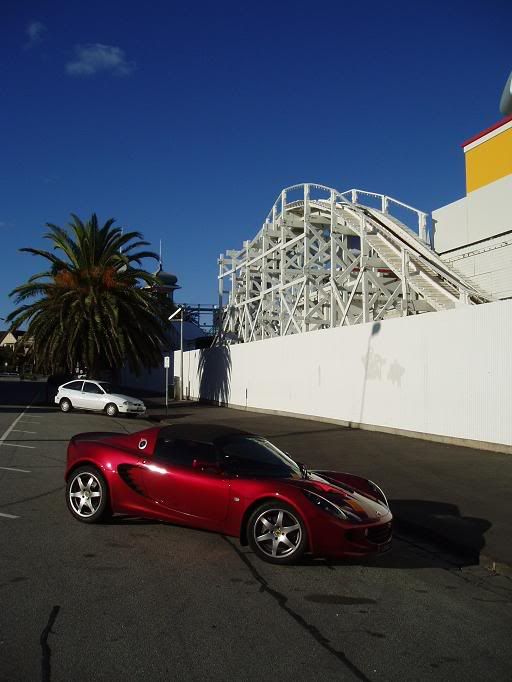 I also went to Luna Park at St Kilda for a quick photo opp, however all I could really get was this
As it was starting to get dark, I felt it would be an idea to head out of the city to find somewhere to stay, so I headed down to "Sorrento" which is on the eastern peninsula of Port Phillip bay. About 80k's south. However once getting there, I was disappointed to find accommodation to be scarce, ode to it being Friday Night. So I hopped back in the car and went back into Melbourne where I found accommodation at 11pm that night in Coburg. It was a little sketchy around there, however the owner allowed me to put the lotus in his personal garage
.
So now im 1.5 days into my trip 1360k's down and the Lotus hadn't missed a beat, id spent very long time behind the wheel, and was not experiencing any discomfort, or fatigue. The car was seemingly an ideal vehicle for the journey, as it provided great economy, fantastic performance and most of all fun along the way. Would day 3 be the same?
DAY 2 SUMMARY: All I can say is that Australian's are the worst drivers in the world, they are inconsiderate, and selfish, and have no understanding of anybody's needs. The number of caravans I was stuck behind who refused to use the 'turn outs' to allow faster traffic by was staggering. Surely if you're doing 40kph in an 80 o 100 zone you would try and be courteous.
However by the time I would get so frustrated with these
[email protected]
, my faith in people would be restored, when someone would just pull over and let me bye and give me a thumbs up or smile when they did it.
The Lotus was still going strong, and it really allowed me to see just how good the car is. On 1 section of road I was behind a Peugeot 206 Gti (I think that's the model designation) which would have been in its element on such windy roads. Having a penchant for hot super mini's myself I know my little Sri is a weapon around tight stuff, this 206 was going on the ragged edge on some of these roads, yet I still overtook him like he was standing still (on the inside of the corner nonetheless) so it really goes to show just what an awesome piece of machinery the Elise is.
DAY 3 (Melbourne to Sydney)
So I headed out of Melbourne on the trip to our nations capital (That's Canberra for those of you who think its actually Sydney).
I was about 3 hours north of Melbourne in the middle of nowhere, when
I saw another Lotus owner driving through the back of nowhere. We stopped on the side of the road shortly for a chat and continued on our way.
So driving along another half day I finally made it to Canberra,
This is the pimp hat standing in front or Parliament
I ate some lunch and then continued on to Sydney.
It seems as though the Petrol Station was becoming my second home
(I cant remember where this petrol station was, but I did visit at least 2 every day)
So I headed toward the coast to Wollongong, and was amazed with what I saw. I drove north to a town called Thirulle ( I think that's how its spelt) and it is in all honesty one of the most beautiful places I have ever seen.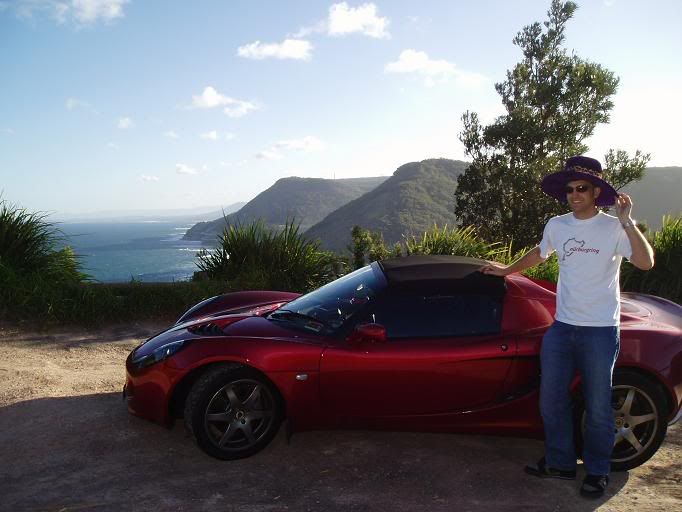 Again the pimp hat. If you look close in the picture, you can see the "Cliff Bridge" in the background.
Here is a pic of it, my camera is not that good, but you may recognise it from the Ferrari/Shell ad on TV
I then headed north toward Sydney
As the sun was setting I finally made it to Sydney
The pimp hat made another appearance under the harbour bridge.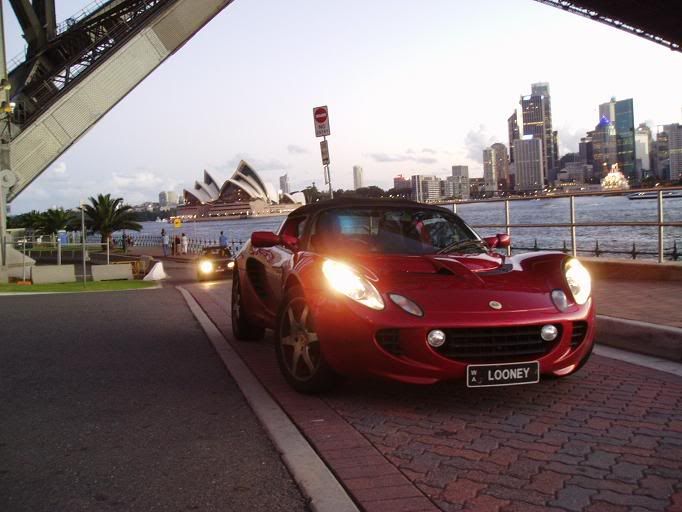 And the Sydney Opera house.
I drove north another hour to a place called Gossford and stayed the night.
Day 3 Summary: its amazing that I could drive to all of these places in 1 day in Australia, it was a big day of driving, but definitely do-able, and goes to show that you don't have to hop on a plane if you don't want to.
The lotus was still going strong. Still no discomfort or pain. The car was not showing any signs of any problems, and was just cruising along nicely. 2400k's and not a hiccup.
DAY 4 (Sydney to the Gold Coast)
Now this was probably my most underestimated day of driving, it was only 800k's however I was not aware of just what I was in for driving through New South Whales.
I have no pic's of this part of the trip, as I just hit the road, to make it to the Goldcoast ASAP.
But I have to say NSW is the worst place I have ever driven, and it caused for allot of stress and allot of fatigue.
The 9 hours I drove felt like 2 weeks. Mainly because the number of speed traps it seemed that almost every 5k's on some stretches there was a speed camera, and I swear there would have been about 50 on the trip.
For those of you who know me, you would be well aware that I do not speed, and I drive quite conservatively on normal roads, however with the Elise having no cruise control, and the cars ability to creep over the limit so easily, I was on alert the whole trip, and it was really wearing me out.
I can only say that I feel for those people who live in NSW as its political correctness an over safety to a ridiculous level. Every 500m there is a sign not to speed, and speed cameras everywhere, it makes for a stressful experience.
I don't think I sped at all that day, however I am to some degree thinking a fine will still somehow find its way to me?
Thank god for my Tomtom which advised me ahead of most of the speed cameras though. Although even the TomTom had trouble coping with all the speed camera alerts, as 1 hour out of the Goldcoast the speaker on it broke, probably from over use.
I did however on the way see
The Giant Prawn???
Then once I was finally leaving NSW I was totally frustrated and could not wait to get to my destination. However I don't think I was the only one.
There was gridlock to get into Queensland, I think everyone wanted to leave NSW due to the stupid roads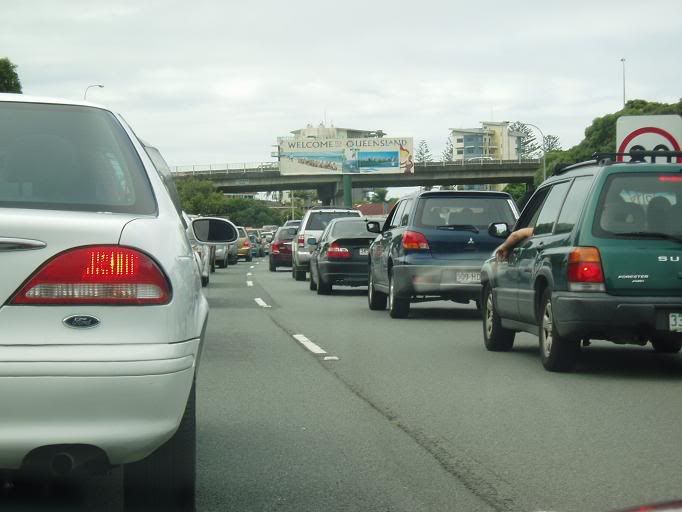 And here is the view from my hotel. Its not got a view over surfers, but still has something interesting to watch all the time.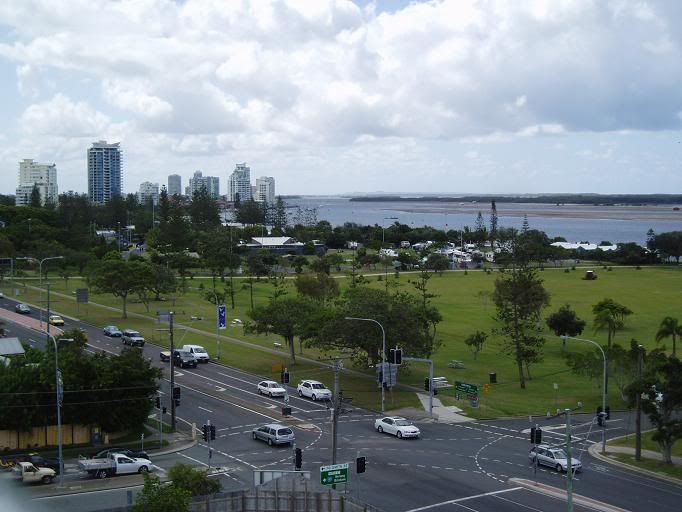 Day 4 Summary:
I hate NSW roads, they are poorly made, have too many speed camera's and are a total stress to drive as a result.
Im not looking forward to driving back to Sydney L
TRIP SUMMARY: I drove 3216k's in 3.5 days, and have no discomfort or problems from driving the car. Many people thought I was crazy for driving my little car on this trip, but to be honest I cant see why, it was a fantastic drive engaging and comfortable, it may have a slightly higher NVH rating than say a Merc but it is far more fun to drive
. Although before I do it again, I will get cruise control fitted for those highway miles.