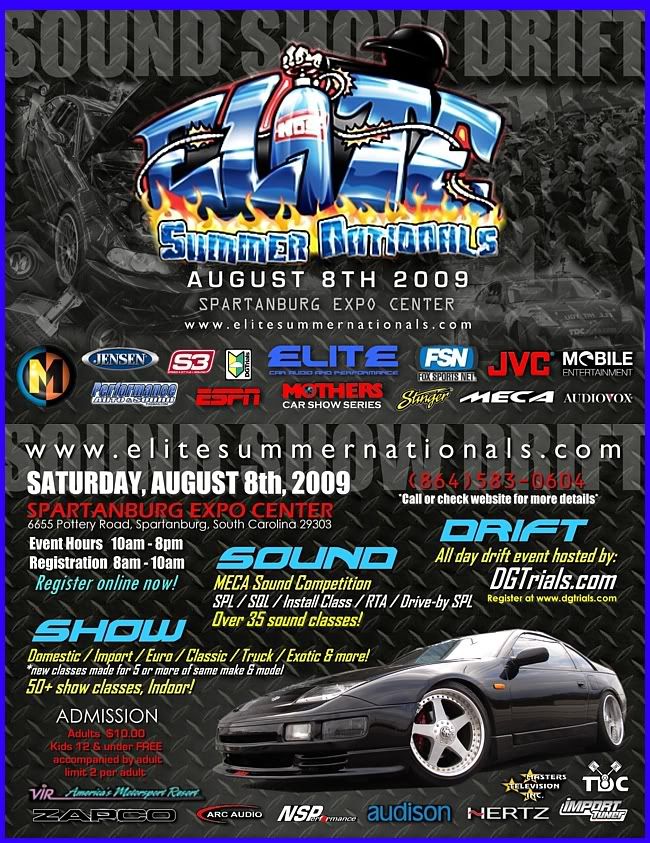 ELITE SUMMER NATIONALS
SPARTANBURG EXPO CENTER IN SPARTANBURG, SOUTH CAROLINA
SATURDAY, AUGUST 8TH, 2009
***ALL DAY CAR SHOW / INDOOR / 50+ CLASSES!!!!
***SQL/SPL SOUND COMPETITION HOSTED BY MECA SOUND ASSOCIATION
***DRIFT SESSION HOSTED BY DGTRIALS.COM / SINGLE AND TANDEM DRIFT
***INDUSTRY SEMINARS / LEARN ABOUT THE LATEST PRODUCTS AND TRADES IN THE INDUSTRY
***MUSIC / VENDOR BOOTHS SHOWING OFF THE LATEST IN AUDIO, PERFORMANCE, WHEELS, ACCESSORIES / GIVEAWAYS & MORE!!!!
Elite Audio brings you Elite Summer Nationals, Saturday, August 8th, 2009. Elite Summer Nationals will be held at the Spartanburg Expo Center in Spartanburg, South Carolina, with an all day Sound, Show and Drift event.
The sound competition will be intense, ranging from ground-shaking bass classes to sound quality judging.
Hundreds of show cars will take over the expo center; everything from sport compacts, domestics, classic cars, exotics, trucks, and more. See your favorite magazine and media featured cars in person!
Throughout the show in the 100,000 square ft. facility, vendors will be showing off the latest and greatest in the automotive industry at their booths.
Outside, the event heats up with the Drift competition, hosted by DG Trials. Watch as cars power slide, twist, and turn at high speeds through the race course. Professionals and amateurs will race all day, competing for top honors.
**Magazine Coverage!! Performance Audio & Sound Magazine, S3 Magazine, Import Tuner, Tunerzine and more!!**
Be sure not to miss this automotive lifestyle event!
REGISTER ONLINE NOW!!!!!!
www.elitesummernationals.com
ESN 2009 | MySpace.com
Elite Audio ::
DGTrials - Slide or Die!!!
Welcome to MECA!