Discussion Starter
·
#1
·
I've noticed a metallic rattling coming from the rear passenger side of my car at low loaded RPM (i.e., pulling away from a stop in 1st, or stop-and-go traffic). On inspection, I saw that the exhaust was off-center enough that the tips were actually touching the diffuser on the passenger side. The diffuser had enough wear at that point that the edge had started to mushroom out, and the point of contact on the exhaust tips was scratched. I took the diffuser off and drove around a bit, and the noise seemed to be gone.
I've been searching on the proper way to fix this, and what I've found seems pretty simple:
1. Remove the exhaust clamp.
2. Move exhaust into proper place.
3. Replace clamp.
Any or all of these steps may require elbow grease, PB Blaster, and/or swearing.
The exhaust in question is a CLF-marked Stage 2. Diffuser is stock (painted/powdercoated black, I'm not sure which), with the enlarged exit.
Does this sound anywhere near correct? Since this is the same exhaust, do I need a new clamp, or can I just reuse the old one?
Also, there seems to be some sort of drip marks around the clamp. Is this normal (i.e., from condensation or leak testing), or something I should worry about?
Thanks for your help!
-lint.
Exhaust/diffuser alignment: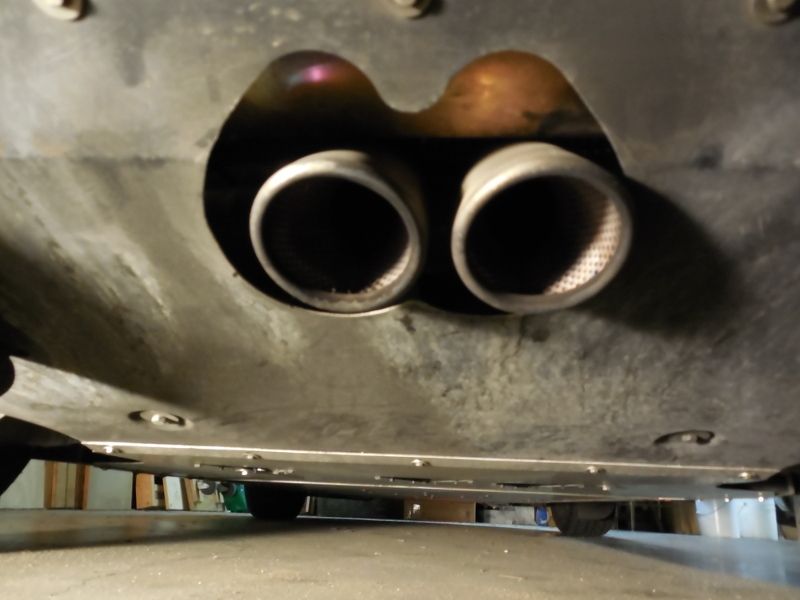 Exhaust clamp: