Discussion Starter
•
#1
•
So I know that many out there will get an aftermarket diffuser and move the exhaust up, I just never could see exactly why. I am not new to the aerodynamics of a car and am currently trying to make an old muscle car aerodynamically disappear. During my digging for info, I had found that exhaust gas flow actually helps diffusers work better!
Another point is that Lotus flat out knows what they are doing. My Exige has to have the fewest compromises of any car that I know of in terms of performance vs amenities/ascetics. I am positive that if the car would be better suited with the exhaust thru the back panel, it would be there. Here is a quote directly from Wikipedia regarding this topic
Injecting the exhaust into the rear diffuser can also help extract the air from below the car. The exhaust gasses effectively energize the boundary layer, helping to raise the pressure of the low-pressure, fast-moving airstream back to the ambient atmospheric pressure at the exit of the diffuser. This fast-moving air helps evacuate the diffuser more quickly, which helps drop the pressure at the underbody. However, this makes the diffuser rather sensitive to engine speed. When the driver lifts off the throttle, the exhaust flow is greatly reduced, which makes the diffuser less effective, robbing the vehicle of downforce. Thus, handling is negatively affected.
Another point I have: A few years ago I started reading about a car called the Super Cuda, a 1970 Plymouth 'Cuda with a 1000hp twin turbo Viper V10. It was built by a shop that does work on high end exotics that wanted to see if an old muscle car can be made to have the performance of one of these exotics. They re-did every single body panel in search of aerodynamics, downforce and handling. The car obviously has a diffuser, guess where the exhaust dumps...
I happened to see this car a couple years ago at a show and got lots of pictures of it. One of them in particular of the diffuser to see what they did with the exhaust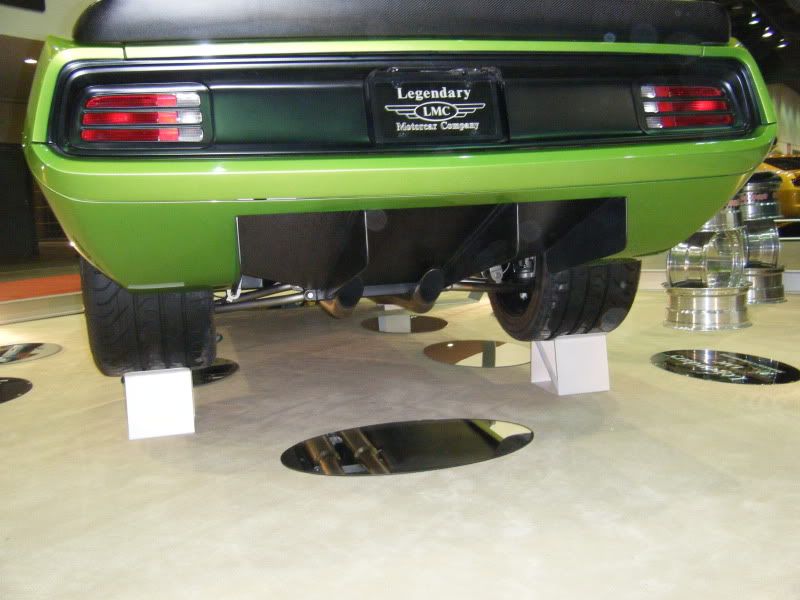 Again, the exhaust would not be here if this were not the best place for it.
I have read comments about 5 element diffusers where some would consider the center element to be useless if the exhaust were to still come thru there. What I am getting at here is that I will probably end up with a 5 element diffuser on my '06 some day, it will for sure have the exhaust in the stock location