Its been documented that Final Edition Esprits differences are the following:
-Bilstein Dampers with stiffened settings and adjustable spring platforms
-Uprated Eibach Springs
-Smart Tire system monitors temperature and pressure of each tire individually
-New unpainted Stainless steel mesh grills
-Esprit decal in rear quarter windows has an etched finish
-Stainless steel plaque with the engine builders name on the plenum
-All mesh grilles on the front valence and engine compartment are stainless steel in silver finish rather than black.
-The tow how is silver in most models (although I did see some with back tow hooks)
-Stainless steel perforated rear valance ("cheesgrater") with new rounded slots and a satin finish
-The quilted stitching on the seat backs and perforated leather on the seat bottoms and door panels
-Passenger side airbag cover is embossed with the Lotus roundel
-Elise style climate control knobs with a brushed aluminum finish
-New style shorter gear knob is finished in brushed aluminum and topped with a Lotus Badge
I've also confirmed FE Esprit ECU actually have the Sport 350 code. While doing my rebuild, I confrimed something else.
-The casting on the plennum is a little different on the FE plennums vs the others.
-The block on the later V8's is a little different from the early V8's. The casting on the later blocks have some patches in the coolant pasages around the cylinders and in the oil passages on the side near the oil pan. Although I think this change happened sometime around 2001. No one seems to know why or when the change happened. Early top, late bottom.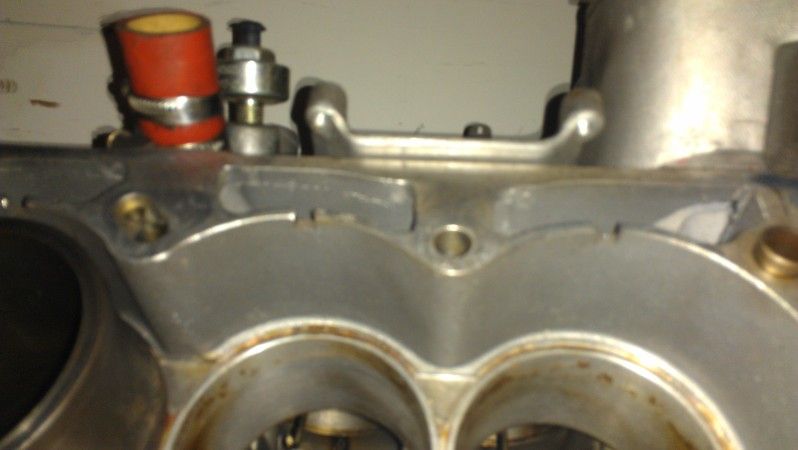 -FE cranks are NOT the same as other V8 cranks. The shape of the counterweights is different. JAE who has many cranks in stock has never seen a FE crank before. No one seems to know why Lotus made the change. Regular V8 on the left, FE on the right.
Is this the reason why some people say the FE V8 seems to rev smoother than others? How knows. Just thought I'd share.