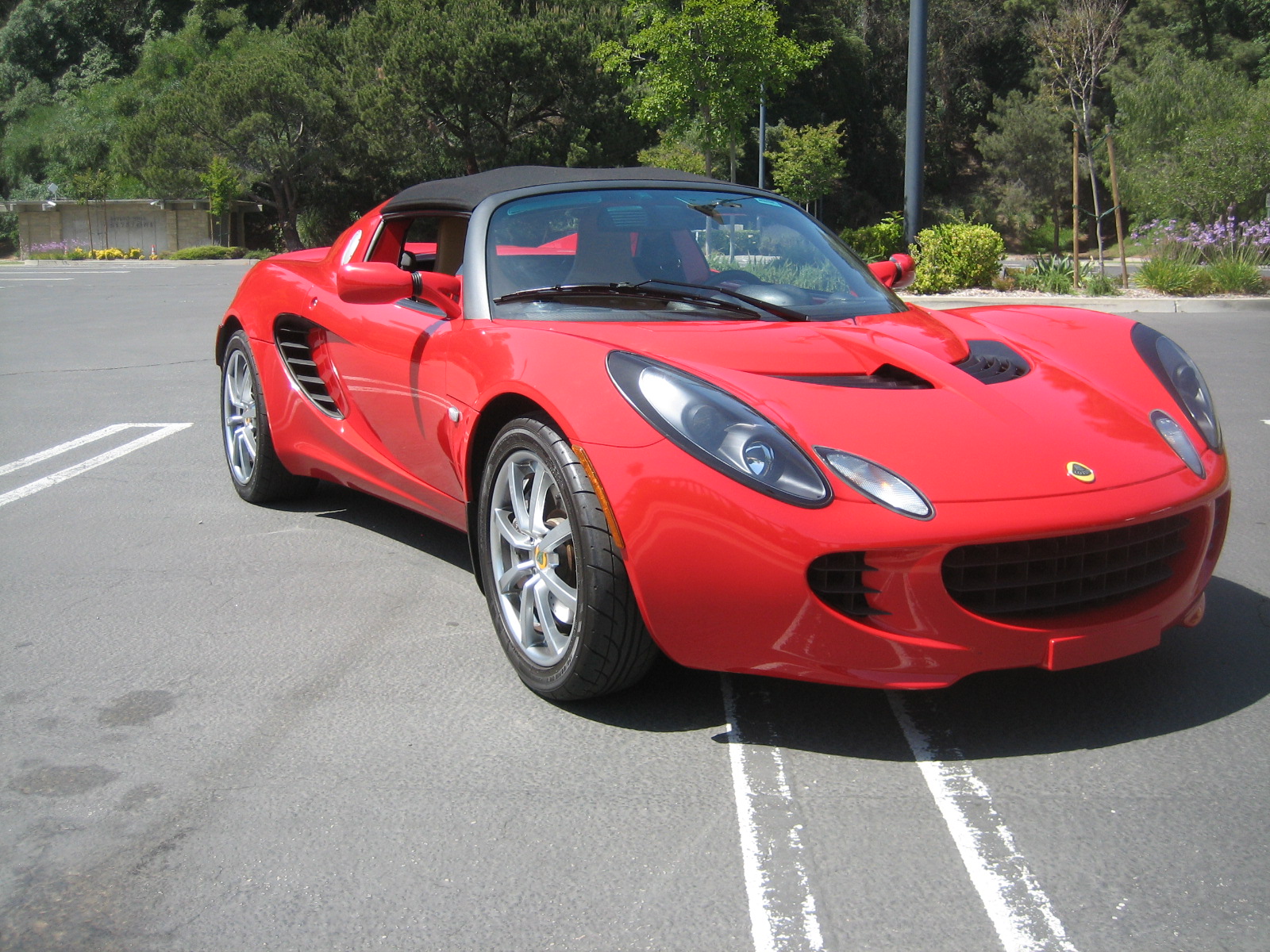 Well boys, as most of you know I'm one of the few "multiple Lotus" owners on this board... but now the time has come to put my `05 Lotus Elise on the market and become a
one
Lotus owner.
I
really
love this car. I wish I had the opportunity to drive it more (as it deserves to be driven), but now that I have the Exige S back from the shop - I find myself only driving the Elise occasionally.
This car gets more attention (especially with the top down) than any other exotic car I've ever driven. Even here in L.A., the land of Lambos and Ferraris, people are constantly asking questions about and taking pictures of the Elise.
I actually like the lines and the classic design of the Elise a little better than the Exige, but I find myself driving my Exige more often now.
I am the original owner
of the car. I purchased the Elise in August 2005 from Silver Star Lotus in Thousand Oaks, CA. I searched for several months to find an Ardent Red Elise with Biscuit interior. I believe that this is the proper color combination for any European sports car.
The car has just under 11,000 miles.
The factory
warranty is good until mid August 2008
(3 months left.)
The car has never been abused. It's never been in an accident. Not even a door ding. It has a clean California title. It's never been tracked. (Not that there's anything wrong with tracking a Lotus!)
Interior condition:
Flawless. Seats have no stains, rips or tears. The aluminum bits are clean. Dash is flawless. Carpets are very clean and intact. Door panels are spotless. Glass is perfect.
Exterior condition:
Flawless. Paint is excellent. There are no rock chips in the paint.
Starshield is intact
and has done it's job protecting the paint. There is one little black rubber mark about a half centimeter long on the front passenger side bumper. It's on the starshield, not the paint. You'll see it in the pictures.
The Elise has VERY low ground clearance. (Even lower than the Exige.) Since I do live in a hillside neighborhood, my driveway is at an extreme angle. There were minor paint scratches on the underside of the front clam (as all Elises have). I had these scratches professionally repaired by Specialty Car Craft. You'll notice (in the pictures) that the underside of the front clam is flawless. Not a scratch anywhere.
Tires:
Front tires still have plenty of tread. Rear tires probably have another few thousand miles left, however, I have ordered new rears for the car and will be installed before any sale. (So you'll get a fresh set of rear tires on the car.)
Wheels:
Flawless. There are no scratches, curb marks, peeling paint or even any brake dust on ANY of the wheels. They're all perfect.
Engine:
Flawless and clean. No leaks. All hoses, wiring and piping in excellent condition.
This car has the
Stage II exhaust
(installed by Silver Star Lotus of Thousand Oaks.) It sounds incredible! I had the snorkel removed to give the car an even more aggressive note. I still have the snorkel if you want to re-install it. (Sounds better without it in my opinion.)
The car has
all service records
and was meticulously maintained by Silver Star Lotus and Lotus of Beverly Hills.
The car just received a full service at Lotus of Beverly Hills, including oil change & filter, hydraulic brake service, tie rod replacement and all TSB updates performed.
All manuals, tools, keys (2 sets), Blaupunkt accessories, soft top and soft top bag are in excellent condition.
I even have the original window sticker.
This car has never been driven in the rain, ever. (That's what I have a Land Rover for.) It is always kept in a protected underground garage with a
Sector 111 soft indoor car cover
. (Which comes with the car.)
The Elise starts, runs and handles perfectly. (Actually, it's better than perfect!) Everything is in top shape. Bottom line: I am a perfectionist and keep all of my cars in excellent shape. This is a great deal on a great car!
I will even throw in 8 Flat Panel TV screensaver DVDs from my
Plasma Window
DVD line for the lucky buyer! (Shameless plug.)
Car and all documentation is available for inspection in Los Angeles, CA.
VIN: SCCPC11175HL33659
Buyer must arrange any shipping.
Price: $33,950
You can send me a PM.
You can contact me directly at 310-721-6851
Or you can send an e-mail to sales[at]plasmawindow.com
Now, the pictures: