I hope I don't end up regretting this... If interested, email n6uyen at g mail dot com. Located in Los Angeles. Also open to trades for a Porsche 964 or 993 in good condition
For sale is a 2005 Lotus Elise with a full Exige front/rear conversion and Honda K20A engine swap from a DC5 Integra/RSX Type R. It currently puts out 240whp/172 ft lb naturally aspirated. This has been my project car since 2009 and now I think it's time for someone else to possibly enjoy it. I've driven it on street and on the track, and have maintained it diligently (probably better than a lot of daily driven/weekend cars).
The chassis has 60k miles and the engine has approx 33k miles. It is fully CA Smog legal (just smogged and registered the car through 2016). The bodywork was done by Julio at Mulholland Motorsports and has been maintained by Harry at A1 Automotive, two of the most reputable Lotus shops in the LA area. The engine swap was performed by Sportcar Motion in San Diego and tuned by Church Automotive in Torrance. Tim at Innovative Mounts designed the swap components. The car is well sorted and runs strong.
The car was featured on Speedhunters and all the details you could want on the background of the car can be found here:
The Story Of A Honda-Powered Lotus - Speedhunters
Asking price: $47,000
Engine
Honda K20A Type R swap, Arqray titanium Exhaust, Custom exhaust header/midpipe, custom cold air intake, K-Tuned fuel rail, Hondata K-Pro ECU management, ProAlloy triple-pass aluminum radiator, Setrab oil cooler, V2 baffled fuel tank, Clockwise Motion oil baffle kit, Radium coolant overflow tank, Motul 300V oil
Driveline
Factory Honda K20A transmission & LSD, Innovative Mounts K-swap engine mounts, Innovative Mounts shifter, SSC shift cables, Sector111 shifter reinforcement kit, Innovative Mounts driveline axles
Suspension/Brakes
Nitron Single adjustable sports coilovers, Sector111 RTD toe-link brace, Sector111 V2 steering camber arms, Sector111 TitanQR steering rack, BOE Racing 2-piece full-floating slotted rotors, DBA 4000 rear rotors, BOE Racing vented caliper pistons, Carbotech XP12/XP10 F/R pads, Endless RF650 brake fluid
Wheels/Tires
RAYS Volk Racing CE28N 16×7-inch (front) 17×7.5-inch (rear), Toyo R888 tires, Blackwatch Racing wheel studs, Kics R40 lug nuts
Exterior
Lotus Exige front and rear clam conversion, TWRD carbon fiber GT Front bumper/splitter, TWRD carbon fiber access panels, Reverie carbon fiber side scoops, Craft Square carbon fiber mirrors, IMRP aluminum side sills, Bodyshop Kobayashi carbon fiber rear hatch/engine cover, Voltex 1600mm Type 2 carbon fiber wing, Reverie carbon fiber 3-element rear diffuser,
Interior
Recaro SPG seat, Works Bell quick-release hub, Sparco Cup 300mm wheel, Willans harnesses, Lotus Sport factory harness bar, aspec titanium shift knob
Spare parts included with sale (stored somewhere in my closet I think)
0. SUPER RARE Denag Carbon fiber front splitter for Exige (only one in the US from what I understand)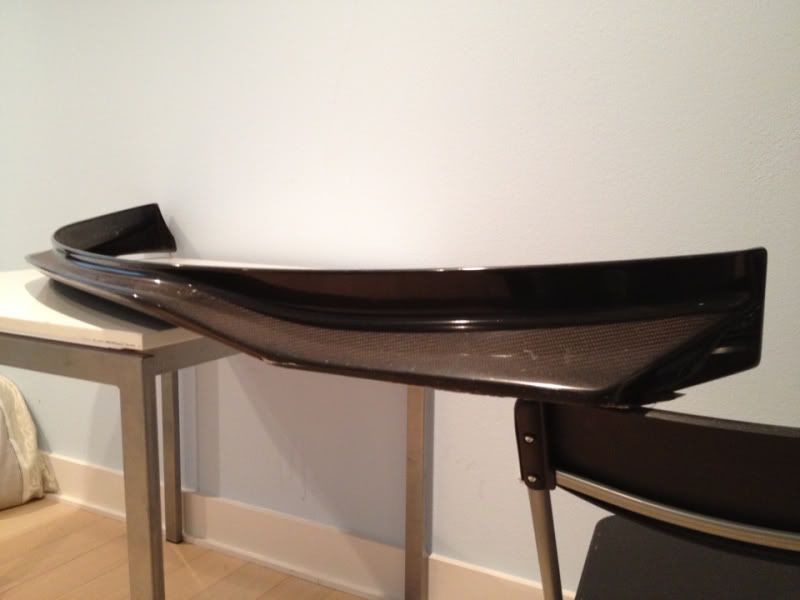 1. Elise Probax drivers seat and seat rails (From the original Lotus Trim shop, matches passenger side)
2. Driver side seat belt, tensioner, buckle, etc
3. OEM Steering wheel and airbag
4. Saikou Michi oil catch cans
5. OEM Fuel tank
6. OEM Track pack bilsteins
7. A bunch of old brake rotors and pads as spares for track days
8. OEM side mirrors
9. Lotus center caps (raised and flat for front and rear)
10. Camber shims
11. Used spare OEM resistor pack and blower motor fan
12. Used Toyo R888 rears 225 and used Dunlop Star Specs 205/235 set
13. I'm sure a bunch of other stuff in the closet I can't remember right now
Things that may need attention
1. No AC installed on the car. However, the wiring kit provided by Murray (WhatsADSM on Lotustalk) was designed to accomodate AC functionality. Tim at Innovative Mounts was working on an AC compressor bracket design and can provide one (if you pester him enough
)
2. Aside from the AC not installed, the HVAC no longer blows air due to a corroded resistor pack. This is a common issue on early cars and Lotus sells an upgraded resistor pack kit. I think i have an extra resistor pack and blower motor in storage that I will include with the car.
3. On really hot days in long standing traffic, the coolant temps will creep up to 215-220. Not really an issue as the danger zone is really somewhere past 225-230 but it's something that I've noticed. The long term fix for this is a pressurized coolant tank but the Radium tank does a good job with the Cosworth 1.0 bar pressure cap. No overheating issues under spirited driving or on track.
4. ABS light sometimes comes on during startup but will disappear after a minute. I believe this has to do with an ABS sensor with dirty electrical contacts.
5. Front carbon splitter has a crack in the clearcoat from a piece of debris/rock.
6. Craftsquare mirror on passenger side sags. Held in tighter place with rubber duck tape.
7. Passenger side window has a rattle when lowered. Part of the Lotus charm package.
8. Roof liner on hardtop sags. Needs to be cut and re-lined by an interior specialty shop.
Onto some pics/vid
What it can do on track (or rather in my novice hands... for sure sub 2 is possible)