·
Aspen White 'RGB' Exige
FS: $44,500 obo
hey guys,
i'm selling my 2008 Lexus GS350 RWD car. the car was purchased less than 10 months ago. the car's in prestine, tip top shape. there's no defects or issues what so ever. the car's been regularily maintained and well kept in a garage. (non-smoker owner). the car is a dark gunmetal color (seen in the 4th picture) and has a grey interior with a really nice black wood interior trim. the car also has every option including: rear sunshade, blackwood steering wheel, and navigation!
the car has 23k miles, mainly due to freeway commute to work from newport to LA. rest assured that the car is babied, and i'm anal to keep my cars in the best shape what so ever! looking for a fairly quick sales, as i need to make room in the garage for another incoming car. selling for: $44,500 or best offer. no super low bidders please. thanks!
the car is modded tastefully with a lot of very expensive and exclusive parts. the specs are listed below.
2008 GS350 RWD
- 23k miles
- factory warranty remains
- smokey gunmetal grey exterior
- grey interior (with black wood trim)
- fully loaded (minus ONLY mark levinson sound system)
- navigation
MODS:
- blitz carbon center grille ($650)
- blitz front bumper lip w/ carbon blade ($1280)
- INGs side skirt ($950)
- INGs rear bumper ($800)
- INGs rear spoiler ($600)
- wald replica carbon fiber roof spoiler ($595)
- tanabe exhaust ($980)
- tein CS coilovers ($1480)
- klassen k8.0 rims (20x9 in front, 20x10 in rear) ($9500)
- toyo t1r tires ($1120)
- noyka yellow fog bulbs ($20)
- 80% rear tint, 50% front tint ($180)
- lexus OEM ipod adapter ($280)
almost $17,500 just in parts ALONE~!!!
CONTACT: daniel song


[email protected]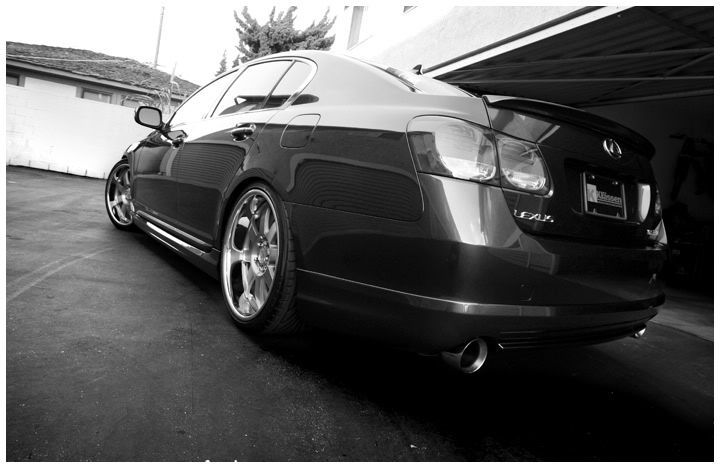 BEFORE KIT PICTURES: