Discussion Starter
•
#1
•
First, let me compliment Miller. Wow,
what a facility
.
40-50 foot wide track, featuring a great combination between technical and momentum
.
The day started with
Track Orientation, Rider/Driver Evaluation (TORDE)
, a very comprehensive classroom/ safety briefing, van drive, and a couple laps with an instructor to make sure you know which way to point the car.
There were five 20 minute sessions in all, one cut short by a poor M3 owner who stuffed his brand new car into the wall just before the straight. Again, the track layout is superb, and you have to be going way hot to hit anything. I feel for the guy.
The Lotus was, in a word, superb. It more than held its own vs. everything out there. I want to thank Allen at Lotus of Beverly Hills for setting up the car perfectly. It couldn't have been better, and made me look a lot better than I am. Thanks Allen. This is all the better as I didn't come to Utah with the intention of hitting the track - I didn't know this place existed.
My first run session was on street settings (Lotusport Ohlins DA's) and it made a noticeable difference when I switched to track (again, thanks to Allen for mailing me the settings at the track.)
This is what my right rear looked like after one session. Keep in mind that that ALMS cars ran te day before and there was A LOT of clag left, as well as a lot of rubber down in various places, but very inconsistent as we were using half (the east side) of the 4+ mile facility:
It was nice to see the GTR arrive and run. Pretty cool car, but he went out a couple of places in front of me, and I never really saw too much, as he didn't lap me.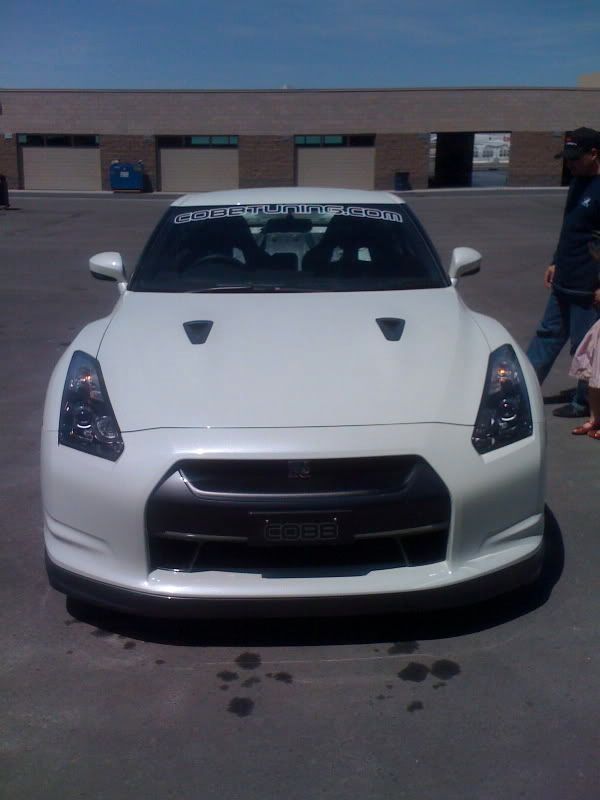 There were four other Lotus out there today, three were running the west course and one was running with the race prepared cars. Casey from Forcedfed was on hand dialing in a 375 kit on an Exige. Pretty cool.
All in all, I HIGHLY recommend running Miller if you have the opportunity. Great track for a great car.
Now I need to get a new set of rears for the drive back to LA. (ordered).