Discussion Starter
·
#1
·
Hello!
I'm very excited to be a Lotus owner! I had an itch to scratch for another daily driver sports car to put into rotation with my 2001 911 that I've had for 6 years so I purchased this 2010 Lotus Evora in Silver/Anthracite/highly optioned off of cars & bids in November. I flew down to Miami and drove it 1000 miles back home in what turned out to be an eventful trip. The first time I stop for gas the car throws a check engine light and has no power. I limp it over to an auto parts store nearby where they read and cleared the codes. Boom - just takes right off like normal. I didn't have that issue happen again on that drive. It came back periodically after the engine had warmed up and was in stop and go traffic. I changed out the coils and plugs and it hasn't come back yet.
Unfortunately for me, my 911 developed rod knock 3 weeks after I got the Lotus but the upside is that I already purchased the replacement. It was my HDPE car for the last two years and wasn't intending for the lotus to do more than 1-2 events but I'll probably do a few more than that.
This evora is a well worn example so I'll have lots of updates as I go about fixing different things. The rear tires were rubbing with the wider wheels/tires and have changed these wheels out with the included oem forged wheels. I purchased Bridgestone Potezena RE980AS Plus for my Cadillac DTS last year and put the same on the oem wheels because of how impressed I was with their performance compared to the prior Michelin pilot sport a/s3+. They do a great job in the dry and wet and are more playful than other set. Going back to stock wheels/sizes in the front really lightened it up and improved steering feel/quality.
Check out the listing to find out more about the vehicle's history.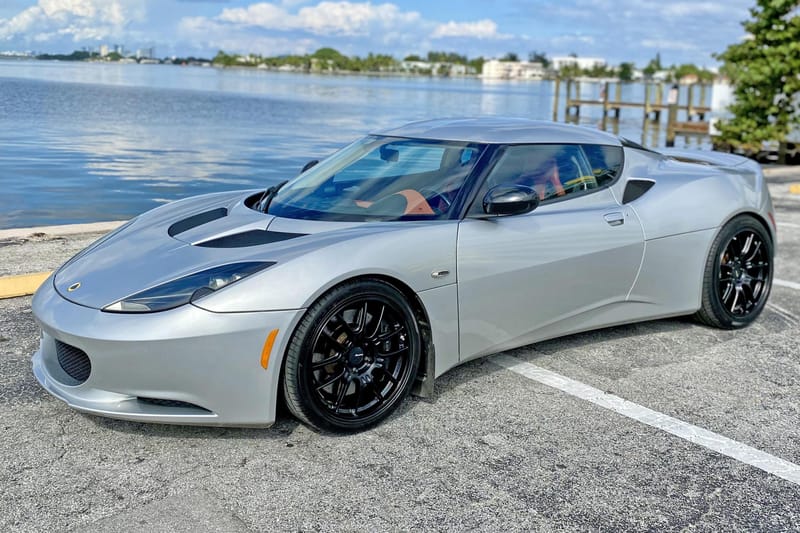 This 2010 Lotus Evora is for sale on Cars & Bids! Auction ends November 7 2022.

carsandbids.com