I've received lots of questions regarding how to do the needle/ LCD display mod. There's a thread a while back that was started by riceburner, aka Bob. He contributes a lot of time and effort to make this happen. I have to give him tons of credit for it.
In this thread, I will briefly go thru the modification for those who don't have time to go thru 20 pages worth of information. But again, credit to those people who participated there, they are the ones who came up with these precious information.
I'm not an engineering nor a handy guy, so if I can do this, i believe everyone can do it.
I will go by this order:
1) Instrument cluster Removal
2) LED needle mod
3) LCD display mod
before you start anything, make sure to wear a pair of gloves to prevent shorting anything in the circuit board.
1) Instrument cluster removal
a. pop all the screws indicated in
red arrows
b. pull the cover straight into you shown in
blue arrows
c. now you have an exposed instrument cluster, loose
4 screws
around it and disconnect the 2 wires at the back. (the black plug seems to be hard to unplug, don't worry, just wiggle it left and right as you pull and be patient, it will come out)
d. taduhhh! done!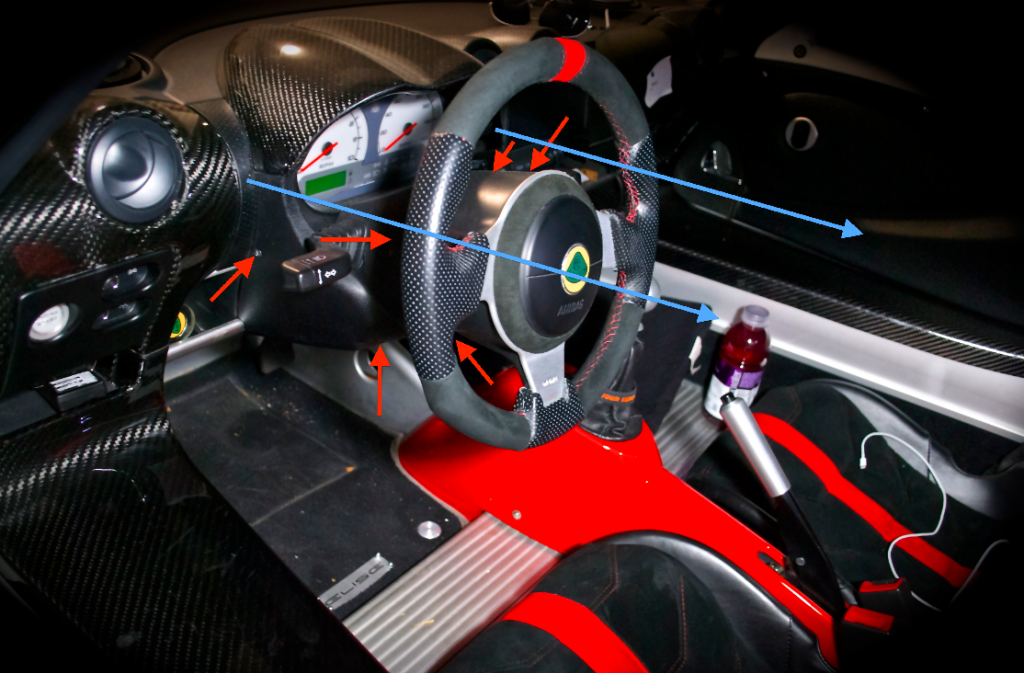 2) LED needle mod
a. break the adhesive that glues the cover on the cluster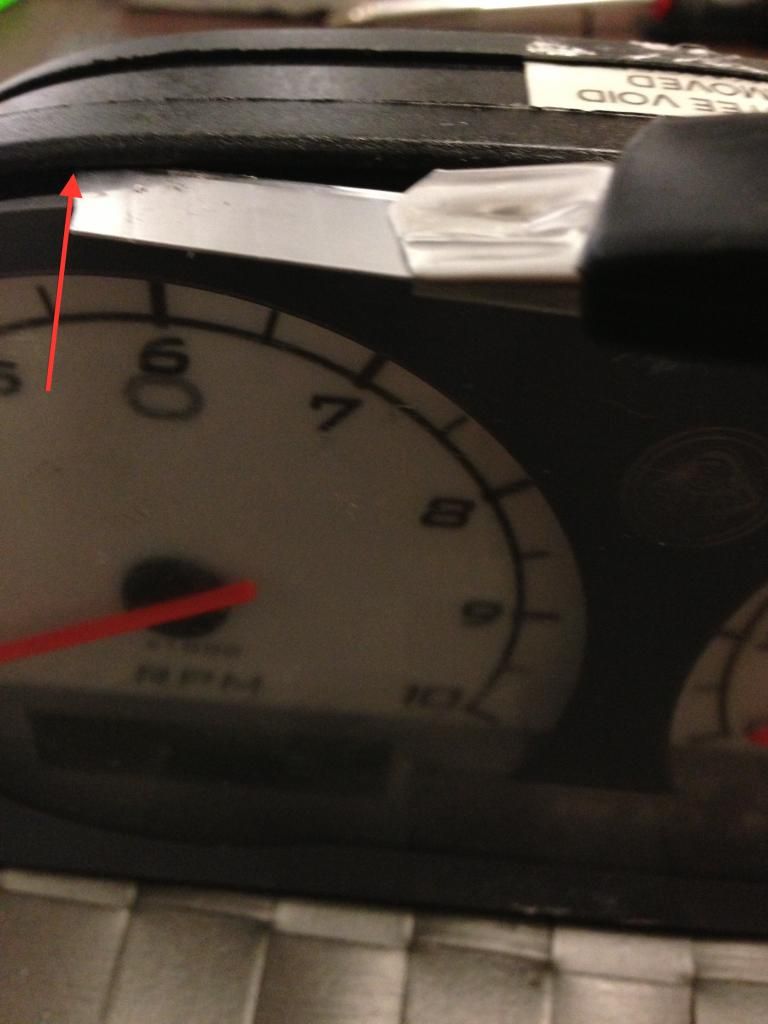 b. pull the needles out "gently"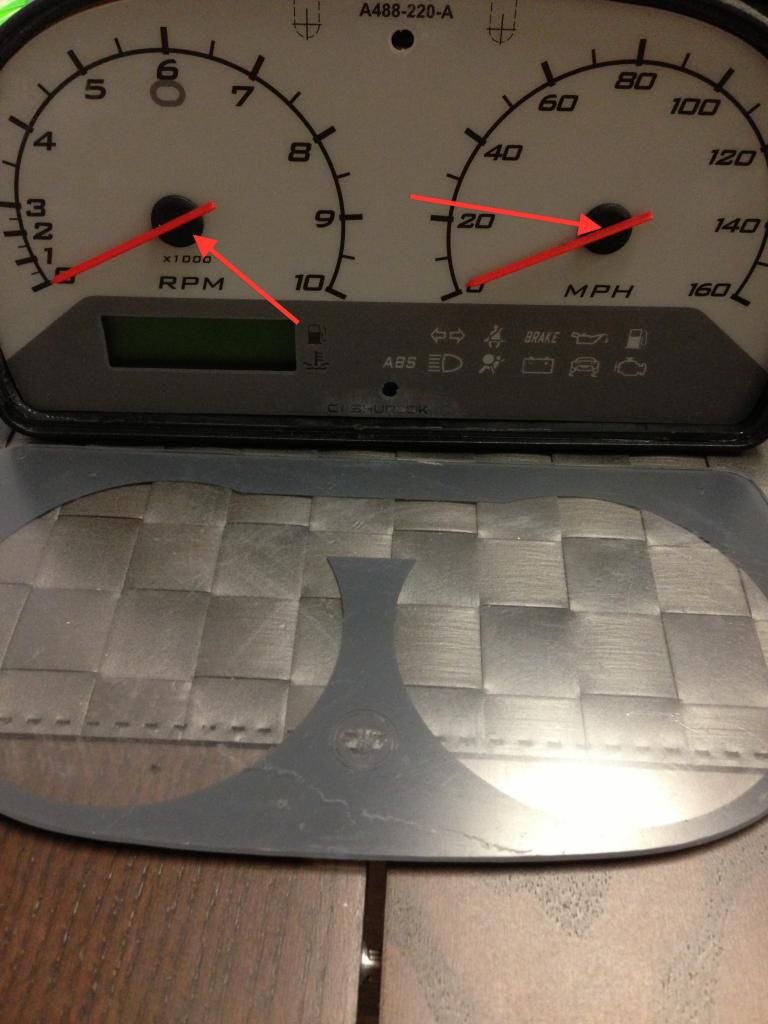 c. remove the plastic needle trims and the outer plastic trim "gently"
d. remove the cluster sheet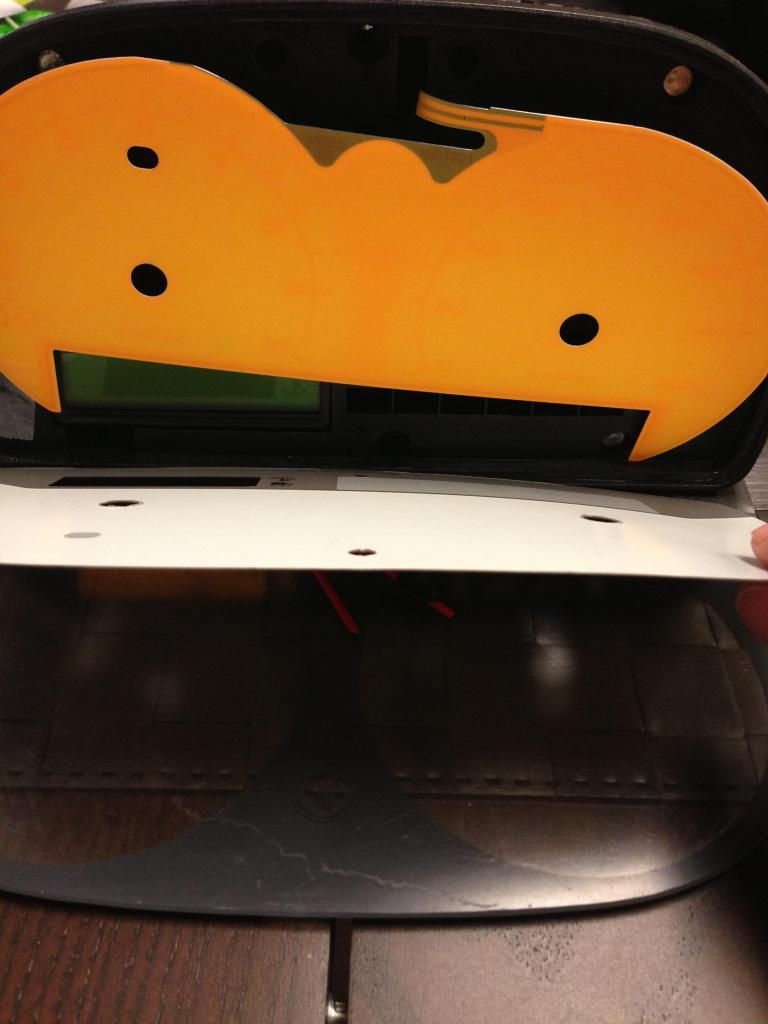 e. now turn around and remove all the screws shown in
red arrows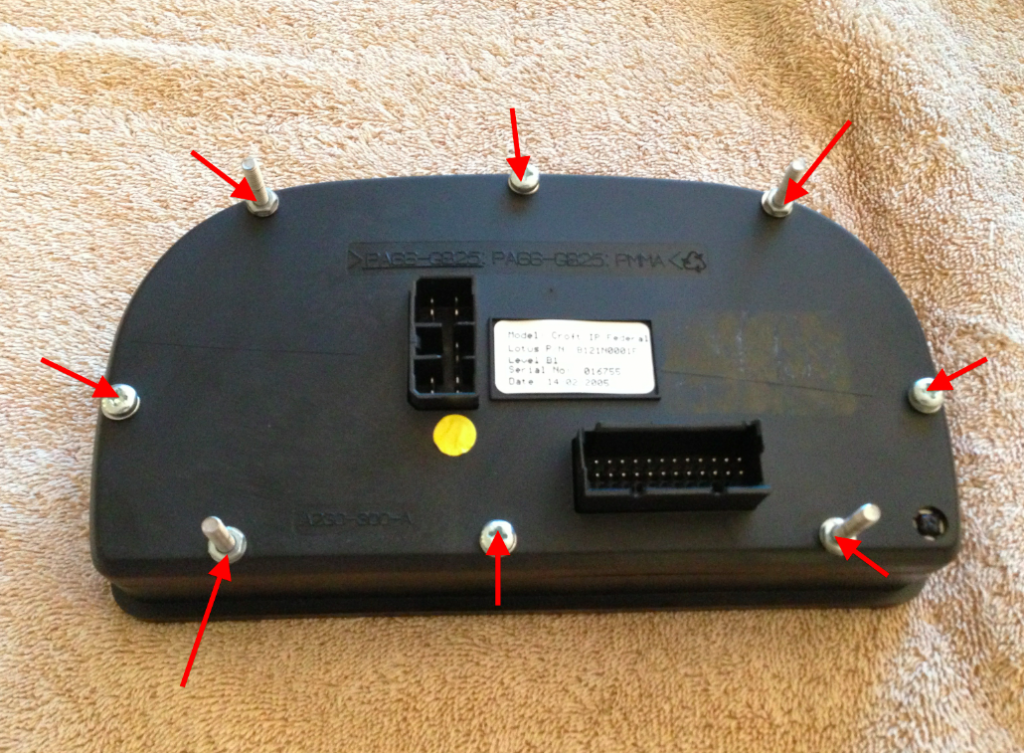 f. pull the cover (you'll have to break the warranty seal, but hey it's over the 7 year warranty anyway so who cares :coolnana
g. at this moment you really have to have your gloves on so you don't short the board you are about to see.
h. pop two more screws shown in
red
and unplug the EL lighting sheet plug shown in
blue
i. now you have the main board exposed
j. Here's the detailed info on LED ring soldering provided by riceburner (Bob)
http://home.comcast.net/~riceburner..._instrument_cluster_LED_ring_installation.pdf
3) LCD display mod
a. pop the 4 screws shown in
red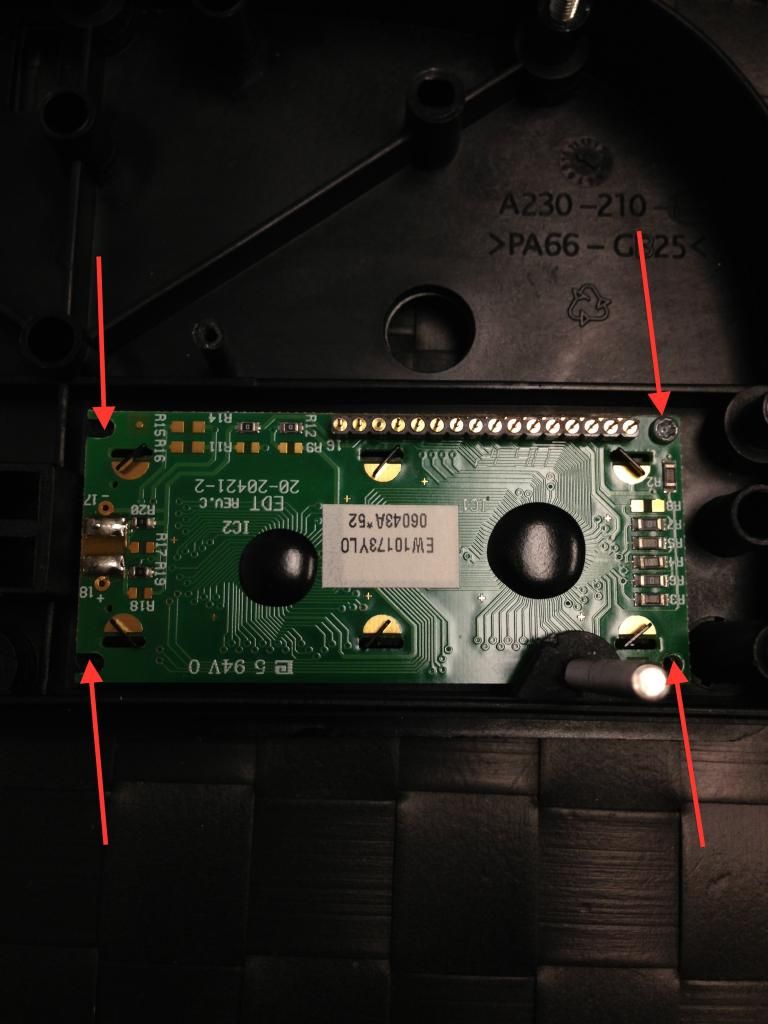 b) remove the stock one and drop in the new one. It's as easy as that! (make sure all the pins sit in perfect buy plugging in the connector to see if all numbers are lit up and shown)
a couple notes:
1. try to plug the board back to the car and see if the LED and LCD work first before you put everything back. It'd be frustrating to find out something doesn't sit right and you'll have to remove all these bolts and screws all over again.

2. always wear gloves, if you short something, you are screwed.

3. soldering can be difficult for the first timers like me, find someone who can solder to solder the LED ring for you if you are not confident doing it.
now put everything back and enjoy the new look of your 10 year old clusters!
before and after differences! :coolnana:
day time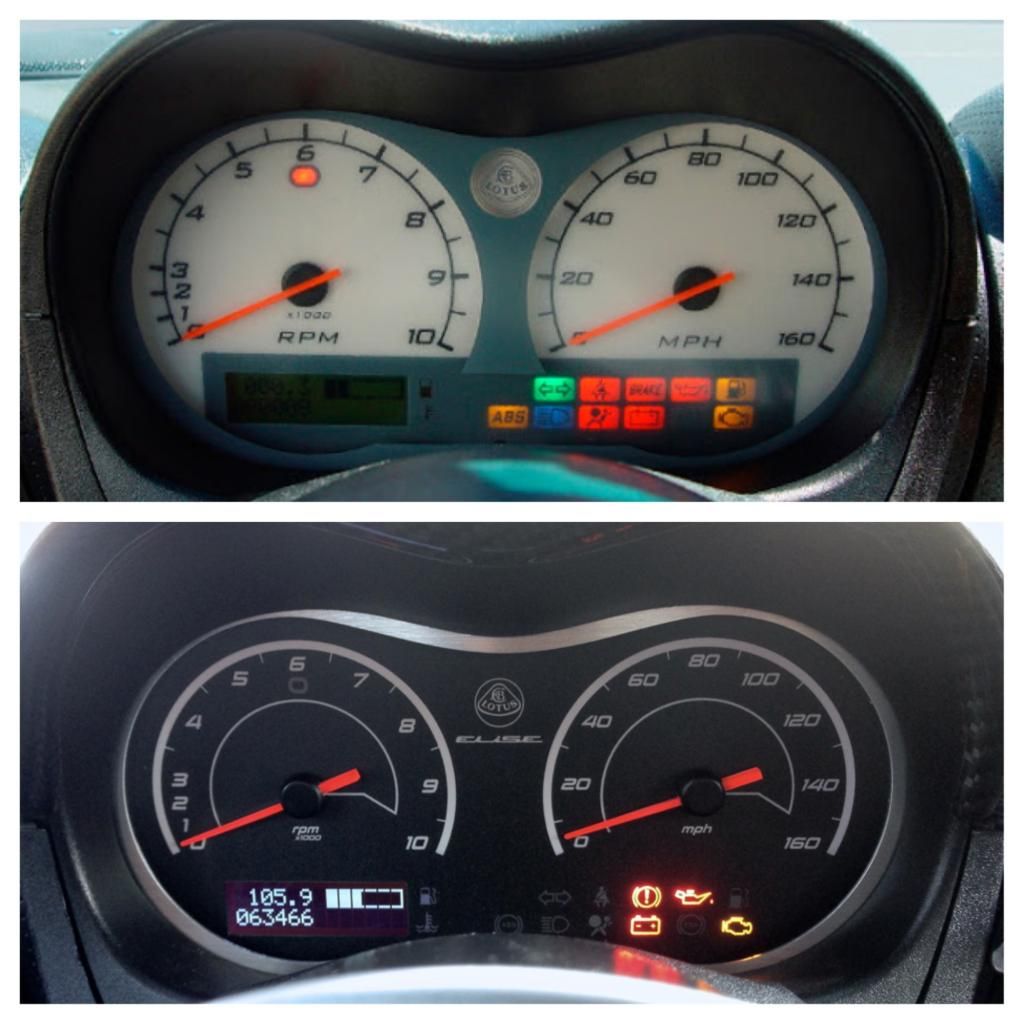 night time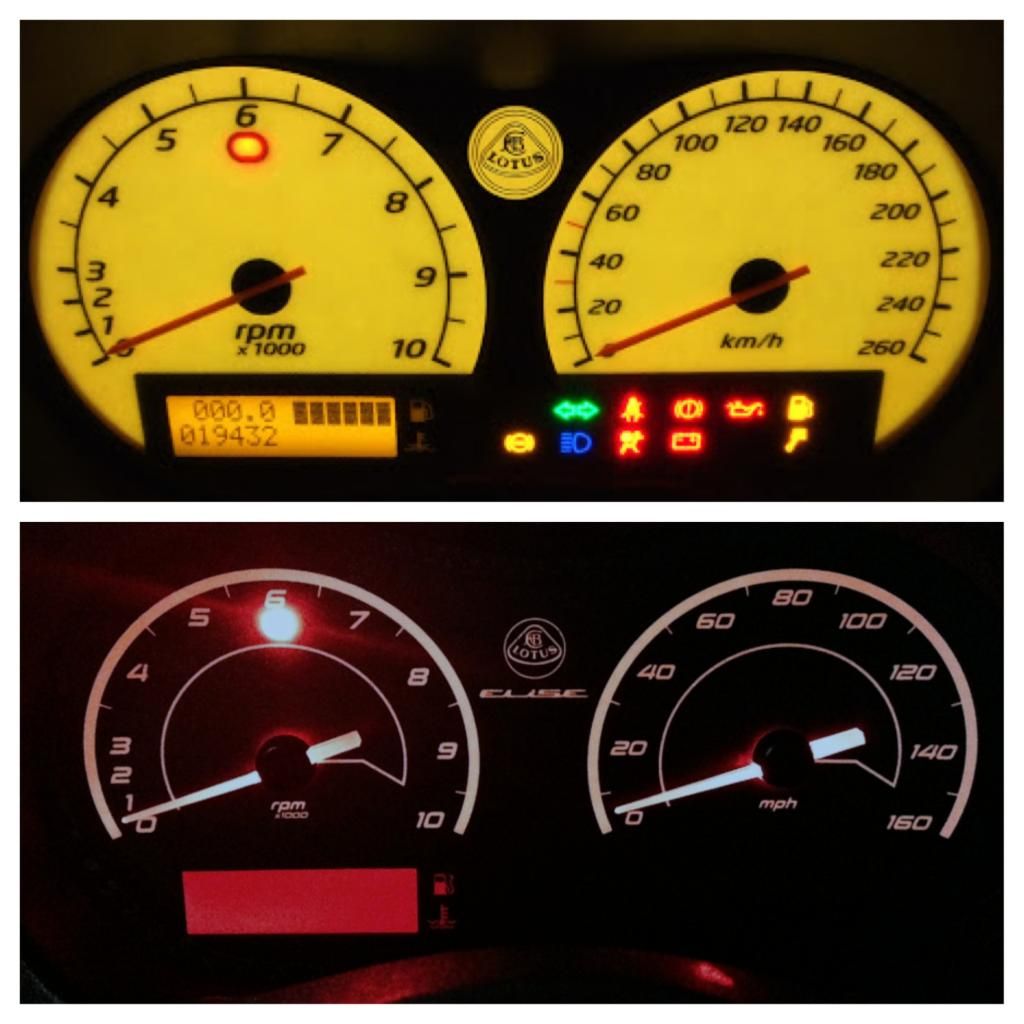 Here are the choices for needles:
(I haven't had chance to try anything other than these 4. so there are plenty of other choices I believe)
from top to bottom:
1. Dodge Intrepid needle
2. needles from forum member (I found 100 quantity for $50 on Alibaba, $1 a pair lol)
3. Harley needle
4. Harley needle painted in Fluorescent Red
Personally, I think #4 is the closest or most identical to what Lotus use in 2008+ Elise/Exige clusters.
Useful Resources:
LED needle mod (Approx. $35 +shipping):
You'll need two things
1) Harley Needles (
New Harley Davidson Speedometer Gauge Cluster Pointer Needle Only 16241661 | eBay
)
2) Riceburner's LED needle ring (
[email protected]
) and his installation guide (
http://home.comcast.net/~riceburner..._instrument_cluster_LED_ring_installation.pdf
)
LCD display mod (Approx. $21 +shipping or $11 if you solder your own pins):
1) go to Newhaven 2x16 LCD page (
2 x 16 Characters
)
2) Pick a color you like and add "-D6" to the product number. (example: NHD-0216K1Z-NSR-FBW-L-D6)
3) Plug and play
How to paint your cluster needle:
http://revlimiter.net/blog/2013/03/how-to-paint-gauge-needles/