Discussion Starter
·
#2
·
The tweeters I had are listed at 1" and that is roughly what the oem is, but they wouldn't drop right in so I VERY VERY carefully and slowly sanded with a tiny piece of 60 grit sandpaper the foam in the factory tweeter pocket..checking often so I only removed a little bit. Once the Hybrid tweeters fit snugly, I wired them up and pressed them in. The factory imaging is actually pretty damn good, shooting towards the ideal rearview mirror location to stage properly, so I didn't alter that.
I used some spare ensolite in the footwell as well to reduce some road noise. Then hooked everything back up!

Note with the door panels off it is a good time to examine the workings of the lock mechanism etc and adjust as necessary. Adjusting the door latches is actually quite easy. Be warned when removing the interior door handle cable, that you first need to CAREFULLY remove the little white/clear plastic thing that holds the cable in the connector. This piece breaks easily, so be careful. You can also use a sharpie or similar to mark where the locknuts are on the adjustment threads so when you reinstall you don't have to futz with adjusting them.
Some other things to be careful of-when removing the black plastic endplates to the AC ducting portion of both the door and dash, be careful as the little plastic studs that stick out to align then dash portion break very easily. Also, it is easy to muck up the trim panel on the door (can't see it with door closed) when trying to remove the bugger plastic attachment fasteners.
Also, when removing/reinstalling the door panel be careful as it is relatively easy to damage the midbass driver due to its location.
Oh and those "high quality" parts that Reus Audio used? Turns out the speakers in the doors were just RE Audio 6.5" coaxials that they had cut the wires for the tweeter for…wtf
All buttoned up and after a few weeks of break in, lets just say the car sounds unreal. Sooo much more midbass, much more solid and quiet while driving. Since I am running quite a lot of power to the components, they have shaken a few new vibrations in the door cards that I attack as they happen  But in general it really sounds detailed, clear, warm and inviting with a good imaging (a better head unit could improve it slightly as I don't have much time correction or anything-right now it is more centered than on the driver but front to back it is perfect) and gets LOUD while maintaining its fidelity. I don't want to win any contests or blow eardrums-just hear clear music over my admittedly loud exhaust/intake while driving on the freeway if I have the windows down. It really does sound sooo nice.
Due to my wing/rear louver panel, I also installed a rearview camera and monitor to replace my mirror. I have searched long and high for a monitor that will literally replace my entire mirror, but the ones I find only have small screens on the side of the mirror, not one entire screen, so the search is still on. As it is right now the screen clips onto the factory mirror. It has a proprietary plug (part of the reason why I chose it) that only has one cable going to and from that carries power, ground, signal instead of running three separate cables. The cable is run along the top of the windshield and tucked into the headliner, then down the A pillar. The interior A pillar is a bitch, and I only popped part of it and ran the cable. Unfortunately the male/female plug from the monitor itself is at about 2' of length, so there is a bit of a bulge in the corner of the pillar, but you wouldn't see it if I didn't point it out.
I did the parking brake override on the head unit, and rearview camera is wired up to a switched power wire I have running to the trunk already for the shift light which I will touch on later. This allows the monitor/camera to be on 24/7 when I am driving.
The monitor is off amazon, and there are several duplicates. It is a Chinese one but mine has held up well so far, although I did have to take it apart at one point because one of the springs for the tabs that hold it to the mirror slipped and it was loose. For the 20-30 bucks I can't complain.
The camera is one of the Boyo night/day ones with a bunch of IR LEDs. It is large but I wanted the night capability. I wish it didn't have the red/blue/yellow lines on the signal since I drive with it on all the time, but they do help to a certain extent. I sealed the back of the camera and the place where the plastic housing is joined with black silicon in order to prevent wire seepage.
Running the wires for the camera is a HUGE pain in the ass if your car isn't prewired. I had to drill a hole as ther e is no way without removing the bumper. Wire runs under the license plate then up in between the two license plate lights into the trunk and onto the interior.
Overall works great, as it is nice to have another means to see behind me while driving. In order to not have the camera angled down (it comes with an angle built into the housing since it is designed to look down) I made a small aluminum bracket and bent it to the proper angle, coating it with back rubberized undercoat and mounting both camera and the bracket with 3m moulding tape. Works great, hasn't fallen off. The camera can get dirty after crap weather but that is no different than any camera.
Video of it in use
It seems like it would be distracting, but you really grow to treat it just like a rearview mirror after awhile. Glare from cars headlights isn't bad like it is with a normal mirror at night, and you can dim/brighten the screen anyways. Not a perfect solution but good for me!
Here you can see the camera location
I have also converted all light bulbs to LEDs interior and exterior thanks to the threads on here.
I also had my steering wheel redone. I bought a factory 2010-2011 take off from a forum member who switched to a 2012 so that I could keep my factory wheel. Then I cut all the stitching off and removed the leather, and went about using an exacto knife, sand paper and patience removing the factory bumps at 10 and 2 as I know longer wanted them. For removal and installation I used this thread
http://www.lotustalk.com/forums/f170/adding-cruise-control-evora-105600/
Be very careful when removing the aluminum trim. It is also a bitch to get the foam tape off the trim and the wheel in order to have room for all new adhesive (since I was switching wheels I couldn't reuse adhesive.)
After removing the bumps I sent it off to Craft Customs after getting a quote. It wasn't cheap, but they were willing to do what I wanted and the quality is outstanding from everywhere I read. Turnaround was quick too, I had it back in 2 weeks including shipping both ways.
I went with charcoal suede to match my dash (dark gray in other words) orange stitching and an orange vinyl center stripe. I also asked them to add extra to make it thicker, and they did, but I wish it were thicker still.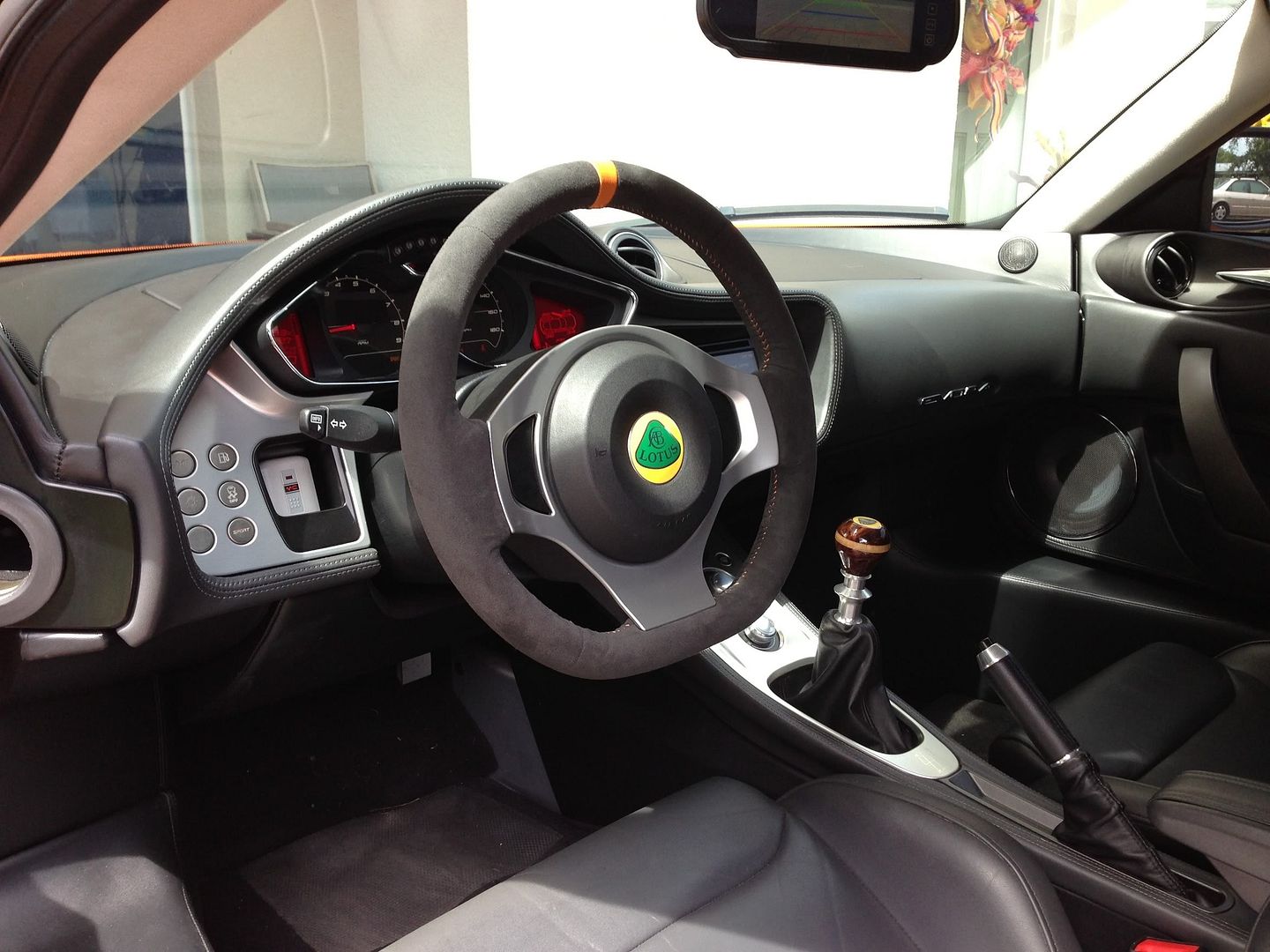 They got the wedge shaped center stripe PERFECT (no idea how they do that) on center, stitching is all nice (I went with baseball style) and those wrinkles on the bottom disappeared after a few weeks of driving due to heat humidity and use. I still love it and it is holding up great.
I also added an Ecliptech ShiftI sequential shift light. I printed off the templates and futzed with it for awhile trying to figure out a good location until finally settling on the top of my gauges, blocking the odometer. Still in my peripheral and readable, no permanent modifications and easy to run wires.
I chose the shift I because I knew I wanted sequential, I wanted green-yellow-red, and I wanted one that was easy to wire up and didn't require extra parts. I Chose the flat bottom one as it fit the contours I needed better and ordered it.