Discussion Starter
·
#1
·
Original story from Motor Trend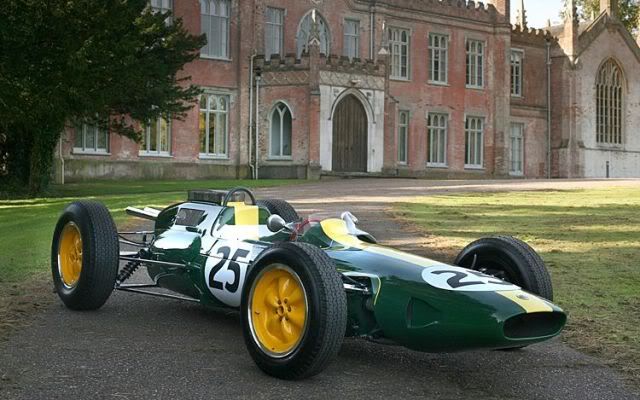 by Arthur St. Antoine
At my feet, on a workshop floor crowded with tools and lubricants cans and subassemblies in various states of repair, stands a skinny tire, from which delicate arms of aluminum reach out to a long, low tube painted British Racing Green with a yellow central stripe. From the tube's open midsection protrudes a red steering wheel. With no velvet rope to hold me back, I reach down and run my fingers over the wheel's leather covering. I can't help it. This is Jimmy Clark's Lotus 25, chassis number R4, the very car in which the late Scotsman won seven Grands Prix and the world driving championship in 1963. "It sold recently for just under 700,000 pounds [about $1 million]," says Clive Chapman, son of Lotus founder Colin Chapman and the managing director of Classic Team Lotus, which restores and maintains vintage Lotus racers for collectors. "Not a bad price, really, for a car as special as this."
Clive Chapman's operation occupies a small corner of the Hethel, England, factory grounds his father opened in 1966. And the Lotus 25 he's safeguarding may well be his father's masterwork, epitomizing Colin Chapman's relentless quest for simplicity and light weight. "A minimum car for the maximum driver," the 25 was the first successful Formula 1 car built with a fully load-bearing monocoque skin — a design that changed F1 forever after. Upon spying the 25 at its race debut, rival constructor John Cooper asked Chapman, "Where did you hide the chassis?"
Were Colin Chapman alive today (he died in 1982), undoubtedly he'd be thrilled by Hethel circa 2009. For in many ways, the new automotive paradigm has come to Lotus. Design efficiency, highly rigid yet lightweight structures, maximizing performance by reducing mass — the longtime Lotus hallmarks have become industry grails in our Age of Restraint. Tour the Lotus production facility, and in addition to feathery Elise and Exige sports cars you also see Tesla Roadsters, the Elise-based electric vehicles that Lotus builds for the California startup. The assembly line now also includes the new Lotus Evora, the world's only mid-engine 2+2 and a 3000-pound sporting car capable of topping 160 mph and returning more than 30 mpg on the highway.
"We expect our production to increase by 50 percent for the 2009-2010 financial year," says CEO Michael Kimberley as we chat in a small control tower overlooking the company's Hethel test track (a former RAF base). Kimberley, who joined Lotus in 1969, rose to the top, left in 1991, then returned in 2006, attributes much of the expected sales rise to the new Evora and the weak British pound (which makes Lotus products more affordable overseas). Yet in an era when automakers are shutting doors wherever possible, Lotus is actually hiring. "To meet the demands of our consulting projects for automakers around the world, we plan to increase our engineering staff by ten percent," Kimberley says.
Kimberley's new mission for the company: more green. Along with Malaysian parent company Proton, Lotus has signed a deal to open a green-vehicle research facility in, of all places, Saudi Arabia. "We'll have one in India too," Kimberley adds. Hybrid and electric powertrains are very much in the future for Lotus and its Versatile Vehicle Architecture chassis (which underpins the Evora).
Colin Chapman, whose Lotus 25 won the world championship using a tiny, 1.5-liter V-8, would heartily approve. "Lightweight" Lotus appears stronger than ever. And it's never been more British Racing Green.