Discussion Starter
•
#21
•
On to the head.
The valve stem seals are a little delicate, but need to be seated firmly, so I turned this installation tool from a piece of Delrin rod.
It helps to keep everything organized. Each time I moved the head, I'd turn this box to the same orientation.
Half the springs are in. It's important to wear eye protection when dealing with the spring locks; those little things can go flying. I think I only had to chase down one.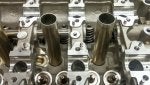 The rockers and shafts are lubed and installed. The current tapered bolts don't wear out like the old ones. The ones that came out are the newer ones, and as you can see, were only lightly scored. I replaced them anyway since I had some.