SOLD SOLD SOLD SOLD SOLD SOLD SOLD
I am selling my beloved 2005 Lotus Elise. It has a little over 32,000 miles. The car runs beautifully. The A/C is something to be desired but that's pretty normal for an Elise. Very fun car that you will fall in love with if you haven't fallen in love with them yet. I am asking $35,000.00 obo. The car comes with all kinds of goodies and handles like a dream. This car belonged to Andrew (Macfly) and Jack before him who are both on this forum. I would love to give you a ride in it and let you take it for a spin. Just bring your checkbook because you'll want it.
Car has no body damage. Oil has been changed religiously. No engine mods except K&N filter. Same reliable stock lump that comes from the factory. I haven't messed with it. Should give you years of joy.
Also, I forgot to mention that this car has the touring pack I believe. It has leather interior, power windows, insulated soft top, etc. It also has the factory harness bar with the rear panel that lowers the speakers. The speakers are MB Quart front and rear. It also has the holes cut into the stock seats with the plugs so the harnesses go through the seats as they are supposed to.
Listed below are the mods the car has.
- Hard Top with a lite gray suede headliner (you'll love it)
- Insulated Soft Top
- Driver and Passenger Racing Harnesses
- Stainless steel brake lines
- Nitron Sport Coilovers
- GUT rear spoiler
- GUT front lip
- Starshield
- Quicksilver Exhaust
- PIAA Rims
- Alpine Deck
- Tint
- Rear panel delete with 1/4 turn screw mod
- Green Car Cover from Sector 111
- Hard Top bag
It really pains me to sell it but I have gotten addicted to riding motorcycles and the Elise just sits now. I want it to have a good home. I also need a good home and will be using the money I spent every month on the Elise payments to save for a house with a proper garage. I also became part owner of a business and want to free up some cash to help the business grow. I WILL be getting another Lotus in the future. Most likely a White Exige S but for now I am simplifying. Please PM me if you have any questions or ask them here. I can also call you if you like to set up a time to look at it. Thanks for looking.
Rich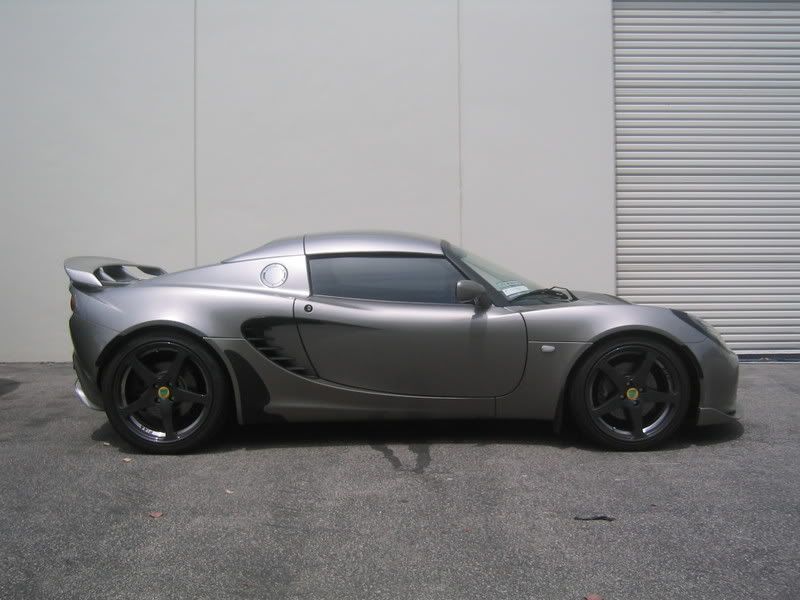 This pic is before the rear panel delete.