I am yanking my swap to go a different direction. Full drop in. engine, transmission, mounts, axles, ecu, exhaust.
I have over 10k into this swap.
Im asking $8500. but i have an ebay listing starting bid is $6500.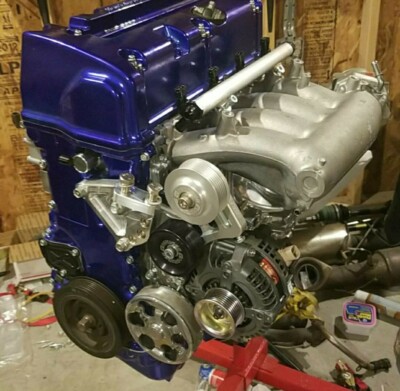 K24A2 Engine. Full drop in swap. Swap Parts. Type S Transmission. BWR Fuel Rail. RBC intake manifold. Comp Clutch 11.5Lbs Flywheel. OS Giken Superlock LSD.
K24A2 Engine
Type-S Oil Mod
Type-S Oil Pan
Manley H-Beam Rods
Weisco 11.1:1 Pistons (cerokoted)
Billet lower Timing chain guide
Skunk2 Chain tensioner
50° VTC TracTuff 40°pin installed
Skunk2 Titanium Valve Retainers
Skunk2 Viton Valve Seals
Supertech Valves (Lapped and seated, acetone leak test)
Skunk2 Dual Valve Springs
RBC intake manifold
BWR Fuel Rail
DW 1300cc Injectors
Hondata Intake Gasket
Skunk2 Pro series 70mm Throttle body
Acuity hall effect TPS
Ktuned upper water inlet
Ktuned Idler pulley
Ktuned Swivel neck Thermostat housing
Ktuned Manifold Adapter
Type S Transmission
OS Giken Superlock LSD
Comp Clutch Stage4 Clutch
Comp Clutch 11.5Lbs Flywheel
Swap Parts
Innovative Swap Mounts
Innovative Swap Axles
Kpro4
DC Sport Manifold
Cat Back exhaust