Hi all,
I was reminded today that I never took any photos or posted pics of the Odyssey PC925MJT install. Here's a couple photos: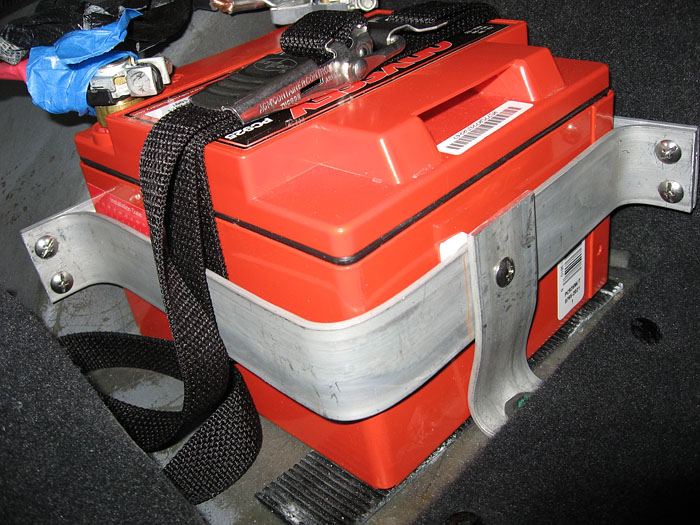 Some notes:
- Bracket is screwed into the threaded inserts from the stock bracket. I reused the hex head bolts from the original brackets for that.
- Material is 1.5" x 1/8" thick aluminum bar. I got it from
http://www.onlinemetals.com/
, but you could get similar from Home Despot (I only saw 1" wide bar there, though).
- The strap is from AGM Container Company (marine battery tie down RC6450 - although I only used the strap, not the hardware). Don't worry about the lack of a shopping cart on their site, call them and they will sell you one.
- I used a vise and a deadblow hammer (soft face) to bend the aluminum. It doesn't like too sharp a bend.
- The half of the bracket that's in the rear (behind the battery) in the photos is a simple 90° bend, with three holes drilled for the screw to the clam (two for the rivets that hold the threaded insert, one for the actual screw). The ends have 2x 1/4" holes in them for attachment to the front half of the bracket.
- the front half has three bends in it - one in the center and one on each end, to form tabs for screwing the halves of the bracket together. You can see the "foot" that is also screwed to the front half to join with the threaded insert in the floor on this side.
- the bracket is held together with truss head screws and barrel nuts. McMaster part numbers 99637A179 and 99637A294.
www.mcmaster.com
- finally, I used some foam weather stripping on the inside of the bracket to keep the metal-to-battery contact to a minimum. The battery does have a metal case, but I'd prefer not to see whether I can file through it.
Unfortunately, the plastic battery cover doesn't quite fit - it will attach slightly crooked using one of the carpet snaps though.
I think that's it. Pretty simple otherwise.
ed