Discussion Starter
·
#1
·
Hey guys,
first of all sorry for making my first post trying to sell something, if that's frowned upon here I'll take it down or a mod can delete it.
Anyways I came here to research Elises for my pops and noticed that they use the same bolt pattern as my 89 325ic...for which I have some nice wheels that I think you guys would appreciate.
Anyways the wheels are SSR Type C's, Gunmetal center and Machined lip. 17x7.5 et38 all around. Each wheel is a 9+ out of 10. 225/40/17 nitto 555's with not much tread left can be included or removed. Have hubcentric rings to 56.1, so 56.6 would need new rings or some ingenuity/machining of the metal rings that I have.
click the thumbnails for bigger version: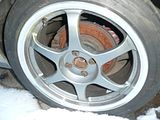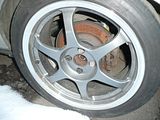 I know that most of you guys run different sized wheels front and back but a little research has shown that a lot of people run 17/17 and are happy with it. These wheels are very light, strong and look like they mean business. I loved the performance on my bimmer but I'm changing the suspension to 5 lug and am on the prowl for some 17x9 comps
$800 picked up in Boston, MA. If you want me to ship I would be happy to on your dime. I can get the tires removed and eat the costs or ship them with the tires although it would cost more. I have 600 ebay feedback at 100% and have done hundreds of transactions on other bmw forums. I could even list them as a buy it now ebay item if you want the protection that comes along with that.
Thanks for looking
-Sam