Discussion Starter
•
#1
•
Some owners want to convince us and themselves, but there is no evidence that doesn't show the RR/LR as anything but horrid.
Latest example:
Our 2018 Range Rover Velar Was Not the Luxury Experience We Had Hoped For
Despite its fetching design, Range Rover's compact luxury SUV was a hotbed of frustration and unreliability over 40,000 miles.
40,000-Mile Wrap-Up
That the logbook for our long-term 2018
Range Rover Velar
has been essentially devoid of comments and service records since our last update at 33,000 miles is an unusual development for a vehicle that regularly rankled our staff with frustrations and reliability issues. Our most significant takeaway from that lack of ink after spending 40,000 miles with Range Rover's stylish compact luxury ute is that our example simply had overstayed its welcome.
In fairness, our Range Rover's massive 16,000-mile scheduled service intervals were partly at fault for the tapering off of activity in its logbook. During its stay, the Velar required just two basic oil changes and inspections, totaling $461. The additional cost of certain ancillary charges related to those dealer visits, such as a hefty $187 to have three new wiper blades installed, furthered our appreciation for the Range Rover's modest level of (expected) upkeep. A $50 expenditure to patch several stone chips in the Velar's windshield is the only new line item we have to report.
Highs: Fetching exterior design, handsomely high-tech cabin, relatively spacious for its class.
Alas, our long-termer visited the dealership more than we'd like, including stopping for a recall-related warranty replacement of a leaking fuel rail on its turbo 2.0-liter inline-four and to fix (also under warranty) a broken wire in the control unit of its telematics system, which immobilized the vehicle in a staffer's driveway, necessitating a tow. Yet those are only the issues that we officially reported to the service department. We can just imagine how many days out of use the Velar would've logged had we asked the service techs to chase down every intermittent warning light, electronic glitch, and powertrain hiccup that seemingly came and went at random throughout most of its time with us. A software update installed around 27,000 miles largely cured the Velar's dual-screen InControl Touch Pro Duo infotainment tablets of their propensity to freeze up and reboot while driving, but by then, the damage to our confidence and patience had already been done.
Not that the Velar had trouble eliciting opinions when it was working properly. Few drivers could deny its swanky presentation when pulling up to the curb or the upscale trappings of its high-tech cabin. Its toasty seat and steering-wheel heaters, as well as a heated and solar attenuating windshield, put it in high demand when winter storms rolled through town. And its decent size and easygoing demeanor made it a relatively capacious and capable member of
the compact luxury SUV class
.
Lows: Electronic glitches galore, lazy powertrain responses, obtuse infotainment system, cheap seats for $67K.
Conversely, it simply is unacceptable for an as-tested $67,235 luxury vehicle to not come standard with basic lumbar adjustment for its front seats (we would have had to pay an additional $3050 for the privilege on our mid-range P250 R-Dynamic SE model). The activation of the Ingenium four-cylinder's stop-start system shook the vehicle like an old-timey diesel engine. In practice, the Velar's touchscreen control surfaces make for a slow and clumsy arrangement even when operating as they should. And the relatively sluggish responses of the turbo four engine, coupled with Range Rover's relaxed calibration of the eight-speed automatic transmission, made our Velar less than graceful when asked to do anything quickly.
While it was not the most prolific road tripper in our long-term fleet, the Velar still managed to regularly stretch its legs throughout Michigan, as well as on voyages to Pittsburgh, Virginia, and Kentucky. Which made its 22-mpg average fuel economy—1 mpg less than its EPA combined estimate—all the more of a letdown. Dynamically, at 40,000 miles, the Velar's stopping distance from 70 mph improved by five feet, to 169 feet, versus when new, and its modest grip around the skidpad dropped a negligible 0.02 g to 0.82 g. More significant is that, despite its zero-to-60-mph time only slowing by a tenth, to 7.3 seconds during final testing, at 40,000 miles, the Velar needed nearly a second longer to accelerate from 50 to 70 mph (6.0 seconds) and almost two seconds longer to reach 100 mph (22.0 seconds). g: Not a good long-term sign, is it??
Looks can only go so far, and had we to conduct this test all over again, we may opt for one of the Velar's more powerful and expensive models powered by a supercharged V-6 or V-8. Yet, the mix of better-performing and better-functioning luxury alternatives at those versions' even higher price points is as thick as concrete. While our perseverance for informative reporting kept the Range Rover Velar in our garage for far longer than we imagine many buyers would tolerate, a pretty face or not, we don't miss it now that it's gone.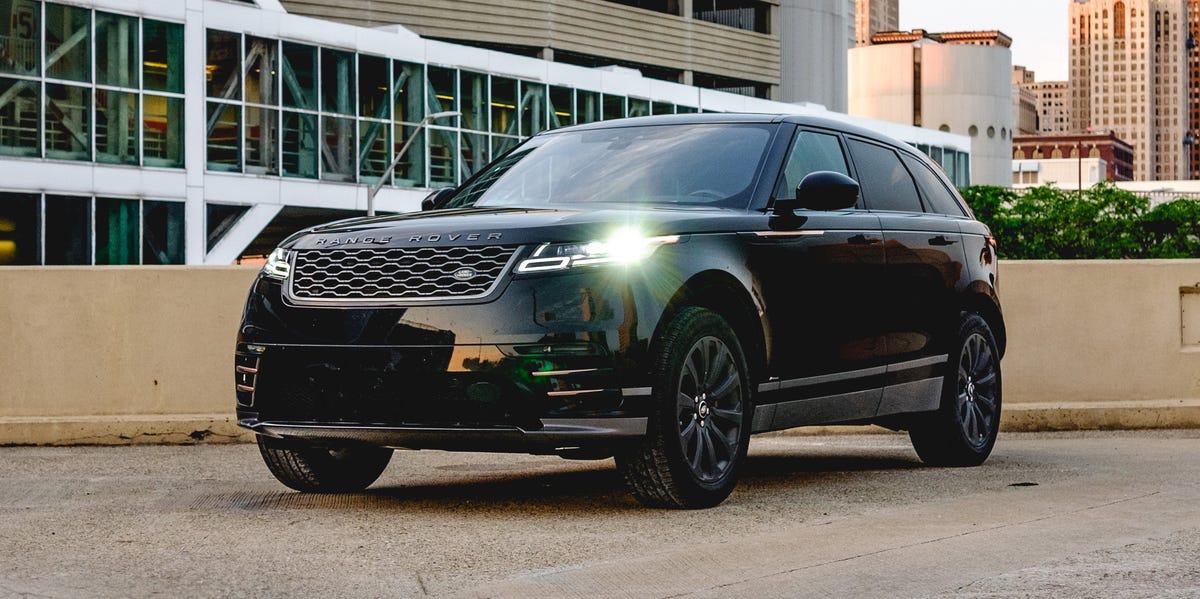 Despite its fetching design, Range Rover's compact luxury SUV was a hotbed of frustration and unreliability over 40,000 miles.
www.caranddriver.com