Discussion Starter
•
#1
•
Well, I'm the king of the idiots- I tried reversing out of my garage not noticing that the DOOR WAS OPEN. So when reversing the door caught on something-- the lawn mower handle. Which is a blessing in disguise as it had some give to it unlike the side of the garage door opening which i could have just as easily hit and this would have been much worse.
I had just taken the top off the car the day before and was rushing a bit to show an old friend the car and had a few things on my mind... whether to just start the car and hop out while it warmed up in the garage to show my friend the hardtop inside or to just reverse it out right away and let it warm up outside. Well I did the latter but not before closing the door, ugh. The combo of wondering where to let the car warm up and the strange, new sensation of having the top off was on my mind I guess... I stopped as soon as I heard the noise from the door hitting the lawn mower.
Feel free to call me stupid, I know
AT first I only noticed a small nick in the paint on the door's edge where it hit the lawnmower handle, very tiny. But a few days later I noticed what you will see below in pics. Two "cracks/crunches" in the lower fender panel edge and the front clam edge near the door.
Anyway the real reason I am posting here is to get some opinions on whether the damage should be taken care of immediately if it can spread and if so could the damage just be repaired with some body work? I'm hoping such an insignificant area needn't cause a whole replacement of the clam and fender
On to the pics
click to make bigger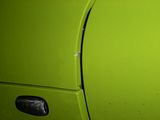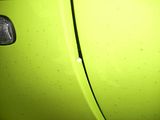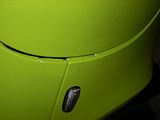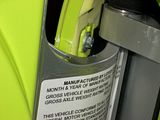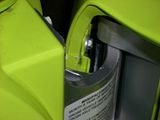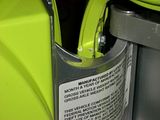 click for bigger ones
Well? how bad/dire does this look? I've always felt that these hinges had too much give in them.... i can even go around to the passenger side and a little bit of a push allows the door to move pretty close to having the arm near the fender. I've already had the dealer "adjust" the driver-side door as it seemed to be sagging a bit. I could hear it rub as I closed/opened the door each time before they adjusted it. These hinges don't seem too sturdy and the "arm" connecting the door to the hinge can be disastrously bulky as seen above.
But yeah, aside from this, absolutely loving the lotus, no other real problems with it.