I am considering two used Seven replicas. One is a Brunton Super Stalker with a "locker" differential, registered as a 1962 Lotus. The other is registered as a 2006 WCM Ultralite S2k with WRX limited slip diff.
This is what I plan to do with my Seven replica and questions/considerations i have on my mind:
- Take a week long trip at least once a year, and plenty of long wknds on backroads. I used to play in the Smokey Mountains a lot on my touring bike and wish to return.
- Occasional trackday/HPDE. I know both cars will spank the average car on the track with a decent driver, but given the same driver, which car is going to put in a faster lap time? I know it is common for the Stalkers to go from 15 (or 16?) in wheels to 13in slicks on the track. Is it common to do that for the WCM Ultralite S2k as well?
WCM Ultralite S2k:
Horsepower 240 @ 8300 rpm
Torque 153 lb-ft @ 7500 rpm
1240 lbs
Brunton Super Stalker:
250hp @ 5200 rpm
290tq @ 3600 rpm
1550 lbs
More torque w/ the Stalker, but less weight with the WCM. Which wins out in a straight line?
The differentials are a little bit confusing:
WCM Ultralite S2k- From the WCM website: "Subaru WRX with Limites Slip centers, hubs and axles. 10 bars IRS differential."
Brunton Super Stalker- From the owner: "Detroit TrueTrac differential."
From what I can research, the TrueTrac is a "locker" differential, not a true LSD (?). From my reading, the locker only works going straight. You really want an LSD for track days. 1-way, accel. 1.5 - accel, some decel. 2-way - both. Is my research correct?
- Weather protection. The car does not need to protect me from the elements necessarily. I'm used to wearing rain gear and I plan on wearing a helmet/ear plugs. But.. the cars needs to just run well in the rain, have drain holes in the floor, and have (vinyl?) seats, dash and cockpit that will be up to the task.
- Tank range over 250 miles while cruising would be nice. The Stalker runs with 3.42 gears and the WCM S2k Ultralite runs with 4.44 rear end. Both have 10gal tanks.
- Cockpit room. I recently sat in a local Stalker. My GF was fine in the passenger seat, but at 5-10, 190lbs, my legs were cramped. The owner was 5-7, 5-8, so I'm betting the foot pedals have some room to move back. I keep hearing of all these big guys fitting in Stalkers just fine...hrmmm. Would anyone say the WCM Ultralite S2k is bigger/smaller in leg room?
- Luggage. This is something neither car has I've come to find. I want to take a passenger on my trips. I like this design:
The Birkin SUV
, but the other option is the car on the left (It's a stalker, don't know who owns it, but I screen-captured it from a video I saw):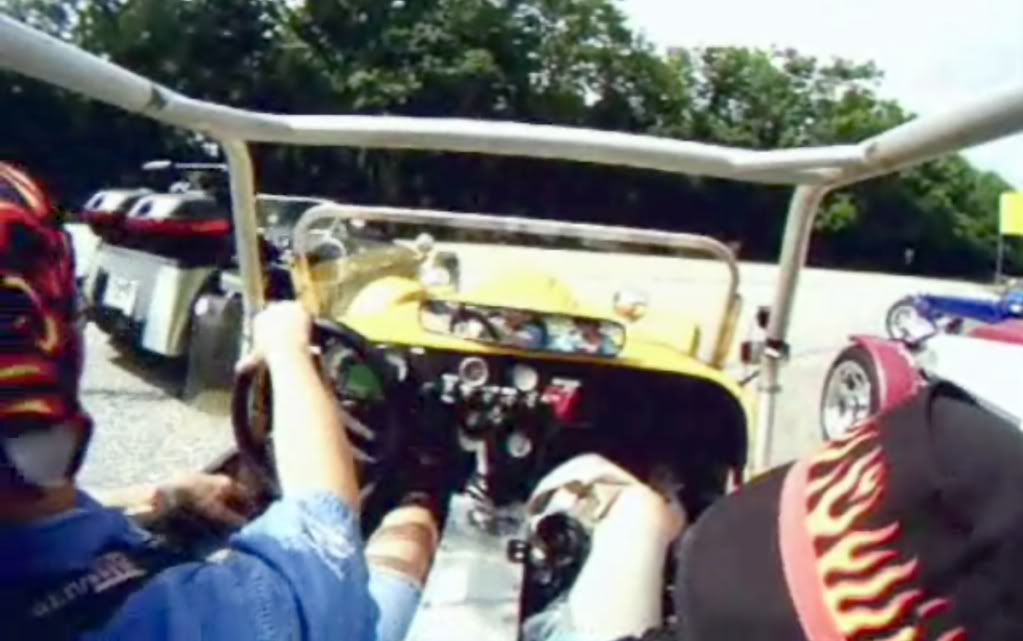 - Reliability. My gut gives the reliability factor to the WCM Utralite S2k's drivetrain, but if the super-charged GM engine in the Super Stalker goes, they are cheap to replace. The Super Stalker look cheaper to replace parts if need be overall, but I kinda think the engine will be stout/reliable too. The Super Stalker is easier to get more power out of as it is already forced induction (not likely going to want more).
- Community. The Brunton owners have a private forum, but at least they have one. They also have the yearly get-together down in the Smokeys called the "Ambush." I'm not aware of a user community w/ the WCM owners or get-togethers. Anyone know of any? I always appreciated the riding community.
Yes, I know it's a lot of thoughts in one post, but I don't want to get this wrong. I miss motorcycling a ton.. the sites I saw, the people I met etc., and this is my way to get it back. Cheers!